Description
The Export Club, being hosted at the City Business Library on the 17th May 2018, is an opportunity for anyone considering exporting their goods and/ or services. At this evening event you will learn all you need to know to successfully export including strategy, currency risk, credit risk, how to mitigate the risk and also legal considerations. There will be an opportunity to ask questions to a panel of speakers and there will be lots of networking over drinks and nibbles.
---
Agenda:
17.30 - 18.00 - Networking
18.00 - 18.05 - Introduction by the City Business Library
18.05 - 18.20 - Kevin Price from Frattempo - Export strategy and maximizing export opportunities
18.20 - 18.35 - Karen Holden from A City Law Firm - Intellectual property and exporting
18.35 - 18.50 - James Burgess from Attradius - Credit insurance and credit risk
18.50 - 19.05 - Rob Affleck from Currency UK - Exchange rate movements and mitigating currency risk
19.05 - 19.30 - Question and answer session with Panel
19.30 - 20.30 - Networking
---
Speaker Bio's:
---
Kevin Price - Director, Frattempo Limited
With more than 20 years experience in interim export management and consulting services, Kevin guides companies through the complex labyrinth of international expansion. He builds export business; helping businesses grow revenue, save costs and mitigate risk. Having completed over 50 projects across EMEA, US and Far East, across a range of categories, he brings detailed practical insights into how businesses can enjoy sustainable success to exporting and the internationalisation process. He has worked across a range of projects from SME 'newbie' exporters, to Private Equity owned businesses seeking better (and more rapid) international growth to multinationals.

He has a wealth of experience and knowledge from previous senior corporate roles across different sectors giving him a particularly insightful view on clients' requirements.
Kevin is a member of the Institute of Export and International Trade and holds an MBA in Marketing Strategy.

---
Karen Holden, Founder of A City Law Firm
Awarded the most innovative law firm, London, business advisor & employment team of the year and Listed in the Legal 500. Karen Holden set up her own practice A City Law Firm 10yrs ago and has offices in the City of London, Croydon and associate lawyers Dubai, USA, Gibraltar. They advise on start-up to scale-up to those getting ready for investment or sale – they handle everything from start to finish small to 70million.
Specialist areas: IP, commercial documents, due diligence, employment, litigation , block chain, GDPR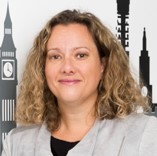 ---
James Burgess, Head of Commercial London and South East at Atradius
James Burgess is Head of Commercial for Atradius at their City of London and South East Regional Hub. James joined Atradius in 2014 bringing with him a wealth of knowledge in Financial Risk and Risk Management. With over 16 years' experience in the Credit Insurance industry he is knowledgeable on all aspects credit risk and is committed to educating businesses on how trade credit insurance can help to grow the business and enable trade.

---
Rob Affleck, Head of Sales, Currency UK Limited
With more than 17 years experience in financial services, Head of Sales Rob guides PLCs and sole traders alike through the complex maze that is the foreign exchange market, helping them to save money and mitigate risk. He has a wealth of experience and knowledge from holding numerous roles including various positions in investment banking and services in Front, Middle and Back offices. This gives him giving a particularly insightful view on customers' problems and requirements. Rob also helps to keep our clients informed of the latest in the currency world with our daily market commentary.

---