A 6-part online lecture series, exploring how flowers and gardens have inspired textile artists, on Mons at 6pm starting 19 Sept Tickets £24
About this event
Our interest in gardens has so much to offer us and in this, our latest series of talks, we are taking a sideways view by exploring how gardens and flowers have influenced and inspired other arts and crafts. This first series of 6 will focus on textiles and explore some of the historical and technical aspects of embroidering, weaving and printing using floral designs on fabric. We will look at textiles from Elizabethan crowns to Edwardian table linen to see how flowers provided inspiration, taking in the prolific art embroiderers of the Arts and Crafts Movement. We will then be brought bang up to date with two contemporary embroiderers with very different approaches to floral imagery who will share their design processes with us.
Image: © Wall hanging, late nineteenth century, wool and silk on velvet, detail. Private Collection
…..
This ticket is for the entire course of 6 sessions. or you may purchase a ticket for individual sessions, costing £5 via the links below.
Attendees will be sent a Zoom link 2 days (and again a few hours) prior to the start of the first talk (If you do not receive this link please contact us), and a link to the recorded session will be sent shortly after each session and will be available for 1 week.
Due to a recent Apple decision to charge a 30% fee for paid online events unfortunately you may no longer be able to purchase this ticket from the Eventbrite iOS app. Please use a web browser on desktop or mobile to purchase or follow the link here.
.....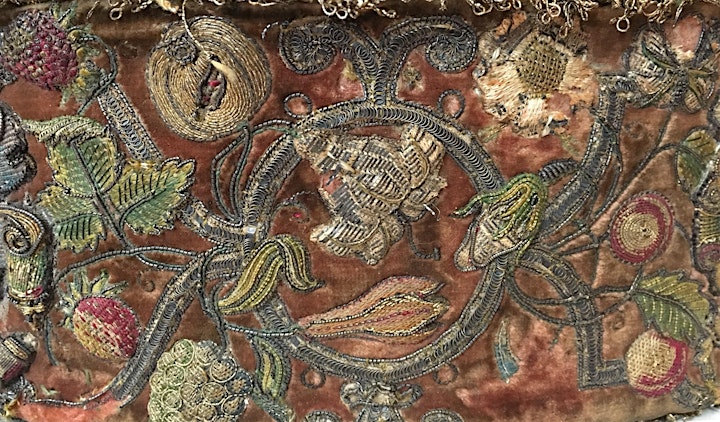 Week 1. 19th September: The Broderer's Crown with Cynthia Jackson
Following the reformation, embroiderers in the Tudor era increasingly embraced the use of floral imagery to decorate a myriad of objects from ceremonial items to furnishings and fashionable garments. Luxury fabrics such as silk velvet and cloth woven with silver tinsel were embellished with botanical imagery gleaned from popular illustrated herbals. La Clef des Champs provided patterns inspired by Jacques Le Moyne's exquisite watercolour representations of life in a Tudor garden. Skilled hands created beautiful embroideries using polychrome silks and gold and silver threads in a variety of techniques.
Three exceptional extant Tudor embroideries illustrate the remarkable creativity of the Tudor embroiderer. The textile known as the Bacton Altar Cloth is like a garden, a sampling of a wide range of colourful, botanical sprigs arranged in rows, alive with insects flitting through the blooms. In the early tradition of the popular miniature, a small and exquisitely embroidered portrait of a fashionable Tudor lady is featured in front of a formal garden, complete with topiary and fountain. The Broderer's Crown is a ceremonial artifact used to inaugurate a newly elected official of the 16th century Livery Company. It is unique in its decoration of applied silk and metal flowers on a circlet of silk velvet. The overall design is a simple repeat but as the individual layers of flowers and fruit are explored, the embroidery on the Crown reveals an astonishing complexity.
…..
Cynthia Jackson is a freelance embroiderer, designer and tutor. An award-winning textile artist, she finds inspiration in the remarkable potential of embroidery, experimenting with the unusual while preserving a commitment to technique. Cynthia's focus, as an independent academic researcher, is on professional Tudor embroiderers and the impact of their craft on the material culture of early modern England. Her published articles combine documentary analysis with careful practical investigation of 16th century artifacts. She is a two-time recipient of the Society of Antiquaries of London's Janet Arnold Award. Her current goal is to seek out, examine and re-create extant examples of 16th English embroidery, culminating in the publication of an illustrated history of Tudor embroidery and a practical guide to techniques and materials.
gutterlaneembroidery.com
Image: detail, The Broderer's Crown © The Worshipful Company of Broderers
…..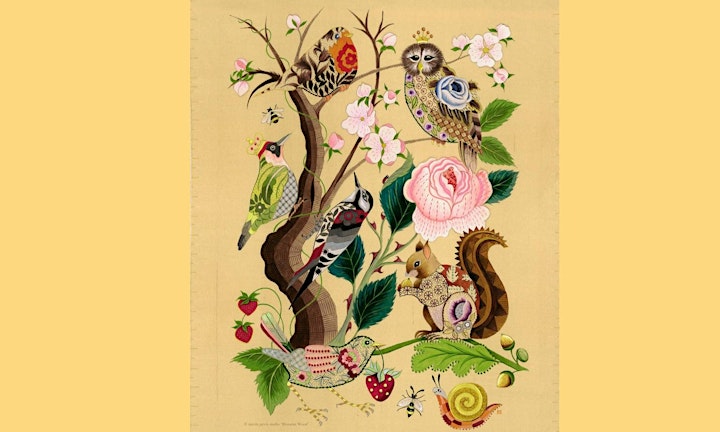 Week 2. 26th September: For Pleasure and Ornament with Nicola Jarvis
'From early childhood, drawing has been my primary means of responding to the natural world and my garden. For my seventh birthday I was given the 'Tailor of Gloucester' by Beatrix Potter. This little book has enchanted and inspired me ever since. Potter's watercolours of eighteenth-century costumes sowed a seed for my future passion and career in historic hand embroidery. Her close observation of nature rendered through drawing and painting is mesmerising for me.
When creating a design for embroidery, I use drawing to study the characteristics of natural forms gathered from the garden, allotment or countryside. Making careful drawings helps to identify certain qualities in the various shapes and surfaces. Interrogating the colours, tones, textures and patterns through intricate drawing actions, enables me to penetrate beyond the physical layers to other surfaces and spaces that flourish in my imagination.
Designing an embroidery of a plant, creature or garden scene is the point where I formulate and plan stitching techniques that will most effectively render particular qualities in the image, and it is at this stage that I attempt to strike a balance between botanical and/or biological accuracy and decorative fancy. For me a compelling embroidered artwork possesses this irresistible tension between accurate observation and stylisation'.
Nicola Jarvis is an artist and teacher of hand embroidery. She trained at the Royal School of Needlework and received a Commendation from the Beryl Dean Award for Excellence in Teaching in 2018. After being awarded Overall Winner of the 'Inspired by Morris' exhibition at the William Morris Gallery (2010), she was invited to stage a solo show 'The Art of Embroidery: Nicola Jarvis and May Morris' at the gallery (2013). With funding from Arts Council England, Nicola toured the show to Arts and Crafts venues across England, including National Trust property Wightwick Manor in the West Midlands and Kelmscott House, Hammersmith. Alongside her colleague Lynn Hulse of Ornamental Embroidery, Nicola was instrumental in creating 'The Needle's Excellency' exhibition of contemporary embroidery at the Ashmolean Museum, Oxford (2017) and 'The Needle's Art' exhibition at the Bodleian Library, Oxford (2021-2022).
nicolajarvisstudio.co.uk
Image: ©Nicola Jarvis
…..
Week 3. 3rd October: The English Rose in Life and Textiles with Mary Schoeser
This talk follows the fate of the rose as depicted in English textiles of the 19th century. Acknowledging two French Queens who helped to establish the royal connotations of this flower, it turns to Victoria and the impact of both the 'Gardenesque' and the Great Exhibition of 1851, particularly on members of the Arts & Crafts circle. The resulting 'branch and net' theory of design is seen in works by William Morris and others, including his daughter May, who also personifies the epithet, an 'English Rose'.
Mary Schoeser FRSA is a Senior Honorary Research Fellow at the V&A, Honorary President of the Textile Society and Patron of both the Bernat Klein Foundation and the School of Textiles. Mary has collaborated with many museums, including the Fashion Textile Museum, the V&A and the Philadelphia Museum of Art. As an historic textiles advisor she has worked with English Heritage, the National Trust and private house owners, and as a consultant archivist, with organisations such as Laura Ashley, Sanderson and the John Lewis Partnership. A prolific author of many books including World Textiles: A Concise History (2003); Sanderson: The Essence of English Decoration (2010) and Textiles: The Art of Mankind (2012). Her latest book is The Art of Wallpaper: Morris & Co. in Context (2022).
schooloftextiles.co.uk
Image: Block-printed cotton by Bannister Hall for Curling, Cheapside, 1827 © V&A CIRC.270G-1922
…..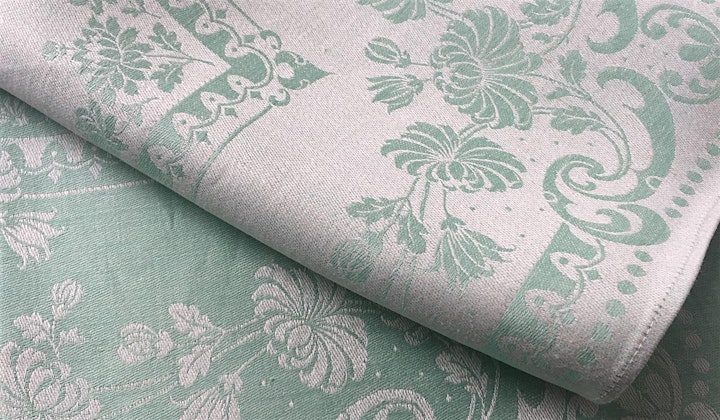 Week 4. 10th October: Flax Flower to Fine Linen with Fiona McKelvie
We will explore the journey from flax flower to table linen and consider the wonderful design and manufacturing heritage of the industry that once contributed to Belfast being called Linenopolis. The design heritage of damask linen in particular draws widely from nature, the representation of flowers and botanicals woven in intricate patterns into the finest of linen fabrics continues today but was at its height in the late 19th and early 20th centuries.
And not forgetting the skilful embroidered embellishment on fine linen cloth which has graced dining and tea tables from the stately home to the parlour of the 1930s terrace.
The quality of linen cloth produced in Northern Ireland was world renowned – the crisp and luxurious feel of the linen and the way in which the woven patterns of damask cloth almost hover on the surface result in the perfect combination for a fine tablecloth and napkins. A table laid with linen damask was described in advertisements of the 1920s as 'impressively correct'. And Emily Post the author of "Etiquette" declared that "The dinner of dignity is dependent on linen damask."
Linen occupies a special place in the world of textiles – a strong and long lasting fabric with some exceptional properties, and all the while delighting the eye with its designs, whether woven or embroidered.
…..
Fiona McKelvie has had a career in textiles for more than 30 years, much of that time with Liberty of London. Originally from Belfast, she has a passion for Irish Linen, collecting since the 1970s. Fiona is particularly interested in the history and heritage of the linen industry and has spent many years researching the connections and legacy of Irish linen, flax and textiles. In 2013, she launched her website McBurneyandBlack.com, specialising in the sale of antique and vintage Irish linens as well as vintage haberdashery. In 2021 she contributed to the British Textile Biennial via the Cloth Cultures podcast with Amber Butchart. The design element of linen damask is of particular interest and Fiona has collected a varied archive of material, from hand painted point charts to sales sample books, and the search continues……
mcburneyandblack.com
Image: © McBurney and Black
…..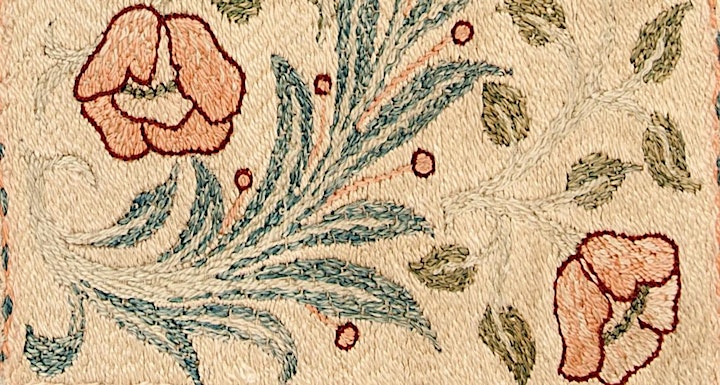 Week 5. 17th October: Gardening with Silk and Gold Thread with Lynn Hulse
The development of the English cottage garden in the hands of the Irish horticulturalist and journalist William Robinson (1838-1935) had a marked effect on the textile arts during the final decades of the nineteenth century. His revolutionary approach was reflected in the choice of botanical imagery featured in the work of many Arts and Crafts designers, including two of the leading exponents of art embroidery: Gertrude Jekyll (1843-1932) and May Morris (1862-1938).
Jekyll's reputation as an artist and craftswoman has been eclipsed by her contribution to garden history. Few of her admirers today are aware that her skills as an interior designer were much sought after by the Victorian elite. In 1874, she was commissioned by the Royal School of Needlework to design a suite of sixteen wall hangings, twelve of which have recently come to light, for the great drawing room at Eaton Hall in Cheshire, home of the Duke of Westminster (1825-1899). Jekyll's elaborate, floriated pattern reveals her indebtedness to the designer Christopher Dresser (1834-1904), with whom she studied botanical drawing and ornament at the National Art Training School in South Kensington.
A constant theme in the work of May Morris is her love of English meadow plants and cottage garden flowers. Throughout her life, she made detailed studies of plant life to familiarise herself 'with all the possible peculiarities and diversities of such things.' But like many other writers on art embroidery, she recognised that the designer's work 'should merely recall nature, not absolutely copy it' (Decorative Needlework, 1893). Morris's approach to conventional design will be examined through her work for the embroidery department at Morris & Co. and her special commissions and gifts for family and friends.
Former Archivist at the Royal School of Needlework, Dr Lynn Hulse is a Fellow of both the Royal Historical Society and the Society of Antiquaries of London. She is also co-founder of Ornamental Embroidery, which specialises in the teaching and designing of historic hand stitch through workshops in museums, art galleries and historic houses across the UK. Recent exhibitions include The Needle's Excellency: contemporary raised work at the Ashmolean Museum, Oxford (2017) and the Knitting and Stitching Show (2018), and The Needle's Art: contemporary hand embroidery inspired by an early Tudor pattern book at the Bodleian Library, Oxford (2021-2022). Lynn has published widely on the development of art embroidery and is the editor of May Morris: Art and Life (2017), long listed for the 2018 William M. B. Berger prize in British Art History, and The Needle's Excellency: English raised embroidery (2108). She is currently completing a book on Lady Victoria Welby and the founding of the Royal School of Needlework, which celebrates its 150th anniversary this year.
ornamentalembroidery.com
Image: © Scrapbook cover, design attributed to May Morris for Morris & Co., c. 1890s, silk on linen, detail. Private Collection
…..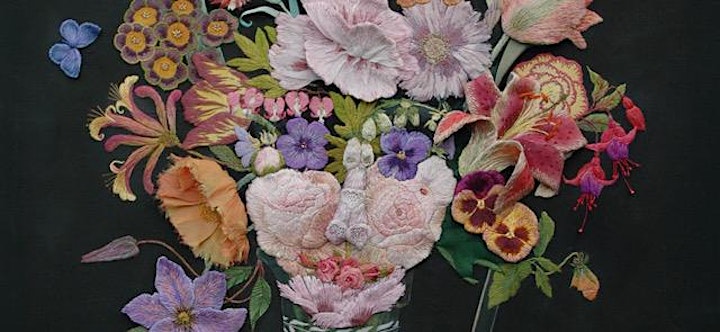 Week 6. 24th October: The Embroiderer's Floral with Janet Haigh
'During recent Covid times, I returned to my original practice of stitching flowers onto fabric usually seen as garden portraits. Re-researching my old workbooks, I found delight and reassurance revisiting these earlier drawings, designs and techniques. I particularly enjoyed the hidden symbolism within my "Flora" series, which was inspired by the lengths that man has gone in the attempt to control and manipulate nature, and both the beauty and folly of the results. I imagined a journey from the Roman goddess "Flora", an earthly "Paradise" and via "Tulipomania" to "Current Breeding Objectives".
Recently I have stitched real bunches of garden flowers gifted to me during last year's lockdowns. Made as celebratory embroideries during such difficult times, imagine my shock and utter delight to find that the 'meanings' of the beautiful Dahlias, Anemones, Hellebores and Achilleas, when checked against my much-thumbed dictionaries of the arcane "Language of Flowers", are - instability, sickness, scandal and war'.
Janet Haigh studied Fashion and Textile at Liverpool art College in late 1960's. Initially a fashion and textile designer in London, she took the post of Senior Lecturer in Textile Design at Bristol UWE. Later becoming a Senior Research Fellow developing textile techniques for other substrates. Janet then developed Heart Space Studios in Bristol, as a hub for teaching and exhibiting local textile practitioners. She has published many stitching books including The Embroiderer's Floral (2002). Her work now is designing and making varied stitched textile-based work for exhibitions, commissions and publishers, and is at present developing a business to sell Giclee prints of her stitched works.
janethaighherwork.com
Image: ©Janet Haigh
…..