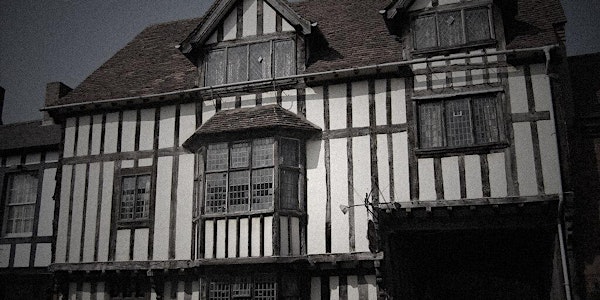 The Falstaff's Experience Ghost Hunt, Warwickshire - Friday 7th October 22
Location
The Falstaffs Experience
40 Sheep Street
Stratford-upon-Avon
CV37 6EE
United Kingdom
Refund policy
Contact the organiser to request a refund.
Eventbrite's fee is nonrefundable.
Ghost Hunt at The Falstaff's Experience, in Stratford upon Avon, Warwickshire with Haunted Houses Events - Friday 7th October 2022
About this event
A popular visitor attraction by day – but by night The Falstaff's Experience is said to be one very active location rife with paranormal activity and dread!
On a ghost hunt with Haunted Houses you will have exclusive access to the building/location during the evening. You will learn all about ghost hunting and the techniques used to encourage paranormal activity. We have a whole host of scientific ghost hunt equipment for you to use to aid communication with the spirits. You can take part in Ouija boards, glass divination and table tipping; the more traditional ghost hunt techniques. Or simply sitting in the dark and asking for the spirits to interact with you. Lone vigils (ghost hunting alone) will also be offered where available. During your evening you will be split into smaller groups so you can get the most out of your experience. If you are new to ghost hunting we warn you now – by the end of the night you may just become addicted to the fascinating and intriguing world of ghost hunting.
This is a real ghost hunt experience, there is no fakery, tricks or actors jumping out at you. What are you waiting for? Book your places today from just £20 deposit!
Haunted Houses look forward to welcoming you at this amazing building and sharing a night that you will not forget.
For those who are open to the belief of Ley Lines, It is said that the Falstaff's Experience sits directly on top of the crossing of 5 Ley Lines, could this be why so much malevolent activity is reported here? Psychics and Mediums have claimed to of witnessed open portals between our world and the spirit world, which allows spirits to pass freely between both.
Some spirits at Falstaff's are well known and grounded within the buildings walls, A young lad who can be felt trying to pick your pockets for valuables is said to remain, also that of a strong character who was thought to be a serial killer, who stalks his prey through the dark building ready to jump out at any unsuspecting ghost hunter.
Strange sounds of dragged furniture, whimpering and deep laughs have also been documented, making Falstaff's Experience one of the most active locations Haunted Houses is likely to visit.
Those who are brave to stand alone on the stairs may just get something they hadn't bargained for on a truly terrifying ghost hunt experience.