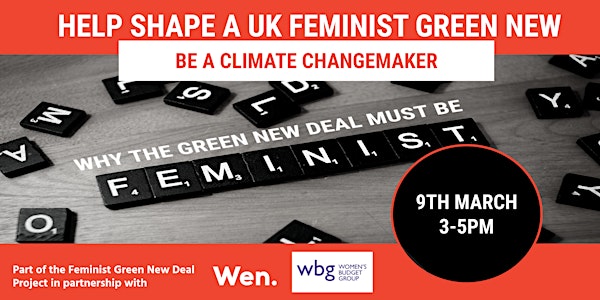 The Feminist Green New Deal with the Women's Environmental Network #IWD2021
Join the Women's Environmental Network to learn about the FGND is and share your ideas to create a manifesto that will be launched at COP26.
About this event
Tuesday 9 March 2021
15:00 - 17:00
Description
WOMEN AND PEOPLE OF COLOUR ARE OFTEN THE MOST AFFECTED BY CLIMATE CHANGE, BUT ARE THE LAST TO BE CONSULTED. WE WANT TO HEAR YOUR IDEAS AND CONCERNS TO HELP CREATE A FEMINIST GREEN NEW DEAL MANIFESTO, WHICH WILL BE LAUNCHED AT THE COP26 GLASGOW CLIMATE TALKS.
Join this free participatory online workshop, hosted by the Women's Environmental Network to ensure women, people of colour and marginalised voices are included in UK climate policy and Covid-19 green recovery plans.
During the workshop, you will:
• Learn about the Feminist Green New Deal
• Share your thoughts, ideas and concerns
• Help create the Feminist Green New Deal Manifesto
• Opportunity to feature in Feminist Green New Deal film
• Opportunity to attend COP26 Glasgow Climate Talks.
• Receive a certificate of attendance
This event will be hosted on Zoom. Registration details will be sent out before the event via email.
For further information on this event please contact sustainability@bournemouth.co.uk.
This online event may be recorded. For details in respect of any recording and how it will be made available, please contact the organiser. If you do not want to appear in any recording please notify the host, keep your camera and audio off throughout the event and avoid using any chat function during the event (we will do our best to respond to any questions you have through other channels). For further information, please refer to our privacy notice https://www.bournemouth.ac.uk/about/governance/access-information/data-protection-privacy/general-enquiries-public-events-privacy-notice [RA1]
Please note that before placing an order, you will be asked to agree to Bournemouth University's terms and conditions (see below). Please read these terms carefully and make sure you understand them before ordering any Products.