A MULTI-REGIONAL BUSINESS FUSION EVENT THAT CONNECTS PEOPLE AROUND PASSIONS NOT PITCHES,OPENING NEW OPPORTUNITIES FOR GROWTH & PARTNERSHIPS
About this event
Welcome to the Festival of Collaboration.
This is a profoundly different kind of event, blending the best of physical and virtual. It's a hybrid festival that cuts across sectors and geographical boundaries and live streams across regions.
Instead of speakers, there are interactive forums. Instead of stands, there are virtual sofas and purposeful 1-2-1s.
No floating aimlessly in search of a useful connection, no wasting time on the wrong conversation. Connect in a targeted way with anyone at any time.
Creating success at ground level.
Collaborate South West is a community with a difference - 20% of the ticket price will go to our give back fund which will help people across the Region.
June's virtual event is part one of a trilogy of events led by industry leaders and renowned experts, for industry leaders, thought leaders and forward-thinking business owners looking to create new blueprints for greater innovation, acceleration and collaboration.
Change is inevitable... why not shape it?
Recent events have emphatically shifted the landscape for businesses. New, blended ways of working have emerged which open remarkable opportunities to thrive into the future.
How it will work:
Within the festival are 'zones' with their own drivers.
Each zone will have forums, drawing expertise from different sectors. For example, The innovation zone will have forums for manufacturing, technology and an open discussion.
A host will run each forum, start the conversation and offer steering to ensure everyone gets the best out of the experts in the room.
There will be business owners on virtual sofas, for in-depth 1-1s as well as an opportunity to connect with other attendees.
Our vision for the event is to be as immersive and engaging as possible, so there will be regular wellness breaks to recharge between sessions and opportunities to get involved throughout the whole day.
Be a guest - Tickets for only £12+VAT
Cut through the noise and zone in on the conversations that most interest you.
No wasted time – opportunities to engage pre and post-event mean you can book a seat at the tables that most align with you.
Connect across sectors and regions in a targeted way.
Get a 'birds-eye view'. All zones are designed for you to dip in and out at any time.
Higher knowledge brings a better view - get your ticket today to be part of the future of UK business.
To find out more, email info@festivalofcollaboration or go to https://festivalofcollaboration.co.uk
P.S Want to be more than a guest?
Upgrade your ticket to host a Virtual Sofa or become one of our partners, to make the most of the opportunity. Limited availability so get in touch today!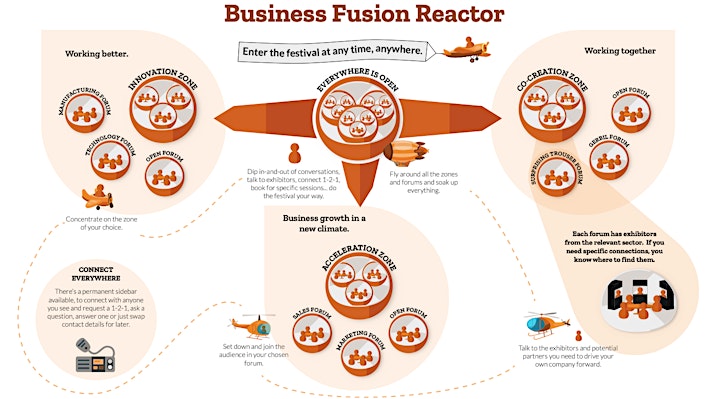 Date and time
Location
Refund policy