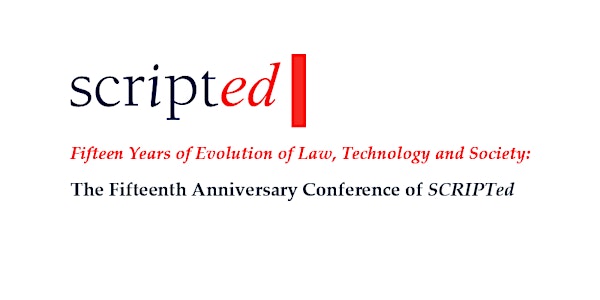 The Fifteenth Anniversary Conference of SCRIPTed
Event Information
Location
Evolution House, The University of Edinburgh
78 West Port
Edinburgh
EH1 2LE
United Kingdom
Fifteen Years of Evolution of Law, Technology and Society: The Fifteenth Anniversary Conference of SCRIPTed
About this event
SCRIPTed is a high-quality, open access, interdisciplinary, and multi-lingual journal focused on research in the areas of law, society, and technologies in the broadest sense. This 15th anniversary conference will bring together key scholars in the main fields of the journal – intellectual property law, information technology law and medical law – to share their reflections on and insights into the evolution of research in their own discipline over the last fifteen years and to shed light on pathways forward for future research.
Programme
15:00 – 15:15 Registration; Coffee and tea on arrival
15:15 – 15:30 Welcome by Editor-in-Chief of SCRIPTed
15:30 – 16:15
Johnny 5 Needs Input - Legal Tech, Digital Publishing and the Future of Law
Professor Burkhard Schafer
University of Edinburgh
Chair: Mr Nicolas Jondet
16:15 – 17:00
Do Androids Dream of Electric Copyright?
Dr Andres Guadamuz
University of Sussex
Chair: Mr Thomas Broderick
17:00 – 17:45
Our Genomic Future: Genome-edited Babies and Beyond
Ms Annie Sorbie
University of Edinburgh
Chair: Dr Catriona McMillan
17:45 – 18:00 Roundtable
18:00 – 19:00 Wine Reception
Date and time
Location
Evolution House, The University of Edinburgh
78 West Port
Edinburgh
EH1 2LE
United Kingdom