The FIRM's Online Event - Virtualising Your Recruitment Approaches
Join the FIRM team for this online event exploring solutions to help you as a recruiter navigate the virtual environment.
About this Event
Join the FIRM team for this online event !
 ++++++++++++++++++++++++++++++++++++++++++++++++++++++++++++++++++++
Presentations & Roundtables: From 9.00am
Coffee Break:  10.30-11am
Close of Day: 12.30pm
There are so many benefits to attending our online Event! But what we hope you take away from the #FIRMday is:
Great networking with in house recruiter peers
Understanding the key challenges facing in-house recruiters today
Upskilling/ capability building in a supportive and friendly environment
PLEASE NOTE 
By registering for the event, you will automatically receive updates from The FIRM regarding research, events and news.  You can unsubscribe at any time.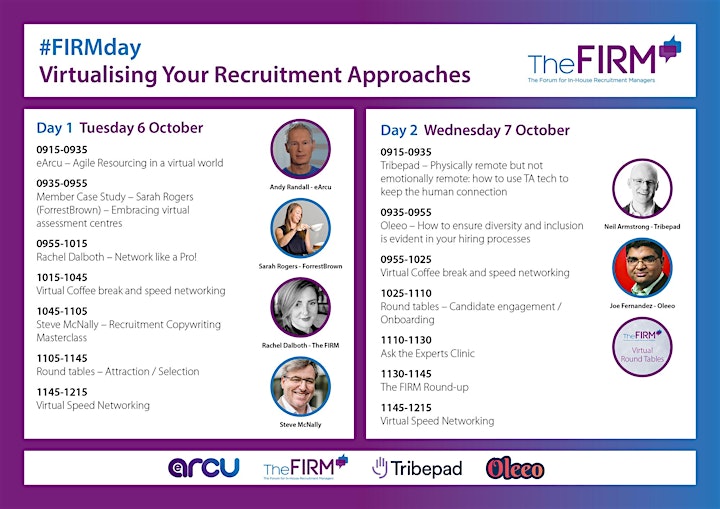 eArcu - Agile Resourcing in a virtual world
Andy Randall, CEO, eArcu is joined by the Head of Resourcing of one of eArcu's key clients, sharing their response and insights to the dramatic recent changes that have impacted the recruitment industry.
Member Case Study - Embracing virtual assessment centres
Join Sarah Rogers, Talent Acquisition Manager, as she shares Forrest Brown's transition from physical to virtual assessment centres, with great tips and learning's to help you in your own digital assessment journey.
Oleeo - How to ensure diversity and inclusion is evident in your hiring processes
Nearly 90% of HR leaders said they feel their organization has been ineffective or flat at increasing diversity representation, a Gartner report found. The same April survey of heads of Diversity, Equity and Inclusion (DEI) found that 69% are prioritizing advancing underrepresented talent.
The report found that HR and DEI leaders must address the systemic bias embedded in their systems, processes, and stakeholders to truly increase the diversity of workforces. In this session, Oleeo explores how this can be done right from the beginning of the hiring process. Key themes explored will include:• The importance of using brand content at every stage in the journey to be inclusive, engaging, and relevant to the unique questions diverse candidates have
• How to understand where your message is resonating and configure workflows that deliver inclusive, role-specific content at any stage in the candidate journey
• Pointers on how to ensure debiased job postings using technology
• Harnessing events to attract more diverse candidates
• Applying blind recruiting and AI-driven scoring to rank candidates based on their skills and competences alone
• Learning from data insights to know where DEI candidates are dropping out historically and planning improvements to help improve your next hiring cycle.
Tribepad - Physically remote but not emotionally remote: how to use TA tech to keep the human connection.
• Tribepad will share tips and client case studies on how to get the best results while hiring remotely• Find out how to get the most from video interviewing, onboarding and integrated assessments• And how to tackle increasing application volumes while delivering a great candidate experience
Steve McNally - Recruitment Copywriting Masterclass: Creating a compelling employment story for all your candidate communities
How do you connect with every candidate community you need? How do you craft a targeted message that's inclusive, inspirational and authentic to your employer brand? Steve McNally, the UK's most creatively-awarded recruitment copywriter, shares the secrets of structuring and writing ads that work every time ….
The FIRM - Networking like a Pro!
In this interactive session, we discuss why many recruiters, despite spending their lives networking with candidates often find networking outside this environment uncomfortable. We share insights, ideas and tips (and horror stories!) to help us prepare for networking effectively throughout this event and beyond!
Round Tables
Attraction – In this round table, we discuss and share ideas for leveraging creative digital attraction approaches to attract the right candidates without increasing your workload
Selection – In this round table , we discuss and share ideas around assessing candidates virtually in a way that ensures fair yet robust practices, meeting the needs for 1-1 selection, as well as assessment centres.
Candidate engagement – In this round table, we discuss the challenges surrounding keeping candidates engaged, at a time where face-to-face contact is not always possible. We share ideas for leveraging digital and online approaches in a way that dials up, rather than dilutes the candidate experience.
Onboarding – In this round table, we discuss the challenges and opportunities for onboarding new employees through digital and online approaches, in a way that enables onboarding to continue and provides the new starter with an engaging virtual experience.