Description
On 10th October, join Olivia Gordon at Heffers bookshop as she talks about her new book, The First Breath: How Modern Medicine Saves the Most Fragile Lives, in conversation with Dr Lucy Raymond. It is a book which explores the cutting-edge medicine that has saved a generation of babies who would not have survived if they had been born only a few decades ago.
The First Breath tells of fear, bravery and love. Olivia Gordon takes the reader behind the closed doors of the fetal and neonatal intensive care units, resuscitation rooms and operating theatres at some of the world's leading children's hospitals, unveiling the untold story of how doctors save the sickest babies, detailing the relationship mothers develop with doctors who hold not only life and death in their hands, but also the very possibility of birth.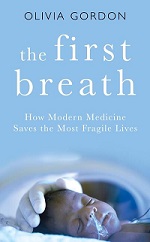 Olivia Gordon is a journalist who has written for The Times, Guardian, Telegraph, Red, Psychologies, The Pool, Broadly and more. Having read English Literature at Cambridge University, she spent her twenties and thirties working as a journalist. Olivia was twenty-nine weeks pregnant with her first child when a scan found that he was critically ill. Thanks to a risky operation in utero and five months in neonatal care, her son survived.
Lucy Raymond is a professor of neurodevelopment and has been a consultant for over 10 years, providing both specialist and general clinic care to patients. She is one of the doctors interviewed in The First Breath. Dr Raymond's research focuses on identifying the genetic causes of intellectual disability and she is a specialist in diagnosing genetic conditions in babies.
Tickets for the event are priced at £6 in advance or £7 on the door, and can be purchased through this page, by calling 01223 463200 or in person at Heffers bookshop. Please note that tickets are transferable but non-refundable.
Like this? See a full list of our forthcoming events by clicking here.