Description
the five million
Meet-up for EU citizens in the UK, Britons in the EU, and our supporters before the People's Vote march
EU citizens in the UK and Britons who made home in an EU country - we are the people too! That is why we want to make the case for a final say for all!
You are invited to join us for that for a meet-up prior to the People's Vote march on Saturday, 20 October, 11am, at Speakers' Corner in Hyde Park. (nearest tube: Marble Arch)
For a better map of the location, see https://goo.gl/maps/J9gCq4jLD1A2
The meet-up will see activists speak briefly about the campaigns to protect our rights, before we proceed to join the People's Vote march, marching together under the banner of 'The Five Million'. That is how many we are — EU citizens in the UK and Britons in EU countries: we are all one of the five million.
You are all welcome to bring your own banners etc, but we want to try and make a strong visual statement of togetherness as we march shoulder to shoulder! To do that we agreed to all wear white to make that visual statement, so we would like to encourage you to please join us and wear white (at least a white top / white shawl to wrap around etc).
If you wish, you can order the official bargaining chip / one of the 5,000,000 white hoodie directly from this online store:
www.tshirtstudio.com/marketplace/the3million/white-bargaining-chip-hoodie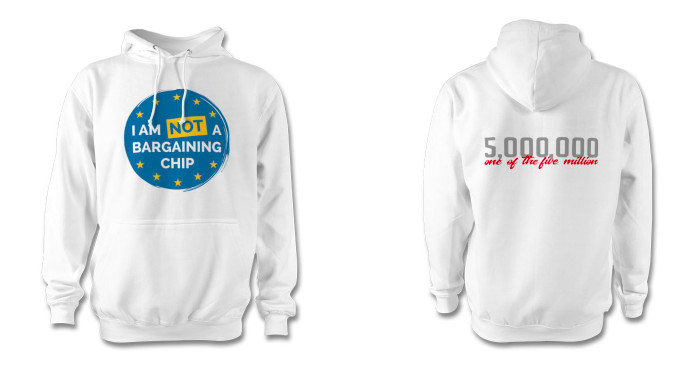 Please note we make no money from the sale of the hoodies. If you want to support us financially, please select Donation in your ticket type.
We look forward to seeing you on 20 October at 11AM at Speakers' Corner!
European regards,
Nicolas Hatton, the3million
Kalba Meadows, British in Europe
Nicola James, Final Say For All
Tanja Bueltmann, EU Citizens' Champion