Hear real life stories from the generation who lived through the AIDS pandemic, as recently portrayed in the C4 series 'It's a Sin'
About this event
The Forgotten History of the AIDS pandemic
a National HIV Story Trust event
The mortality rate was 98% in the first wave of the AIDS epidemic in the UK.
The National HIV Story Trust has filmed the stories of the 2% who survived.
This event provides an introduction for teachers and students to HIV/AIDS through survivors' personal experiences, those of their friends and families, the clinicians who selflessly treated a disease they knew little about and exclusive archive footage.
Channel 4's It's A Sin showed a world that, until the coronavirus pandemic, many would have struggled to imagine: a mysterious disease, entire groups of friends disappearing, and an indifferent society.
This forgotten history will be of interest to teachers and students of history, PSHE, science, religious studies, health & social care, media studies, critical thinking and of course those with a general interest in the topic and who may have watched the acclaimed Channel 4 show It's A Sin.
Join us to explore this extraordinary, hidden history on Tuesday 27th April 4.00 - 5.15.
HIV is now a manageable condition and we will also hear from a younger generation to understand what it means to live with HIV today.
Agenda
This live event for teachers and students will take you through the fears and uncertainty of the early days of the pandemic to the opening of the first specialist ward by Princess Diana; to the advent of medication and living with HIV today
1. The early years 1981-87 - no medication, 98% mortality rate, ignorance, stigma and discrimination. What was it like to live in fear? We hear testimonies from people who, against all the odds, survived.
2. The opening of the first ward at the Middlesex Hospital - by Princess Diana in 1987. What was it like to be diagnosed with AIDS? What was it like to be a patient on the ward? What was it like to work on the ward?
3. The advent of medication in 1996 and how that changed life expectancy and gave hope for the future.A doctor, who has worked in HIV since the early days, will talk about the impact medication had on treatment, care, life expectancy and the most recent developments.
4. Living with HIV today - HIV is now considered a chronic manageable condition. What is it like to live with HIV now? Can you live a normal life and achieve all your goals? Meet the new generation who have successful careers, have married, are parents of negative children and have achieved their goals in life.
The UK is aiming to eradicate all new HIV infections by 2030.
5. Q & A.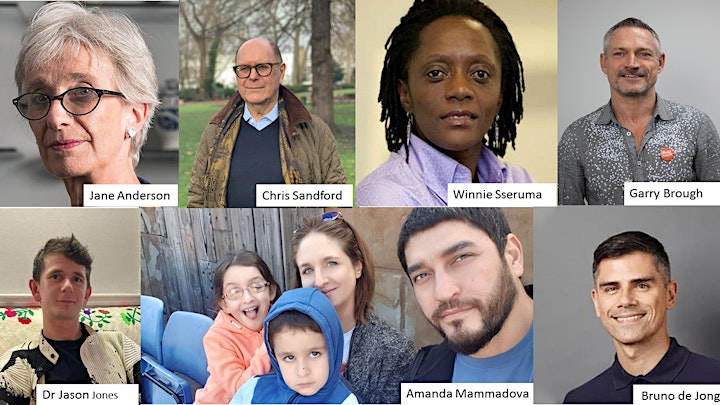 Professor Jane Anderson
Jane is a Consultant Physician in HIV Medicine at Homerton University Hospital and Barts Health NHS Trust. She has worked in the field of HIV as a doctor and researcher since 1984. She was an advisor to Public Health England, a past Chair of the British HIV Association and is currently Chair of the National AIDS Trust.
Chris Sandford BA Hons, MA, PGCE
Living with HIV for 40 years. Recently retired from NHS Mortimer Market Centre - one of the largest HIV clinics in Europe and a major research centre. Teaching at Goldsmiths, Queen Mary, University of Oslo, New York University, London School of Hygiene & Tropical Medicine and University College London Medical School. Member of the British Psychological Society and contributor to the Psychological Standards for Adults Living with HIV.
Winnie Sseruma BA
Born in the UK, educated in Uganda and university in the US (sociology). International Development Consultant working in the UK and Africa. Previously worked for Christian Aid. Chair of the board of the African Health Policy Network. Consultancy work includes health training, community research, programme evaluation and technical assistance - largely supporting organisations responding to social injustice and women's leadership. Living with HIV for over 30 years.
Garry Brough BA
Diagnosed in 1991, Garry has championed patient involvement and peer delivered support since co-founding the Bloomsbury Network in 1999. He has worked for the NHS and HIV charities including the Terrence Higgins Trust and Positively UK where he currently leads on peer mentoring and learning, partnership and policy. He is working with the Mayor of London on the Fast Track Cities initiative to eradicate new infections of HIV by 2030.
Dr Jason Jones MBBS BSc
Jason has just spent two months on night shifts as an A & E doctor. He was diagnosed while a student at University College London Medical School. Last year he worked on a Covid-19 High Dependency Unit and is currently working in the Neurology Department. He is also a professional mixologist!
Amanda Mammadova - LS (Life Skills)
Mother of three children. Owns a 24 hour gym, qualified advanced personal trainer, group fitness instructor and nutritionist. Has appeared on TV talking about her diagnosis and in the short film A Life Beyond (Vimeo). Volunteered for Brook in schools and is a big fan of Ben Howard.
Bruno de Jongh BSc, HCPC, CSP
Father of ten month old twin daughters. He is a physiotherapist and successful businessman with his own multidisciplinary team clinics - which include physiotherapist, osteopaths and sports therapists. In his spare time ... what spare time? .... he is an avid gamer.

Organiser of The Forgotten History of the AIDS pandemic
The National HIV Story Trust (NHST) was established as a repository of real life stories, to preserve the history of the HIV/AIDS pandemic, remember the stories of tragedy but also those of love, compassion and humanity. The lessons from the pandemic remain as pertinent today as they did in the 80s/90s. The NHST hopes the 100+ interviews filmed with survivors and victims' families, partners and medical professionals, will be a voice for those who didn't survive, a chance to honour those who did, and an education for those who live so freely today because of this generational struggle.
The interview footage has been donated to the London Metropolitan Archive for public and research access and as a record in perpetuity.