Quality Networking and Collaborations- Join like-minded businesses to help you grow your business!
About this event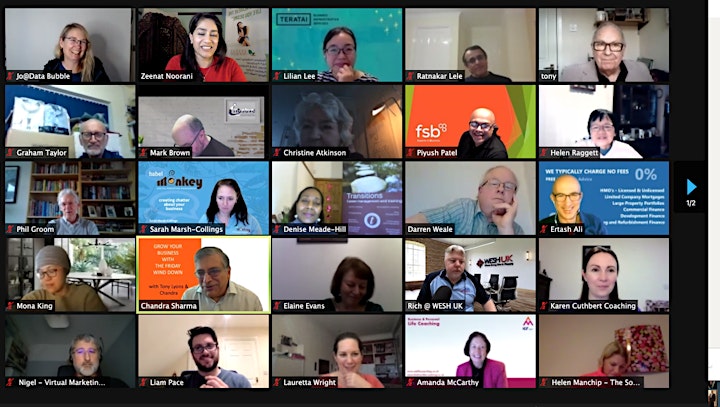 Could your business do with more business?
Would you like to meet with other like-minded people who are also looking to grow their business?
Do you like the idea of collaborating with other businesses to grow?
If so, join us for the next meeting (s) for The Friday Wind Down
Bi-weekly on a Wednesday from 5.00 pm - 6.00 pm. Doors open at 4.45 pm for a chit chat. (See available dates when booking)
These meetings are like no other; it's fun and chilled where you can kick off your shoes and bring along your favourite drink!
The group is going from strength to strength and some great business relationships are being formed and business being conducted. We have already had amazing collaborations and successes!
With the help of our members, we have set up a LinkedIn Business Page and a Youtube Channel where you can share videos of your business. Plus a great WhatsApp group to encourage networking in between meetings.
The meetings are a nominal fee of £5:00 + Booking Fee to attend, so please register your place today! Everyone will get an opportunity to 'sell the sizzle' about their business followed by a collaboration round.
Get your first visit free. Email : Fridaywinddown@gmail.com with "Free Visit" as your subject header.
There is also have an Annual Membership available with great benefits. To find out more, email: fridaywinddown@gmail.com
We hope you can make it.
Regards,
Tony Lyons, Chandra Sharma & The Team
Chandra Tel: 07775 743630 Email: chandra@elmcroftbusiness.co.uk
Tony Tel: 07973 141350 Email: tony@lyons.vispa.com