Description
Basil and Peter are back for a 3rd year of summer pottery classes!!!
The Wapping Pottery Summer School offers pay-by-the-day, whole day of pottery, in a very welcoming, friendly and creative environment.
Only 9 places available each day, and one of the few classes with 2 tutors on-hand at all times to make sure you have a great day with the level of support and guidance you want.
You will receive a £10 discount voucher with your first booking that you can use when booking any subsequent days with us.
The studio has 6 wheels, plenty of desk space for handbuilding, all the tools you need, a wide range of ready made glazes and oxides for your decorating, and 2 kilns for firing your work, all included in the price of your ticket.
COMPLETE BEGINNERS: if the last time you tried pottery was at school then do not fear, we offer a daily introduction to this wonderful craft to help you get started.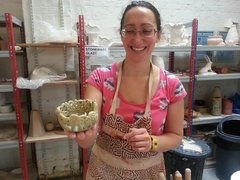 You can learn a range of handbuilding and decorating techniques, and try throwing a pot on the wheel if that takes your fancy.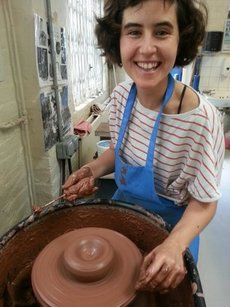 EXPERIENCED POTTERS: come and get on with your own projects at your own pace, with earthenware, stoneware, crank and porcelain clays to choose from, and guidance and support if you want it.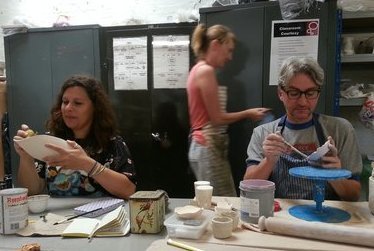 ARTISTS: come and experiment with a different type of medium for your work. We have great experience helping people do weird and wonderful ceramic projects.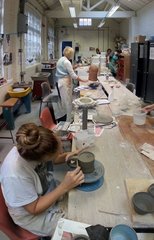 TEAM DAYS: New this year! Have exclusive use of the pottery studio for your team building event this Summer. Only 4 dates available: Thurs & Fri 20 & 21 July 2017, and Thurs & Fri 17 & 18 August 2017.
There is a great cafe on site or local shops for lunch, snacks, and refreshments.
In order to keep our prices as low as possible, we kindly ask you to cover the Eventbrite booking fee.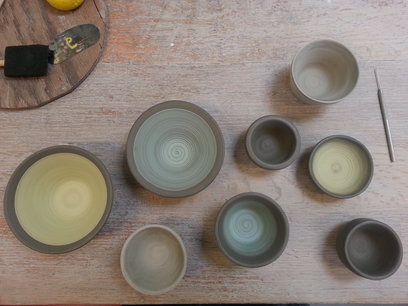 It is an adults only class - apologies but we cant cater for under 16s.
We hope to welcome you along this summer for some great days with clay.
Basil and Peter
"Very enjoyable and fun classes at your own pace!"
"A wonderful day with Peter and Basil. I highly recommend it."
"Brilliant. I wish every day could be a pottery day."
Here's a short film of Pete in the studio talking about the pottery summer school...