The Full Moon in Cancer Alchemy Gathering

Thursday, 12 January 2017 from 19:00 to 22:00 (GMT)
Event Details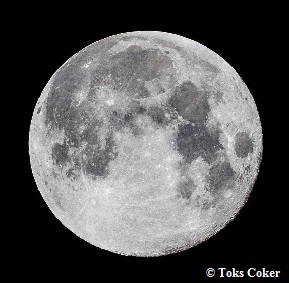 Happy Full Moon in Cancer Healing Circle
This is a Moon Alchemy Gathering
It is from 7pm-10pm on Thursday 12 January 2017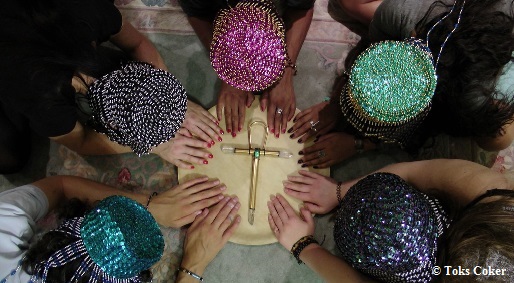 Please bring some food to share if you can.
(e.g. Vegetarian)
Thank you.
Element: Water/Earth
This Full Moon Alchemy Gathering is a Time:
1. To Celebrate Yourself
2. To Celebrate your Completions
3. To Be a Great Being of Light
4. Of Abundance and Ripening
5. To Celebrate Completeness aka the Fruition of Action. This is much like the Summer Time when Flowers come to Full Bloom. 
CANCER QUOTE:
"Only by melting the ice in the heart of Man does Man have a chance to change and begin using his knowledge wisely." Angaangaq

Toks has been holding Moon Alchemy Gatherings for a good 20 years now. Toks Channels Invocation Blessings that Inspire and Encourage One's Own Personal Spiritual Journey. They are Channelled in such a way that it is as if she is talking directly to you......to the very Heart and Soul of you.
The Moon Meditation is Guided and Channeled by Toks - Live and in the moment. Here is some of the Magic that it entails:
1. It is a Journey to your Sacred Space of Light or Sacred Cave of Light. 
2. It is a Journey into your Deeper Self, your True Self, your Real Pure Note, your Spiritual Resonance.
3. It is a Healing Meditation on a Multi-Dimensional Level.
4. It is about Starting Afresh, Planting a New Seed and Connecting to your Higher Self.
5. It is a Self-Healing and Self-Discovery Meditation.
6. It Empowers you with the Knowledge and fact that Once you can Attend to Yourself, you can Attend to Others with Ease.
7. It is about Renewing Yourself, Rebirthing New Ideas and Activating the Creative Life Force in Yourself and Around You. It is a very Rejuvenating Meditation.
Moon Alchemy Gatherings are for you if you are struggling with any of the following, in any area of your life:
1. You feel disempowered and/or out of rhythm with yourself.
2. You feel stuck and/or lack the energy to move forward in a particular area of your life.
3. You are unclear about an area of your life; you don't know what to do.
4. You are unsure about any number of things in your life and are looking for answers and a point of action. This could include such things as:
    a. Is now the right time to start a family?
    b. Is marriage right for me now?
    c. Shall I change my job or career? Shall I do so now?
    d. Is now the right time to start a business/expand it?
    e. How do I go about calling in the right romantic relationship for me           now, so that it is more than just a repeat of the past?
    f. How do I heal old family wounds and get closer to my family?
    g. How do I let go and move on from certain people/places/habits             that no longer serve me?
    h. Am I on the right path (in life, in love, in business etc.)?
What to expect.... 
1. We will be doing Sacred Chakra movements which will be empowering your divine self.
2. We will be writing your completions and achievements with this Full Moon and beyond.
3. We will be dressing up the God/Goddess in you and dancing to Shamanic music, Honouring you.
4. There will be an extensive and freshly channelled Guided Meditation.
5. We will be working with crystals to clean, uplift and guide your Energy; a very healing experience.
6. We will be drawing cards towards the end of the workshop in order to crystalise what you have intended and what you have received.
7. We will be creating our own individual Crystal Portal Matrix. Here is one made at a previous Moon: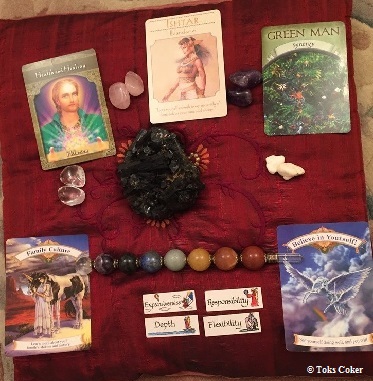 All of this will be done, and quite possibly more, all within a Safe Healing Circle with guided interpretation and lots of laughter!
HEALING REQUEST: If you need energy or support for an intention or for your life, please drop me a private email (tokscoker@handsoflight.co.uk) with your name, age, the area where you live and the subject. We will place a candle in the circle for every person or intention. If you are asking on behalf of a friend, relative or animal please ask their permission first. The act of asking already activates the healing.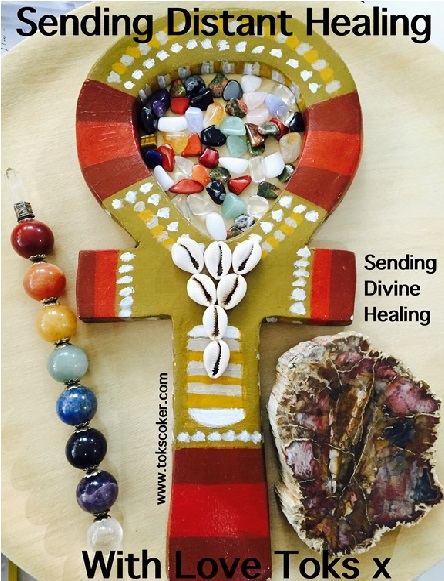 Alternatively, please feel free to go to my Hands of Light Healing Facebook Fan Page - https://www.facebook.com/handsoflighthealing/. 3 Days before each Moon, a Pinned Image will be put up advertising said Moon. Feel free to put your healing request as a comment on this picture.
Toks tends to send healing for 3 nights, from the day of each Moon, which you will receive when you are sleeping or when you sit quietly for 15 minutes and call it in.
CANCER QUOTE:
"Conscious evolution begins as we take responsibility for clearing our own obstructions." Dan Millman
 
We will be working with these Cancer Full Moon Energies:
1. Looking at what is holding you back and realising how you are part of what is holding you back.
2. Looking with discernment at the stories and excuses you tell yourself and the limiting decisions, limiting self beliefs and limiting self doubt that arises out of this.

3. Taking responsibility for what is holding you back; calling in your power to transform the situation.

4. Clearing out these obstructions; immediately feeling fresh and free – feeling like you can breathe again.

5. Deciding what you are going to make happen in your life with this energy of Full Moon in Cancer.

6. Deciding on what new attitudes and behaviour you can create to move your life forward.

7. Celebrating the positive attitudes and behaviours that you already have.

We will be Asking....
1. What you have been avoiding or pretending is not a problem in your life and your relationship?
2. Are you feeling overwhelmed and emotional, with lots to do? How do you get through this?

3. Beneath the waves and torrents of your emotions and dramas, what lesson is there for you?

4. Have you declared your boundaries, to yourself and others?
Food Options: Vegetarian, snacks, nibbles etc.
MAY THE FORCE BE WITH YOU
TESTIMONIALS
"Going away feeling empowered. Thank you." Kalisha McCaulsky

"I found this gathering mind blowing. I'm taking away strength and power and inner magic. Toks is incredibly powerful." Kathryn Drysdale
"I felt a very welcoming atmosphere, a special energetic space where I could share my intentions freely and partake in helping others facilitate theirs. Will come again for sure. X" Paul Fossett
"Be open and please try a session." Paula Zanbonini

CANCER QUOTE:
"I like to make things happen.  And if they don't happen, I like to make them happen." Winston Churchill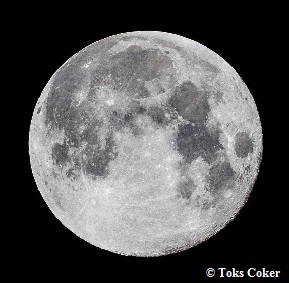 A bit about the Full Moon.....
Mother Moon is pregnant with life. There is power and magic in the air. The moon is round, making the atmosphere pregnant with emotion and desire. The cup is full and the cup 'runneth' over. As such, it is a time full of emotional energy which is very high. It is a time to face these varied emotions. 
Everything is amplified with the energy of the Full Moon e.g. emotions, passions, love etc. You may experience strongly charged emotions with abundant, sometimes uncontrollable feelings; which can lead you to lose control in a positive or negative way. Remember – the choice, as always, is yours. 
What you perceive as your reality depends on what you are feeling. At the time of the Full Moon, this can cause a lot of confusion if not checked. The gravitational pull of the Sun and Moon on our beloved Earth set these extremes up. This can be a hard time to find balance. A time of extremes. 
Free Invocation Blessings: http://blog.tokscoker.com/
Nearer the date of the Moon Alchemy Gathering, or on the day itself, you can check the Energy of the Time - of that particular Now, by reading Toks' Invocation Blessing. This can be found on her blog. It is very extensive, informative and includes exercises for you to do so that you can gain greater clarity with your processing of the Energy of Now. These exercises, like the Invocation Blessing itself, are channelled each time and so they change with the Energy of each Moon.
2017 Moon Dates: http://blog.tokscoker.com/diary-dates/

Web:  www.handsoflight.co.uk / www.tokscoker.com
If you have any queries, feel free to call Yanni on 07961044895.
When & Where

Flat 5
1 Alexandra Place
NW8 0DY London
United Kingdom


Thursday, 12 January 2017 from 19:00 to 22:00 (GMT)
Add to my calendar
Organiser
Toks Coker is a Teacher, Healer and Coach.
CLIENTS: Over the past 30 years Toks has been seeing her clients privately in St Johns Wood, either in person, over the phone or on-line via Skype or Zoom. Her sessions have enabled a lot of powerful personal transformation, in the lives of her clients. Book  yourself some private moments to releasing karmic wounds, suffering, pain, etc. and to really healing your relationships, finances, health, etc.  
STUDENTS: Toks is always teaching, even a conversation with her could reveal a teaching or insight you needed to hear. Her work has changed thousands of lives. She has been channelling and invoking, at her new moon and full moon gatherings. Join and experience for yourself.
TEACHING: Toks is a Certified PGCE Teacher, Crystal Healing Teacher, Universal Healing Tao Certified Instructor and Energy Trainer. Over the years she has taught many healing and empowering classes. She is currentlyg teaching her on line course: 8-Weeks of Forgiveness, which is recorded, so you never miss a teaching. Her Intensive 8-Days Spiritual Practice is available to buy too. She teaches Indian Head Massage and Face Rejuvenation at Morley College.
SERVICES: Toks offers a variety of services, which enables her to tailor a package or session, specifically for your situaiton. This uniquely empowers you to more happiness, clarity and joy. You can always book a session or one of her packages. Because she is certified in various modalities she is able to offer many services such as: Taoist Microcosmic Orbit, Inner Smile and Healing Sound. She is a Crystal Healer, an Arcturus Quantum Healer, a Quantum Alchemy Crystal Bowl Practitioner, a Spiritual Healer, a Toa Hands Practitioner, an Angel Card Reader, an Energy EFT Master Practitioner, a Positive EFT Practitioner, an EMO Master Practitioner, an EMO Practitioner, a Pranic Healer, Reiki Healer and more. She is a certified Life Coach: Time Line Therapy Practitioner, Certified Practitioner of Neuro Linguistic Programming; Certified NLP Coach Practitioner and Practitioner of Hypnosis.
ADVISOR: Toks is a Senior Practitioner and an Advisor for the BRCP. 
SPEAKER: Please contact her if you would like her to speak at your event.
"If you Light a Lantern for another it will also Brighten Your Way." Gosho Zenshu, p1598