How To Academy presents... The Future of Artificial Intelligence and How You Can Save Our World | Mo Gawdat In Conversation With Robin Ince
About this event
Machines will soon surpass human intelligence. How do we stop it destroying the human spirit? The former Chief Business Officer at Google [X] is here with a plan.
By the year 2029, it is predicted that machine intelligence will break out of specific tasks and into general intelligence and that by 2049, AI will be a billion times smarter, in everything, than the smartest human. If AI is Einstein and humans are a fly, how do we convince this super being not to squash the fly?
In this livestream event, Mo Gawdat, one of the world's most authoritative experts, will outline the actions we must take to safeguard the future of our species. We are the "parents" of AI, responsible for instilling its value systems: and so far we've not been very good ones. Humanity's own arrogance, greed, violence and division have helped to create a dystopian future of AI.
The time has come to and argues that it is in our power to make real change and avoid the erasure of our way of life. Through real examples from science and engineering, an exploration of whether AI can ever be contained and insights into how machines have evolved so quickly, this event will allow us to understand how we can better educate machine intelligence through our own actions so that it will work with us and not against us in the future.
Mo Gawdat is the former Chief Business Officer of Google [X], entrepreneur and bestselling author of Solve for Happy: Engineering Your Path to Joy. Mo joined Google in 2007 to kickstart business in emerging markets and in 2013 moved to the infamous innovation arm of the tech giant, Google [X]. Google [X] aims to develop new technologies to reinvent the way that things are in the world and has led to seemingly Sci-Fi ideas such as Google Life Sciences and Project Loon, which aims to provide high-speed internet to every inch of our planet through the use of high altitude balloons.
Robin Ince is the co-presenter of Radio 4's multiple award winning The Infinite Monkey Cage. He spent 2019 appearing across the world in the Universal tour with Brian Cox – travelling from LA to Oslo, Wellington to Aberdeen and ending up in Reykjavik after shows at the 02 and Wembley Arena. Robin co-wrote How to Build a Universe (part 1) with Brian Cox and his most recent book is I'm a Joke and So Are You, a book about why we become who we become and how we deal with it.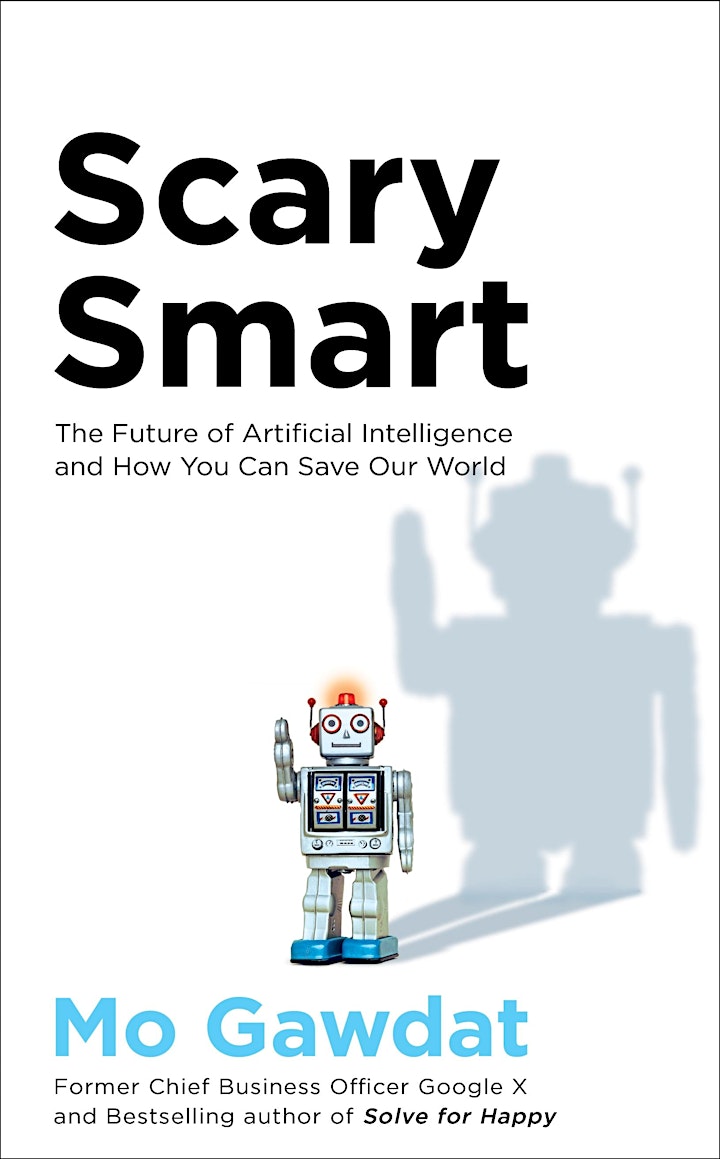 Organizer of The Future of Artificial Intelligence and How You Can Save Our World
How To Academy is an organisation for people who think big. From Nobel laureates to Pulitzer Prize winners, we invite the world's most influential voices to London to share new ideas for changing ourselves, our communities, and the world. 
We host leading artists and thinkers in an unrivalled programme of public talks, debates and conferences – from Yuval Noah Harari to Natalie Portman, Emma Watson to Eric Schmidt.
We help businesses discover transformative new strategies, anticipate the future, and inspire their staff with keynotes and workshops by internationally-acclaimed economists, psychologists, politicians, and thought leaders. 
We offer masterclasses live and online with experts in essential twenty-first century skills, like leadership, public-speaking, decision-making and resilience. And we make books, podcasts and films to share insight and innovation around the world.