Challenges, Opportunities and Investment in reversing climate change Latest advances in Renewable Energy, AI & climate-friendly initiatives.
About this event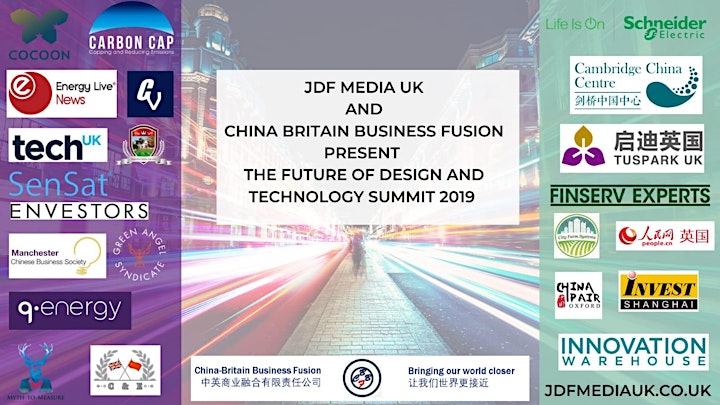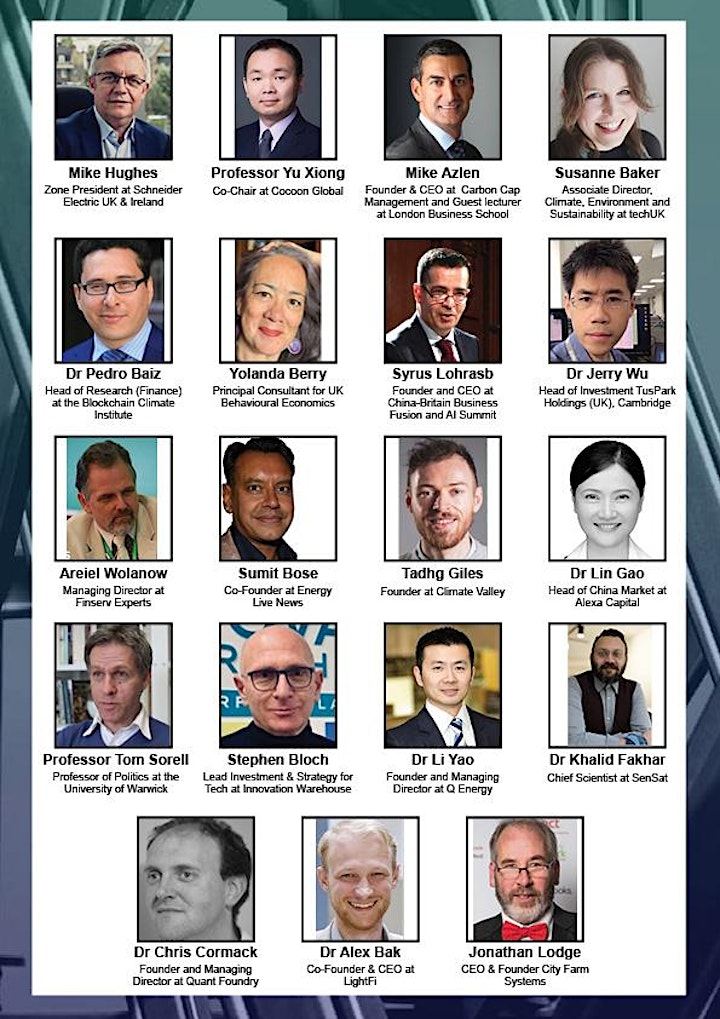 The Summit is a meeting of brilliant minds, innovators, scientists, investors, governments, academics, world renowned speakers in their fields who are coming together to enlighten us with existing challenges with climate change and at the same time identify opportunities in investing in climate-friendly initiatives. The summit will also demonstrate and showcase cutting edge technologies, latest developments and innovative initiatives to help bring about climate change reversal.
Summit objectives:
Following the success of the China-Britain AI Summit earlier this year, our objectives with this ground-breaking event are to:
• Highlight some of the issues, challenges and remedies with climate change
• Spotlight a number of solutions and environmentally friendly projects
• Create investment opportunities and interest from investors from the UK, Europe and China
• Showcase the positive initiatives and scientific advancements that will shape our future and help bring about #ClimateChangeReversal
High Calibre Attendees:
In attendance will be Private Client Investors, Partners, Senior Executives, Government representatives and Academics, Entrepreneurs, VIP invited guests, and Scientists from the UK, China and Europe. All will be looking for the very latest news in cutting edge Design and Technology, (including AI and EV's, Cleantech Investments, Energy Storage and new opportunities in Climate Change Reversal Initiatives.
Global Media coverage:
CGTN (China Global TV Network) will be covering the Summit reaching their audience of over 85 million viewers in 100 countries. A number of other News & Media channels in the UK/Europe and China including People's Daily Online based in London and with circulation of 3 million will cover the summit.
AGENDA
08:30 Registration
09:25 Welcome Remarks: The Institution of Engineering and Technology (IET)
09:30 Opening Keynote: Syrus Lohrasb, Founder and CEO at China-Britain Business Fusion and the inaugural China-Britain AI Summit
09:45 Keynote Speech I: Climate Change: the Science, the Impacts & the Solutions by Mike Azlen, Founder & CEO at Carbon Cap Management and Guest lecturer at London Business School
10:15 Panel Discussions 1: Challenges & Mitigations, 3s: Smart, Sustainable & Socially Responsible, Greenhouse Gas Emissions, Plastics & Oceans, Energy Management & Consumption - Hotspots - A new form of governance, Belt & Road Initiative
Chair: Sumit Bose, Co-Founder at Energy Live News
Presentation by: Tadhg Giles, Founder at Climate Valley
Professor Yu Xiong, Co-Chair at Cocoon Global, Susanne Baker, Associate Director Climate, Environment and Sustainability at techUK , Yolanda Berry, Principal Consultant for UK Behavioural Economics
11:00 TEA BREAK
11:15 Panel Discussions 2: Designs, Disruptive Technologies & Trends, 3i: Insights, Initiatives & Investment - Role of AI, IOT, Cloud, 5G , Renewable Energies, Cleantech, EV, Wind power,… - Sweet spots and Preparing Businesses and Industries for Change
Chair: Areiel Wolanow, Managing Director at Finserv Experts
Presentation by: Dr Lin Gao, Head of China Market at Alexa Capital
Dr Jerry Wu, Head of Investment TusPark Holdings (UK), Cambridge, Mike Azlen, Founder & CEO at Carbon Cap Management LLC
12:15 Panel Discussions 3: Ethics & Standards Development & Deployment of technologies at what cost to environment. Including Ethical AI
Chair: Areiel Wolanow, Managing Director at Finserv Experts
Presentations by: Professor Tom Sorell, Professor of Politics at University of Warwick and Dr Pedro Baiz, Head of Research (Finance) at the Blockchain Climate Institute, Syrus Lohrasb, Founder and CEO at China-Britain Business Fusion and AI Summit
13:00 LUNCH & NETWORKING
14:00 Keynote Speech II: Powering and Digitising the World's Economies in an era of climate crisis by Mike Hughes, Zone President at Schneider Electric UK & Ireland
14:30 China-Globe Multiple Projects & Tech Presentation
Chair: Stephen Bloch, Lead Investment & Strategy for Technology at Innovation Warehouse
Q Energy: Dr Li Yao, Founder and Managing Director
SenSat: Dr Khalid Fakhar, Chief Scientist
Quant Foundry: Dr Chris Cormack, Founder and Managing Director
LightFi: Alex Bak, Co-Founder & CEO
City Farm Systems: Jonathan Lodge, CEO & Founder
15:30 Panel 4: China-Globe Multiple Projects & Tech Presentations Q&A
16:30 Closing Remarks: John Furlong, Event Director at JDFMedia UK
17:00 to 19:00 DRINK RECEPTION & NETWORKING