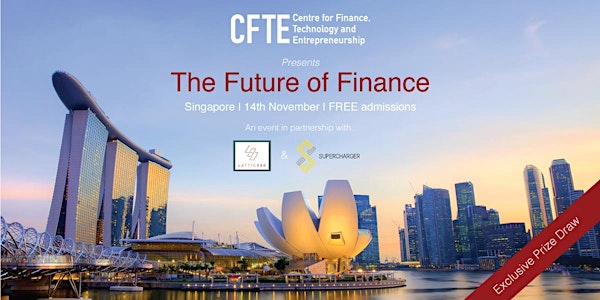 The Future of Finance with CFTE in partnership with SuperCharger and LATTIC...
Location
LATTICE80
08-01, 80 Robinson Road, Singapore 068898
Singapore
Singapore
Description
Lucky Draw!
To celebrate the Singapore Fintech Festival, attendees will have a chance to win one out of 3 accesses to "Around Fintech in 8 hours", the first online Fintech Foundation Course from CFTE. Each access is worth £299 and the course has been described as the "best Fintech content, speakers and readings one could squeeze in 8 hours, a MUST DO course!"
For more information on the course please visit aroundfintech.cfte.education
---
Join us for a special event being held by CFTE in partnership with SuperCharger, Asia's leading Fintech accelerator at LATTICE80, the world's largest Fintech hub.
The event will be centred on two evening sessions that will dive deep into the growing influence of Fintech on the financial services sector.
The main session, 'The Future of Finance', will have 4 distinguished guest speakers provide insights into the changing nature of financial services and how to build new skills in a world of digital finance.
CFTE's co-founders, Tram Anh Nguyen and Huy Nguyen Trieu will be joined by:
LATTICE80 Co-founder, Gina Heng,

SuperCharger Founder, Janos Barberis

Tryb Co-founder and CIO, Veiverne Yuen

GIC's head of data and analytics, Choy Siew Kai
Preceding the main session will be an illuminating presentation from the SuperCharger team that will highlight the progression of Hong Kong's Fintech ecosystem. A discussion panel consisting of alumni graduating from their Fintech accelerator program will provide further insights into front-line innovation in finance.
Please note the full agenda below together with in-depth speaker bios.
---
Agenda
SuperCharger session:
17:30 - 18:00: Registration
18:00 - 18:15: Opening remarks on HK Fintech ecosystem from Janos Barberis
18:15 - 18:30: SuperCharger HK 2018 Program overview
18:30 - 19:00: Discussion Panel with Alumni
Main Session
19:00: WELCOME
19:30: PRESENTATION OF CFTE
Tram Anh Nguyen, co-founder of CFTE and Huy Nguyen Trieu, CEO of The Disruptive Group and co-founder of CFTE.
19:45: HOW TO ACQUIRE THE SKILLS OF FINANCE 2.0
Tram Anh Nguyen in discussion with Gina Heng, Janos Barberis, Veiverne Yuen.
20:15: HOW TO BRIDGE TRADITIONAL FINANCE TO DIGITAL FINANCE
Huy Nguyen Trieu in conversation with Choy Siew Kai.
20:45: Q&A
21:30: END
- Food and drinks included
---
Meet the guest speakers:
Tram Anh Nguyen
Tram Anh Nguyen is the co-founder of CFTE. With a career in finance spanning 17 years, she has worked across various sectors ranging from capital markets to private banking to family offices. She has navigated between the corporate and entrepreneurial world, and knows the excitement and challenges of entrepreneurship. Tram Anh started her career with Standard Chartered in London and then New York, where she was a trader and main market-maker for Non-Deliverable Forwards, and part of the team that was ranked 1st for Asian currencies by Euromoney. She then joined Dresdner Kleinwort Benson, and then UBS Wealth Management where she worked with Asian clients. Her ability to engage with people and build meaningful relationships led her to found her own consultancy and to work as a Senior Advisor with Niveda Family Office. For many years, she has been interested in the future of education, is involved with innovative schools and has invested in new education platforms. She is a strong believer in lifelong learning.
Huy Nguyen Trieu
Huy Nguyen Trieu is co-founder of the CFTE. He is also the CEO of The Disruptive Group – a business builder and advisory firm in innovation and finance. Prior to The Disruptive Group, Huy was a Managing Director at Citi, and previously at RBS and SG. Before banking, he was the CEO of Ukibi, a VC-funded startup in the US. He is a frequent keynote speaker in Europe and Asia, likes to teach and share with students and entrepreneurs, and is regularly quoted in articles on innovation and finance.
He writes the blog Disruptive Finance, is a Fintech Fellow at the Centre for Global Finance and Technology at Imperial College, an Entrepreneurship Expert at Oxford Said Entrepreneurship Centre. He is also a member of ESMA's Consultative Working Group for financial innovation and a founding member of the Asian SuperCharger, one of the largest Fintech accelerators in Asia. Huy is a graduate from MIT (US), École Polytechnique (France) and Ecole des Ponts et Chaussees (France).
Gina Heng
Ms. Gina Heng is the Co-Founder and Chief Executive Officer of Marvelstone Group since April 2015. She serves as the Founder of Miss Kaya since September 2016 and the Founding Partner of LATTICE80 since November 2016. Previously, Ms. Heng served as Venture Partner at The Yozma Group from December 2014 to May 2015. She served as Chief Executive Officer and Director at One Asia Investment Partners from May 2013 to October 2014. Ms. Heng served as Co-Founder and Director at Leonie Hill Capital from April 2010 to April 2013. She served as Analyst at Bank of Tokyo-Mitsubishi UFJ from April 2009 to April 2010. Ms. Heng served as Analyst at Cerulli Associates from August 2005 to April 2009. She serves as a Board member at Marvelstone Group. Ms. Heng holds a B.A. in Political Science and Economics from the University of Pennsylvania.
Janos Barberis
Janos is the founder of SuperCharger, the leading Fintech Accelerator in Asia and sits on CFTE's Academic Board. Janos is an active member of Hong Kong Universities Fintech education strategy. At the university, in addition to being a Senior Research Fellow and a PHD Candidate, he has also has helped to initiate the recently announcement Fintech MOOC.
An expert in understanding the regulatory implications brought on by the development of FinTech, he co-authored several academic papers that now accounts for 1/3 of all global downloads. He co-founded the Fintech Book by crowdsourcing expert insights; the book is sold in 100+ countries and has now expanded into a series of three additional publications including The RegTech Book.
Janos sits on the FinTech advisory board of the Securities & Futures Commission in Hong Kong and was recognised as a "Top-35 Global FinTech leader" by Institutional Investor Magazine.
Veiverne Yuen
As Co-Founder and Chief Investment Officer for tryb, Veiverne executes the company's objective of building tomorrow's financial infrastructure by investing in the most promising Fintech companies in the ASEAN region.
Veiverne is a Private Equity professional who was previously a Vice President at the Government of Singapore Investment Corporation (GIC Pte Ltd). At the GIC, Veiverne was a founding member of the Integrated Strategies Group, a direct investment team focused on large and structured deals in private equity, PIPEs and credit. During his 5 years at GIC, Veiverne led and worked on over US$5billion in deals across a broad range of sectors such as financial services, technology, infrastructure and commodities.
Prior to his time at the GIC, Veiverne was the South East Asia lead for Rabobank's Food & Agribusiness Research and Advisory desk. In this role, he led multiple deals including the China-Singapore Jilin Food Zone and the Northern Corridor Economic Region in Malaysia. Veiverne's team also provided regular commodity price forecasts used the bank for trade finance, equities and credit activities.
Veiverne also held roles at the Monetary Authority of Singapore in Capital Markets Supervision, and Rolls-Royce plc in the United Kingdom as a design engineer.
Veiverne holds an MSc in Applied Finance from the Singapore Management University, as well as a MEng in Aeronautical Engineering from the University of Bristol, UK.
Choy Siew Kai
Siew Kai is a Managing Director of GIC Pte Ltd (Singapore's sovereign wealth fund) and Head of the Data and Analytics Department. The department is responsible for Data Science, Enterprise Data Governance & Data Architecture, as well as all Business Requirements Analysis, Data Management and functions related to implementing systems supporting investment decision-making by all investment groups in GIC. The department is also tasked with spearheading the multi-year implementation of next generation Data and Analytics solutions for GIC and the establishment of GIC's Innovation Lab.
Prior to assuming his current position, Siew Kai was responsible for GIC's Equities department in a COO-equivalent capacity and concurrently Head, Equities Index Solutions, responsible for equities index passive portfolio management, and the completion management / securities lending of GIC's equities assets. In his earlier career in GIC, he was a senior member of the Risk and Performance Management Department.

Before joining GIC in 1998, Siew Kai was a Vice President at OCBC Bank. His first job was as an employee shareholder of a startup boutique fund management firm. He is a regular guest speaker on technology disruption at Stanford University's Innovative Technology Leader course.