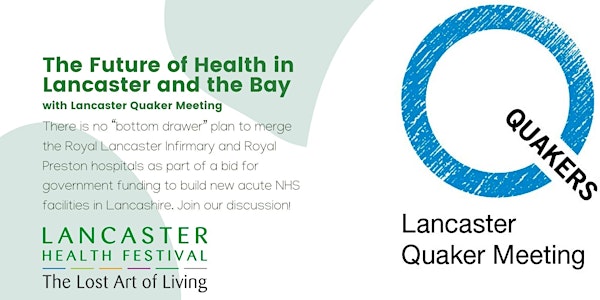 The Future of Health in Lancaster and the Bay - Lancaster Health Festival
There is no "bottom drawer" plan to merge the Royal Lancaster Infirmary and Royal Preston hospitals as part of a bid for government funding
About this event
There is no "bottom drawer" plan to merge the Royal Lancaster Infirmary and Royal Preston hospitals as part of a bid for government funding to build new acute NHS facilities in Lancashire.
That was the message to a recent meeting of Lancashire County Council's health scrutiny committee, which heard concern over the possible creation of a so-called "super hospital" to serve central and northern parts of the county.
However, members were also told that it was too soon to rule out altogether the possibility of a single-site unit replacing the ageing hospitals in Lancashire's only two cities.
"It's really unfortunate that we have got headlines around super hospital. There is no bottom drawer bid that says we want a super hospital or to merge the hospitals," said Mr. Woodford, who added that he was committed to pursuing a "meaningful consultation with the public and all interested people". What impact will this have on our community? Will it be a benefit, or will it reduce the quality of our healthcare? What kind of healthcare system do we want in place in Lancaster and the Bay?
Faith groups and faith based charities are key players in their communities . How will these proposed changes affect those that they work with? What vision do they have for healthcare in the area?
On Thursday 29th July 2021 at 7.30 pm, in partnership with Lancaster Friends, the Lancaster Health Festival will host a presentation and question and answer session with Jerry Hawker, Associate Director of Corporate Affairs, Morecambe Bay Trust.