About this Event
A new era of investing is blurring the boundaries between traditional and impact investing in times of profound changes such as Brexit and 'push-backism', as defined by Nik Gowing, founder and co-author of Thinking the Unthinkable (TTU). Are you ready?
Impact investing is growing faster than ever and leading social, economic and environmental transformations in ways that are 'unthinkable.' But is it bringing people and global communities together and helping to solve the greatest problems of a generation?
We are talking about the rise of a new type of investment leadership, partnering across sectors, borders, and generations, about high impact for underserved communities, and leveraging the private sector for sustainable growth and development, especially for those at the bottom-of-the-pyramid where we find "high-hanging fruit" and how technology, more specifically the blockchain can provide investors access to traceable and liquid impact investments that make capital returns.
Together, let's dig deep with our speakers in the beautiful framework of Level39 in Canary Wharf.
>> SPEAKERS:
Nik Gowing - Founder at Thinking the Unthinkable | International broadcaster | Moderator of public/private conferences (corporate/government)
Stuart Hutton - Chartered Wealth Manager | Chief Investment Officer | Non-Executive Director | Keynote speaker and author
Maria Matloub - Merging mindsets through design | Startup - Corporate - Academia
Peter Lazou - Venture Builder | Early-Stage Startup & Scale-Up Advisor
>> AGENDA:
6:00pm - Registrations
6:30pm - Stuart Hutton - Tech for good for business and societal benefits and empowerment
7:00pm - Maria Matloub & Peter Lazou - A grassroots approach to venture building and impact funding
7:30pm - Nik Gowing - The schizophrenia about the world today and enormity of disruption
8:00pm - Networking - Food & Drink (the buffet and one drink per person included in the ticket)
>>LOCATION: Level39
Located in the heart of the "City" – London financial district – Level39 is Europe's largest technology incubator for fintech, cybersecurity, and retail tech. It hosts 250+ startups, including unicorns with over $1 billion evaluation.
>> SPEAKERS BIO:
- Nick Gowing
In 2018 Nik Gowing co-authored (with Chris Langdon) "Thinking the Unthinkable" (published May 2018). It details the findings from hundreds of top level confidential interviews and conversations with corporate and public service leaders, plus hundreds more conversations with the new generation of millennials. In the era of a new disruption leaders reveal that they are 'scared', 'confused' and 'overwhelmed' especially by the new short termism. Nik Gowing was a main news presenter for the BBC's international 24-hour news channel BBC World News 1996-2014. He presented The Hub with Nik Gowing, BBC World Debates, Dateline London, plus location coverage of major global stories. For 18 years he worked at ITN where he was bureau chief in Rome and Warsaw, and Diplomatic Editor for Channel Four News (1988-1996). He has been a member of the councils of Chatham House (1998–2004), the Royal United Services Institute (2005–present), and the Overseas Development Institute (2007-2014), the board of the Westminster Foundation for Democracy including vice chair (1996-2005), and the advisory council at Wilton Park (1998-2012 ). In 1994 he was a fellow at the Joan Shorenstein Barone Center in the J. F. Kennedy School of Government, Harvard University. He was a board member for the Hay Literature Festival 2004-18 and is now a member of the Hay Festival Foundation. His peer-reviewed study at Oxford University "Skyful of Lies and Black Swans" predicted and identified the new vulnerability, fragility and brittleness of institutional power in the new all-pervasive public information space. The work builds on his work initiated at Harvard. In 2014 Nik was appointed a Visiting Professor at Kings College, London in the School of Social Science and Public Policy. Since 2016 he has been a Visiting Professor at Nanyang University (NTU), Singapore focussing on deepening and widening the "Thinking the Unthinkable" research. From 2014 he was a member of the World Economic Forum's Global Agenda Council on Geo-Economics. In September 2017 he was appointed an adviser on leadership challenges to the President of the UN General Assembly. He was awarded Honorary Doctorates by Exeter University in 2012 and Bristol University in 2015. They recognise his ongoing cutting edge analyses and distinguished career in international journalism.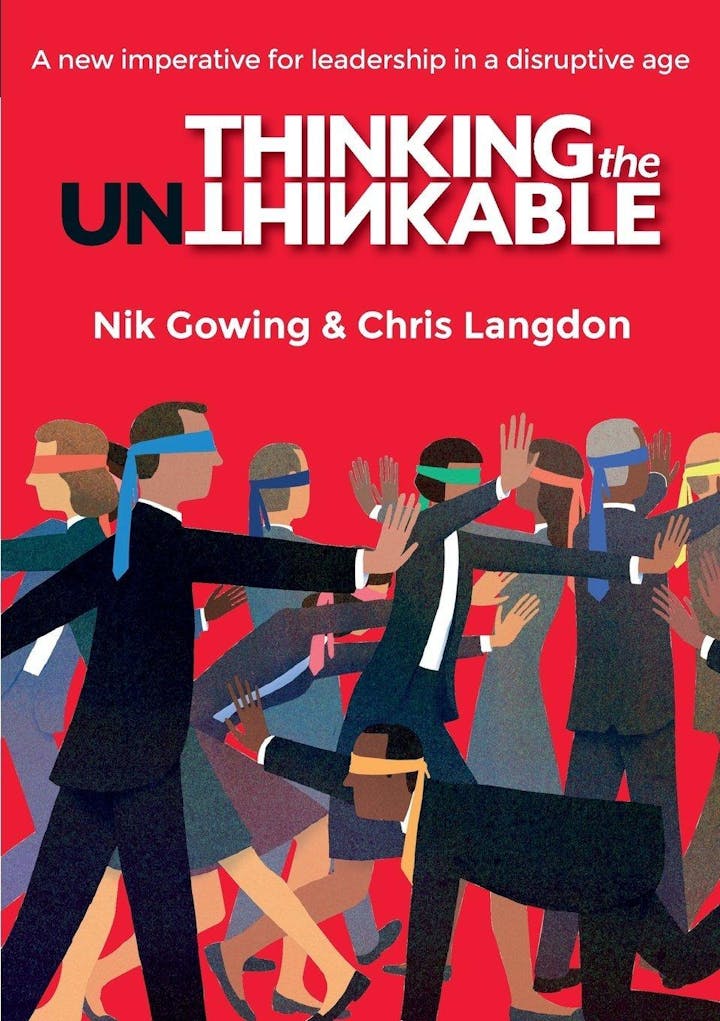 - Stuart Hutton
With 3 decades of experience across retail, construction, banking and executive search, Stuart established his own wealth management business over 13 years ago to provide advice and support to high-net worth individuals, families, and companies. In 2015, Stuart also joined Simply Ethical as their Chief Investment Officer, where alongside his fellow Directors he is driving an innovative and fresh approach to managing Sharia-observant ethical investments for their clients. With a keen interest in new technology including FinTech and Blockchain, he is supporting organisations in this exciting area to find new ways of developing the financial and banking sectors, especially around sustainability and financial inclusion, and their role in meeting the social and environmental impacts of the United Nations 2030 agenda. Stuart is a Chartered Fellow of the Chartered Institute for Securities and Investments (CISI), a qualified Financial Planner with the Personal Finance Society, and a licenced European Financial Advisor. He holds the CISI Islamic Finance Qualification and is now an External Specialist Advisor to the them on Islamic Finance. At the end of 2017, he was appointed as one of the first Emissary's of the Responsible Finance & Investment Foundation (RFI). He is also leading a transition team with the European Partners for the Environment (EPE), a multi-stakeholder think tank supporting transformational collaboration to encourage implementation of the Sustainable Development Goals and Green Finance. Stuart has been listed in the Islamica 500 as one of the Top 500 global professionals within the Islamic Economy for the past three years and in 2018 was awarded a Global Leadership recognition at their annual event for his contribution over the past decade. Over recent years, he has spoken at many events across the UK, Europe, Middle East, South America and South-East Asia, including the World Islamic Economic Forum (WIEF), World Islamic Banking Conferences (WIBC) and The Responsible Finance and Investment Summit (RFI), focusing on topics such as the integration of ethical and Islamic finance, the role responsible finance has in sustainable investing and the developmental use of technology. As well as writing his own articles, Stuart contributes to many periodicals and papers regularly and has written sections for books across Europe and Malaysia on Responsible and Islamic finance, and financial technology. Outside of financial services, Stuart holds several Trustee and Non-Executive positions on Boards for a variety of organisations in housing, education and is working with many organisations focusing on social impact to achieve the UN's Sustainable Development Goals.
- Maria Matloub
A future perspective designer fluent in French, Arabic, English and Italian, with a focus on merging traditional and entrepreneurial mindsets, with diverse experience across multiple industries such as Food & Beverage, Automotive, Sports, Fashion & Luxury, Travel and Tourism as well as Design for Social Innovation as a freelancer, at startup level and as a consultant at Deloitte Digital. Currently based in Milan, she runs her own bespoke design & innovation hub, called ggutt, that focuses on transitioning innovations into viable businesses and improving current product and service offerings from a human-centred design angle. A seasoned speaker, article contributor who has also lectured at the Lebanese American University in Beirut, and currently lectures at Il Sole 24 Ore Business School, Domus Academy and LUM School of Management in Milan. She's also chapter director for the Founder Institute in Milan, and mentors at FashionTech accelerator and StartupBootcamp. Maria was born and raised during the Lebanese civil war where hot water for showering was heated on the grill, and a mattress in the garage to sleep on, was nothing compared to what many encountered but gave her an innate sense to quickly adapt to any situation, and the drive to make a positive difference for people coming from regions that know no stability. Her journey over time sparked the inspiration behind Otherdots and the creation of the foundation with Peter Lazou, David Vicary and Stefano Tresca. Otherdots is a new breed of grassroots venture building and action-based impact investing on the blockchain, to provide a digital identity and voice to the unbanked while also improving human conditions across rural areas and emerging countries.
- Peter Lazou
Advises early-stage startups, scale-ups, as well as venture-builds and invests in meaningful and enduring technology companies that aim to improve the lives of millions of people. He is genuinely passionate about supporting entrepreneurs, creating stories that bring alive the power of tech startups. He has a catalytic focus of inspiring and stimulating change in the way people think and do by pushing the boundaries of innovation and design, with a focus on shaping the future of connected convergence and along his journey across 4 different continents, he has designed groundbreaking & award-winning technologies in FinTech, Automotive, IoT/Wearables, with three successful company exits. He's an advisor to the Cyprus Research and Innovation Centre and Gravity incubator in Cyprus, mentor at StartupBootcamp Singapore, London and Milan, Qatar Sports Accelerator, B-Sprouts, among others, managing director for the Founder Institute Chapters in Milan and Cyprus. He is also currently working on a fascinating project called the Virtual Bankk Game, the intersection between finance, learning, and gaming. An unparalleled, immersive and real-life financial learning experience through digital gaming, creating a framework to turn financial data into a global time-lapse view in motion. In addition he's founding partner of SportScientia, a data analytics company that brings to the world of sport the first mobile force plate in a smart insole that monitors and feeds back the risk of lower-limb injury accurately from ground reaction forces at foot level to help reduce musculoskeletal (MSK) injuries, and founding member at Otherdots foundation, a new breed of grassroots venture building and action-based investing, the first-ever social impact fund on the blockchain, to provide a digital identity and voice to the unbanked while also improving human conditions across rural areas and emerging countries.