Description
READ FULL EVENT DESCRIPTION HERE.
---
Supported by
Hardware Pioneers is supported by some of the leading companies in the IoT sector:
Mouser Electronics (Headline Sponsor).
Digi-Key Electronics and Wayra Germany.
---
For our first event in Munich we are really excited to invite on stage three leading companies in the Industrial IoT sector. Join this vibrant community and discover what's next in the IIoT space both from a technology and business perspective. The companies who will take the stage on the 26th of April will be:

- The world's largest semiconductor chip maker (Intel).
- One of the leading manufacturers of electronic and electromechanical components, printed circuit boards and PCB-based intelligent power & control systems (Würth Elektronik).
- One of the top ten semiconductor companies worldwide (Texas Instruments).
See agenda below for full info about the speakers.
Drinks will be served throughout the night.
---
About the speakers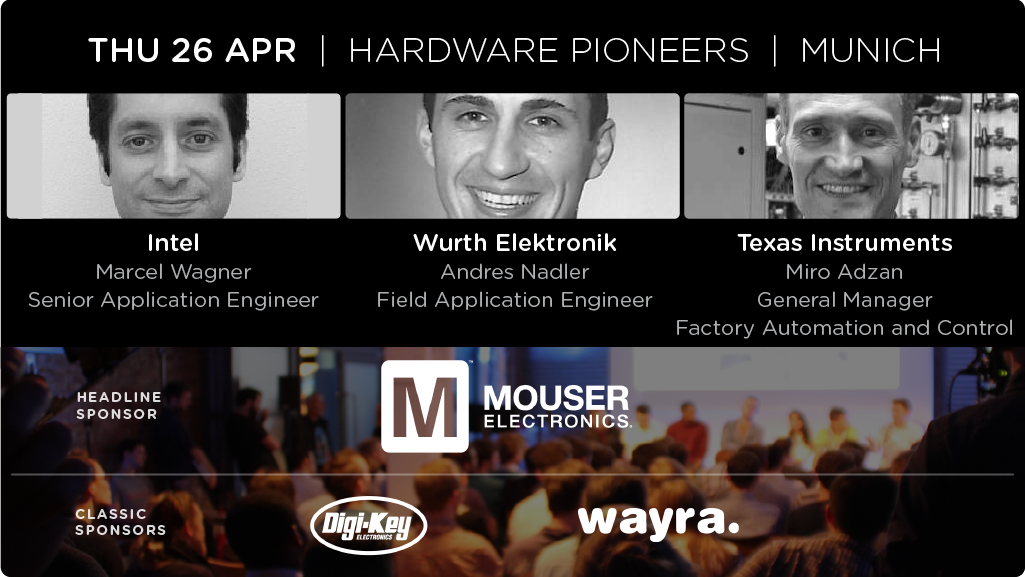 Marcel Wagner, Senior Application Engineer at Intel
Talk title: IIoT, the Legacy and Open Source

About the speaker: Marcel is working with ISVs to help them optimising Software on Intel platforms. His work focus on IoT Gateways and Cloud connectivity. Before joining Intel, Marcel worked as Research Engineer in Siemens Corporate Technology and Nokia Siemens Networks on improving video compression and transport algorithms. He holds a master degree and PhD in Computer Science.

About the company: Intel's products and services create the foundation for limitless invention. Whether your challenge is security, manageability, connectivity, or hitting the right cost point, Intel technologies can help you get the job done right. Intel is a dedicated partner to the industrial industry, providing hardware and software components widely used by OEMs, ODMs, and SIs to develop solutions for a variety of factory automation applications.
Video: The Digitalised Industrial Revolution
Video: Transform Manufacturing with the Internet of Things
Andreas Nadler - Field Application Engineer at Würth Elektronik
Talk title: IoT and the Need for EMC
About the speaker: Andy has many years of experience as hardware engineer in the field of switched-mode power supplies and analogue circuit technology. Since 2015, Andy has been working as field application engineer for Würth Elektronik eiSos GmbH in the business unit for passive and active components. There he is specialist in the design of EMC compliant power supplies, interfaces, RF PCBs and other complex electronic devices.

About the company: With 16 production locations worldwide, Würth Elektronik is one of the most successful companies of the Würth Group. Würth Elektronik operates internationally with its three company areas in various markets: Electronic & Electromechanical Components, Circuit Boards and Intelligent Systems.
Video: Würth Elektronik eiSos Image Movie
Article: Würth Elektronik eiSos acquires AMBER wireless GmbH
Miro Adzan, General Manager Factory Automation and Control at Texas Instruments
Talk title: Industrial IoT implementations in factory automation – a semiconductor view
About the speaker: Miro is a General Manager at Texas Instruments, leading the industrial systems team for the Factory Automation & Control sector. The team supports customers with in-depth system knowledge combining it with expertise for TI's product offering for industrial applications. Prior to this role he was leading the European power management business development and system engineering team at TI. Miro has been in the semiconductor industry for the last 20 years and held various positions at leading semiconductor companies including Infineon Technologies, Agilent Technologies and Hewlett Packard before joining TI in 2008.
About the company: Texas Instruments Incorporated (TI) is a global semiconductor design and manufacturing company that develops analog ICs and embedded processors. By employing the world's brightest minds, TI creates innovations that shape the future of technology. TI is helping approximately 100,000 customers transform the future, today.
Video: Miro Adzan, Making factories smarter through predictive maintenance
Video: Texas Instruments – Engineering Industrial Innovation
---
Agenda
6:30pm - Arrival and registration.
6:40pm - Drinks and networking.
6:50pm - Event opening.
7:00pm - Marcel Wagner, Senior Application Engineer at Intel
7:20pm - Andreas Nadler, Field Application Engineer at Würth Elektronik
7:40pm - Miro Adzan, General Manager Factory Automation and Control at Texas Instruments
8:00pm - Community announcements and demos: This is your time. If you would like to share what you are working on with the community or make any sort of announcement. You have 2 minutes max for a short shoutout.
8:20pm - Drinks and networking.
9:30pm - Event ends.
---
Global partners
Electronic Specifier - Europe's premier publisher of information resources to the global electronics industry.
Publitek - The leading global marketing communications and PR agency for B2B electronics.
---
About Hardware Pioneers
Discover more about Hardware Pioneers on our website.
Get notified about future events by subscribing here.
Check out what people say about @HdwPioneers on Twitter!