The future of industrial vision inspection by Inspekto - the leader of the Autonomous Machine Vision (AMV) category
About this event
by Inspekto - the leader of the Autonomous Machine Vision (AMV) category
• You no longer have to rely on third parties to implement a vision system for you –because it's as easy to install and use as a mobile phone!
• You no longer have to wait months to improve output – because a new inspection project takes less than an hour to implement
• You no longer have to struggle with budgets – because vision inspection is affordable, no matter your inspection challenge
Now stop imagining and meet the Inspekto S70, the world's first Autonomous Machine Vision product. Yes, a product – not a camera, not a lens, not a piece of software. A product, that you can unbox, fit to the line yourself using a standard BOSCH profile, and start using before lunchtime. No vision-integration, no experts, no huge bill – Just Plug & Inspect ®.
• Discover a product that is 10 times cheaper than a traditional machine vision solution for parts inspection. A 100 times faster and 1000 times more fun! (Yes, we are also introducing fun to the shop floor!)
• We will share real use cases like those used in global blue-chip plants, including leading automotive Tier-1s Bosch and Mahle, OEMs Daimler and BMW, world leader Schneider-Electric, and B/S/H the leader in home appliances. This is technology you can trust; it will make quality assurance the best part of your day – not the worst.
You are invited to an exclusive virtual seminar, featuring one of the world's leading experts on Autonomous Machine Vision. This introductory webinar is an opportunity not to be missed.
• Two, free, live events on Zoom. One on Tuesday May 19 and one on Tuesday May 26. Join whichever suits you best.
Time and date
The first webinar will be on May 19, at 2.00pm GMT (3.00pm CET, 9.00am EDT), and the second one will be on May 26 at the same time. Both will be held on Zoom.
What you will learn on the day
• The webinars will first explain the concept of AMV, which has revolutionized industrial parts inspection since launching at VISION 2018 in Stuttgart.
• Next, the session will move on to demonstrate real life use cases, across multiple sectors — from aerospace, automotive and industrial parts to packaging and home appliances.
• You will see real use cases in plastic injection moulding, aluminium casting, metal forging, aluminium sheet stamping, assembly verification, painted surface quality inspection, bearing assembly, PCB (Printed Circuit Board) assembly, packaging, assembly sealing verification, printing and more
Meet the product
The Inspekto S70 is the world's first AMV device and the world's first self-contained machine vision product that can be delivered to a plant and fitted by the plant's own staff, without the help of a vision systems integrator (SI).
It can inspect any part, at any plant, in any industry after being presented with just 20-30 good examples. It does not need to learn from bad parts, instead recognising faults that don't appear on the original template components. The S70 will tell you when it's ready to inspect!
The S70 will automatically adapt to any light conditions, any conveyor speed and any new fault, without the need for human intervention. It can be moved around a production line or deployed permanently with ease, thanks to its easy fit Bosch profile connector.
The S70 costs just €14,970. Up to ten times less than an integrated vision system.
Meet the presenter
Our presenter, Daniel Atherton-Moore is one of Inspekto's key product experts from our Detroit branch and the leading US expert on AMV.
During the seminar, he will tell AMV's story from its roots in the DACH region's automotive sector, with early adopters such as MAHLE, to its current position in dozens of global blue-chip manufacturers, including Bosch, BMW, Schneider Electric, B/S/H and Daimler.
"Imagine ordering a new cell phone and being sent a circuit board, an antenna, an LCD, a microphone, a speaker and a battery. Then, in another box, you get an accelerometer, gyroscope, proximity sensor and so on," explained Atherton-Moore. "You would call the phone company in a pretty foul mood, right?
"That's how quality assurance managers feel when they are faced with a conventional vision solution. Which lens do they need? What lighting settings are required? Which PLC? Which camera? Which expert should I call to make sense of the this mess?
"It's no wonder that an entire industry of vision systems 'experts' exists to answer these questions, sell the parts and install everything on site, with hours of babysitting from the likes of Cognex, Keyence and others.
"Now we have a single product, that's Just Plug & Inspect ®, and will detect many, many more faults than even the very best human inspector could manage. It's like industry now has Windows, there's no need for DOS anymore," concluded Atherton-Moore .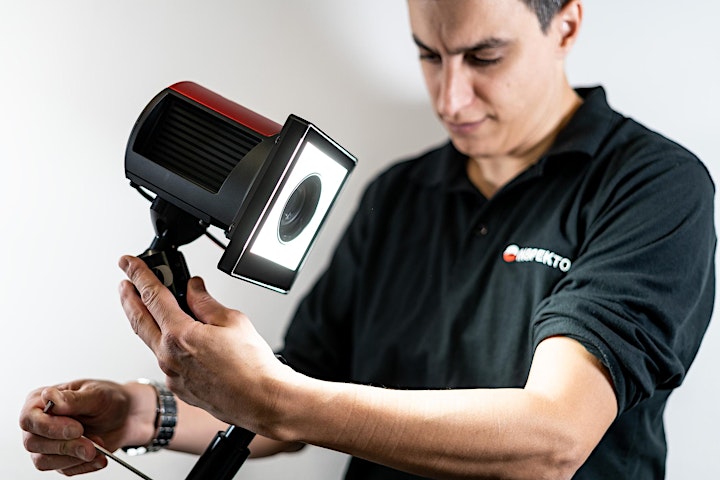 Organiser of The future of industrial vision inspection