Description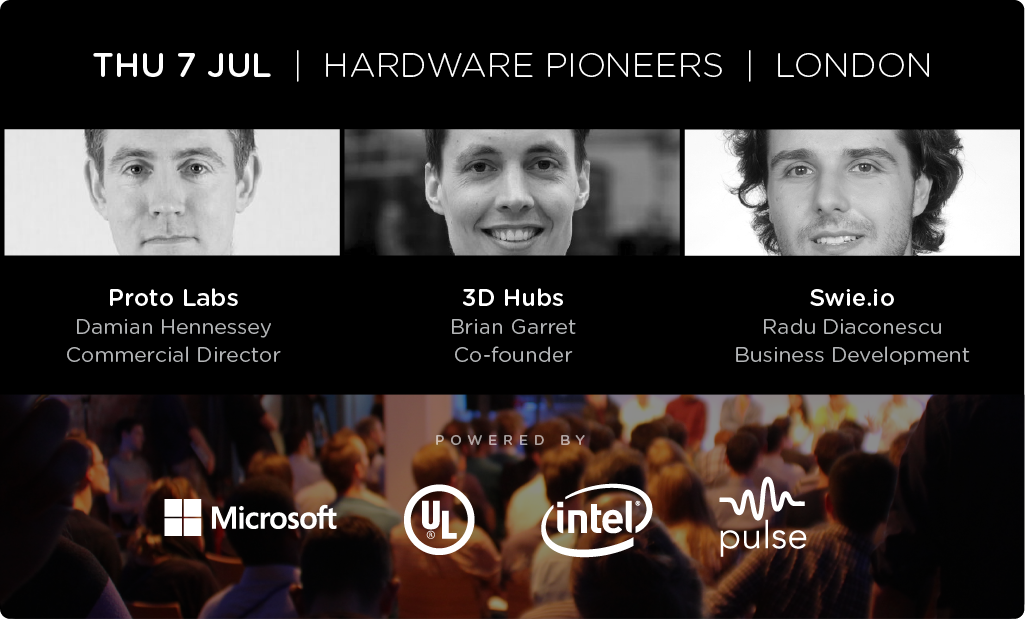 The Future of Manufacturing:

Digital, Distributed, Agile
Talks by Proto Labs, 3D Hubs and Swie.io


Click here if you like to discover more about the Hardware Pioneers community.
Manufacturing can be one of the greatest challenges that any hardware startup encounters on their journey. That's why we are dedicating an entire evening covering three different aspects and approaches that are a must consider for anyone interested in or currently working on a hardware project!

For this event we are bringing in three experienced and exciting companies including a global network of 3D printing service providers, the industries 'go-to' for fast prototyping and low volume production as well as agile manufacturing experts.

Join us at Base King's Cross for a night full of free beer, pizza and hundreds of hardware enthusiasts!
This event is kindly sponsored by Intel, UL, Microsoft and Pulse.
---
Agenda
18:30 Check in + beers and pizza
18:50 Event opening
19:00 Damian Hennessey, Commercial Director at Proto Labs
19:20 Brian Garret, Co-founder of 3D Hubs
19:40 Radu Diaconescu, Business Development at Swie.io

20:00 Demos + community announcements
This is your time if you would like to share what you are working on with the community or make any sort of announcement. You have 2 minutes max for a short shoutout.
20:20 Drinks and networking
---
About the speakers
Damian Hennessey, Commercial Director at Proto Labs
Talk title: How digital manufacturing is transforming product evolution
Damian is is leading Proto Lab's largest European sales team. He's been with the company for over a decade, during which he's successfully built its commercial department. As a qualified engineer, he uses his considerable technical and industry expertise to understand and fulfil Proto Labs customers' requirements.
Proto Labs is the world's fastest on-demand manufacturer of custom prototypes and low-volume production parts with manufacturing facilities in seven countries. Their facilities and 3D printing services allow product developers, designers and engineers an easier path to move from early prototyping to low-volume production. protolabs.co.uk
Video: Proto Labs CNC Machining
Brian Garret, Co-founder of 3D Hubs
Talk title: Using advanced materials for 3D printing
Brian is an evangelist of the 3D Printing revolution who has the aim of democratising access and opening up local manufacturing. Brian has an extensive background in design covering 3D design, printer design and web design which has lead him to co-found the global favourite 3D Hubs.
3D Hubs is the world's largest and fastest growing network of 3D printers. By connecting everyone to nearby 3D Printer owners, 3D Hubs is accelerating a future of local and on-demand production. 3D Hubs are providing over one billion people access to a 3D printer within 10 miles of their home. 3dhubs.com
Video: 3D Hubs - Local 3D Printing
Radu Diaconescu, Business Development at Swie.io
Talk title: Manufacturing the future of electronics
Radu is and experienced electronics engineer and expert in business development amongst Industry 4.0. As a board member of Switzerland based electronics manufacturing company Swie.io Radu also has great knowledge on distributed manufacturing and agile approaches.
Swie.io provides a ground breaking platform for agile electronics manufacturing whilst saving time and costs where traditional production services fail. With their highly integrated, flexible and connected production lines and an intelligent supply chain Swie.io are revolutionising the way you prototype, manufacture and order your hardware. swie.io
---
Location
Link to Google Maps: https://goo.gl/maps/VxVwfrn1KBt
---
Local partners
ihorizon - London based accountants specialising in outsourced accounting and finance solutions to entrepreneurs and tech startups in the UK and US.
---
About Hardware Pioneers
Discover more about Hardware Pioneers on our website.
Get notified about future events by subscribing here.
Check out what people say about @HdwPioneers on Twitter!