Mixed Ability has the power to transform individuals, cultures and systems. Join us to learn how, and what this means for you!
About this event
International Mixed Ability Sports is excited to present the international conference 'The Future of Mixed Ability: for Sport and beyond!'
The conference is part of the Erasmus+ Sport-funded Mixed Ability Week 2022 (MAW22), which runs alongside the 3rd International Mixed Ability Rugby Tournament (IMART2022) and aims to showcase the transformational power of Mixed Ability in changing lives, communities and the wider society!
The conference will bring together experts with lived experience, academics, practitioners, policymakers, sports participants and National Governing Bodies alongside representatives from the disability, advocacy, healthcare, civil society and private sectors.
Starting our collective journey recovering from the Covid -19 pandemic, we must acknowledge how disabled people and other groups facing barriers to participation have been disproportionately affected by the stark increase in health inequalities, isolation, exclusion and lack of connectedness.
This conference represents an unmissable opportunity to introduce and discuss the relevance of Mixed Ability in challenging these inequalities, tranfer good practice, and enable an effective dialogue between different areas of society that share the same commitment to achieving full social inclusion.
The conference is free to attend and will be a great occasion for you to experience first-hand how Mixed Ability can benefit your work and hear thought-provoking contributions from leading speakers in their fields. There will be interactive sessions, round table discussions and networking time built-in to encourage and promote knowledge sharing and learning from each other!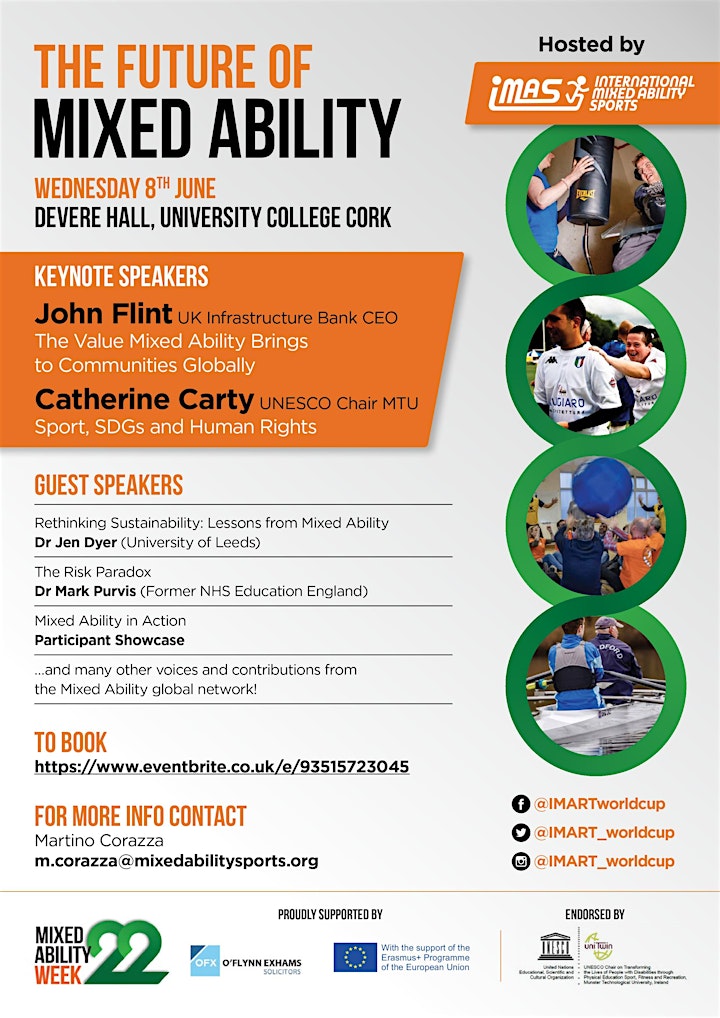 Organiser of The Future of Mixed Ability: for Sport and beyond!
Sport has the power to transform lives, and yet there are still people excluded or segregated because of stigma, prejudice or personal perceptions of their capability.
Mixed Ability is a social movement within sports, actively promoting inclusion and equality through a sense of belonging and membership to a group, team or club. IMAS works with experts by experience to co-produce and co-deliver educational resources to train coaches, sports clubs and governing bodies in the Mixed Ability model. Our aim is to ensure that everyone, of any ability and life experience, is welcomed and included as an equal into grassroots sports and competitions around the world.
Mixed Ability is not a special project, nor classifies or identifies participants. We emphasises regular, frequent and sustainable activities, self-determination, club membership and opportunities for social interaction for everyone. We work with participants from a wide range of background and abilities who share experiences and learning through interactive and accessible training resources, creating sporting environments that are safe, welcoming and non-judgmental.
We work for a sustainable and long-lasting cultural change in sport, let's society follow!