TLA Black Women in Tech runs events open to everyone with an interest in technology.
About this event
The Future of Money and career opportunities
New technologies are shaking the foundations of traditional finance. Through COVID we have seen the advancements of a cashless economy and new types of investors. During this session, we will discuss innovation within traditional banking, investments, fintech and digital currencies. We are pleased to run this event in collaboration with Deutsche Bank, our sponsor.
What has changed over the last decade and what should we expect next?
Are we thinking about money all wrong?
What tech career and business opportunities are ahead of us?
Are cryptocurrencies reinventing the value of money?
Does the future of money mean a better inclusion for all?
What are the most effective and relevant Big Tech partnerships
Regulatory innovation
Find out more about our speakers
Flavilla Fongang is an award-winning serial entrepreneur, an international and multilingual keynote speaker (English & French). She is a neuroscience brand expert covering strategy, design, marketing and customer experience. She is the founder of 3 Colours Rule, an award-winning branding and marketing agency. Flavilla was awarded the "She's Mercedes" businesswoman award by Mercedes Benz among women such as Sheryl Sandberg, the COO of Facebook. She is the author of "99 Strategies to get customers".
Flavilla Fongang is a recognised leader in marketing as she created the D.A.C. system and The Beyond Marketing Approach which have helped numerous brands successfully grow their business. Flavilla is the chosen brand advisor for BBC and provides regularly actionable brand strategy advice. She is also the founder of Tech London Advocates – Black Women in Tech, the 2nd largest organisation of the TLA group.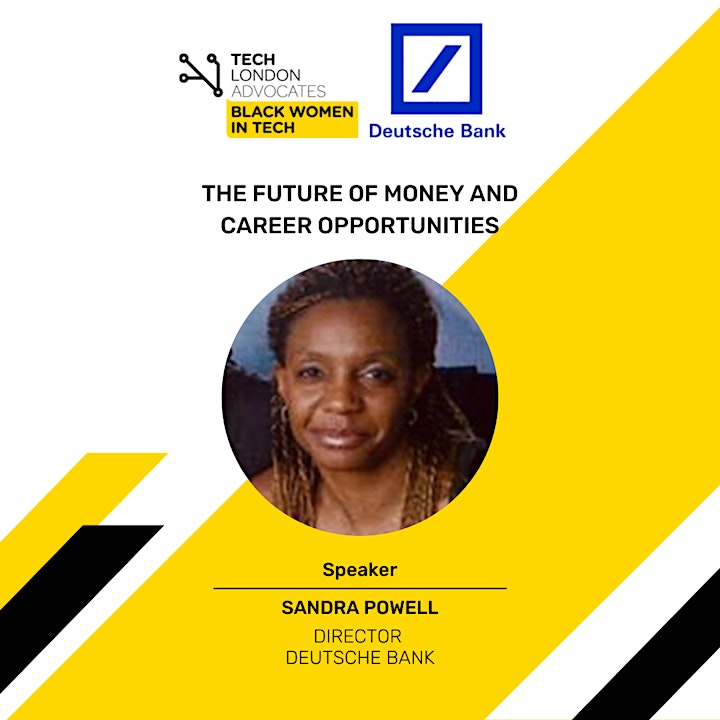 Sandra Powell is the director at Deutsche Bank as a Lead Technology Manager within the Equities Division She is the Product Owner for the Trade Booking/Lifecycle Management platform. She has worked in Investment Banking for 25+ years in many different roles across IT. She is currently running a large program of change supporting the Swaps transition within the IB. I have strong Program/Project Management skills and am a highly effective leader I have teams in London, NY, Hong Kong, Spain and North Carolina.
She predominately leads large programs of change / Re-engineering transformation programs that span Trading, Product and Operations. Across multiple infrastructure teams. She has worked at Large Banks and Brokerages which has meant she has built highly agile performing team to effect change.
She believes in an inclusion culture and have always had diverse teams. Currently working as part of the Black Leadership Forum on Recruitment to ensure our 'Inclusive Culture at Deutsche Bank is reflected in our hiring strategy at all levels.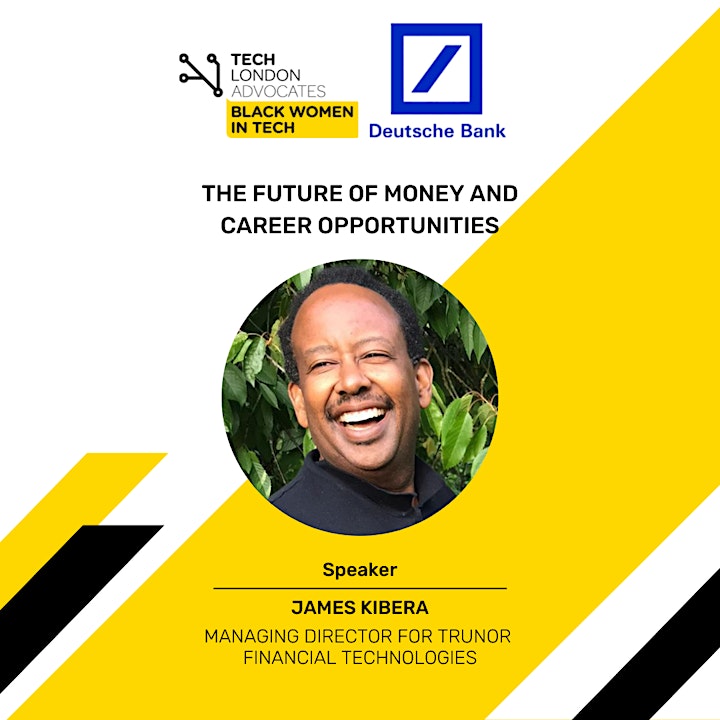 James was trained as a banker in the early 90s in East Africa and used this base to develop a track record in managing family-owned business across a range of businesses. Of note, was the regional leadership in coffee industry that came out of managing relatively small family farming investment.
The test of this relative nascent investor manager skill was his management of the portfolio of investments in the decade from 2011-2021 where he turned around spectacularly three distressed businesses in different geographically locations in radically different industries. The leadership of the investment vehicle Dillux SA that held investments in Rwanda, Burundi and South Africa was critical in developing the capital base and experience being brought to bear in the latest tech investments in the United Kingdom.
The investment in the United Kingdom is in open banking, where James is using a disruptive low-cost emerging market mindset to develop value to the small business segment of the market by making payments easier, cheaper and safer. The final development of the business by end of 2021, it the launch of a retail payment app called Peng.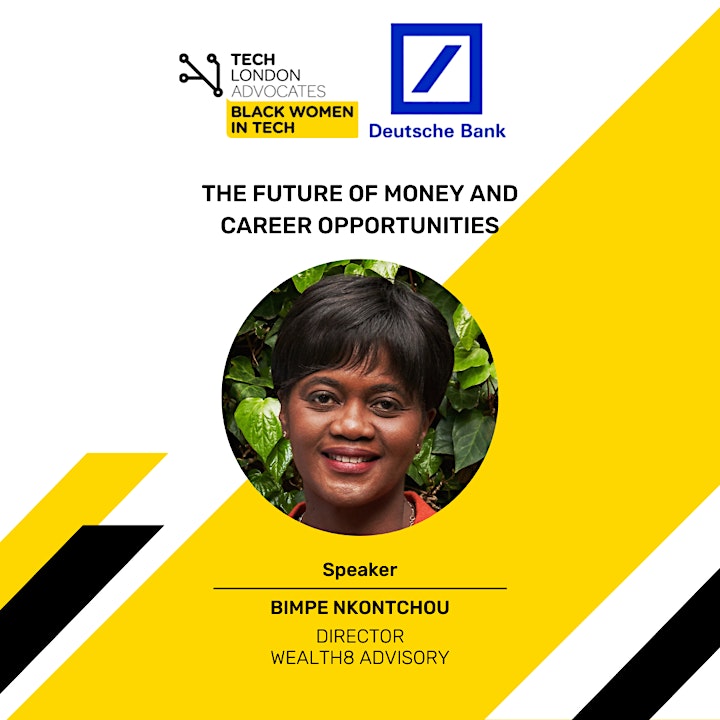 Mrs. Bimpe Nkontchou is a qualified lawyer and entrepreneur. She has recently launched a digital wealth and investment platform called 'Wealth8', using technology to bring access to saving and investing in global financial products, as well as to financial education and the language of investment, for the black & multi-ethnic community in the UK (and later on, for the African continent). Bimpe is also the founder and Managing Principal at W8 Advisory LLP, a wealth advisory practice and multi-family office (based in London) which is focused on African business families. She was included in the '100 Women to Watch' list of female professionals which is created annually by Cranfield School of Management. She is passionate about democratising wealth management and believes technology is vital to this cause.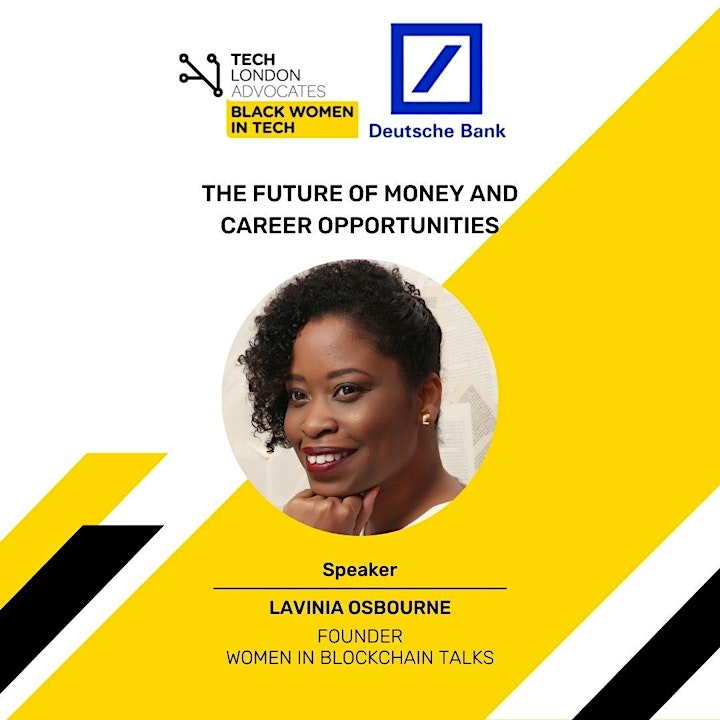 Lavinia is an award-winning host and founder of Women in Blockchain Talks, an award-winning networking and educational platform that shines a spotlight on dynamic women in the Blockchain ecosystem. In doing so, she aims to introduce non-technical, as well as technically skilled, women into the exciting and burgeoning space of emerging tech.
With her background in financial wellness, she brings with her a desire to uplift individuals financially, professionally, and personally, giving those in her community a new way of thinking about their money, career and life opportunities.
Women in Blockchain Talks as a "social impact" company, and with their diversity and inclusivity campaign - "50k Women into Blockchain by 2023" - as a vehicle to drive change, Lavinia is on a mission to decrease the gender gap as well as increase diversity in the Blockchain, Tech, and Entrepreneurship sphere.

Our Sponsor - Deutsche Bank: A universal bank with global impact
Deutsche Bank has a wide range of career opportunities under its sleeves.
Register your interest in a career with them here, and become part of a global team that is transforming the banking world.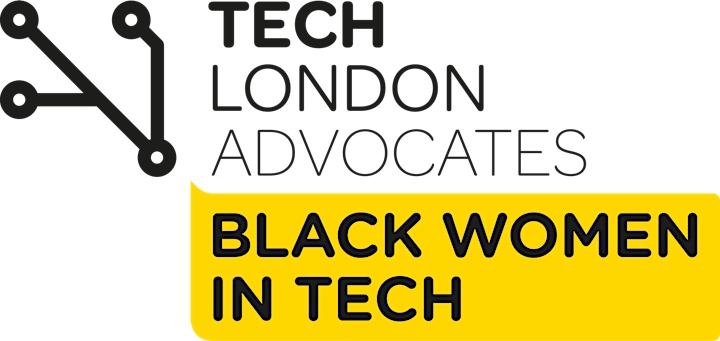 About TLA Black Women in Tech
TLA Black women in tech is a not-for-profit organisation global organisation, based in London, dedicated to building bridges of opportunities in tech by enabling black female talents to excel and companies to have access to black women of talent. We are a community of black women tech advocates of all levels and allies who support and empower diversity and inclusion.
Our mission is to inspire, support, connect the tech sphere to allow more black women to excel and tech companies to perform better through diversity & inclusion.
We partner with companies to improve diversity at the junior to board level. We advise tech companies on embedding inclusion and diversity into the DNA of their organisations. We elevate black women to inspire others to put themselves forward to new opportunities so they can change the dynamic in the tech space. We help organisations identify hidden bias and provide information on reducing bias and thus inclusive.
About Our Monthly Events
TLA Black Women in Tech hosts monthly events to bring together business professionals, and entrepreneurs and companies. The networking event is a great opportunity to meet other like-minded technology and digital businesses/individuals.
Please save those dates. Our events, virtual or in-house, are on the 2nd Thursday of the month from 18:00 to 20:00. Within our amazing community, we are fortunate to have many professionals willing to speak or host the events.
From 2021, our events will be featured around these 3 pillars, ensuring the subjects are relevant to tech entrepreneurs, tech companies and professionals in tech.