About this Event
If you are currently working in a performance marketing role across PPC, paid social or the broader Digital Marketing sphere, this is an exciting opportunity to meet and hear from three successful performance marketers, discussing the future of Performance Marketing and how this could impact your career.
This is a great opportunity to meet like-minded individuals, hear from industry experts and have some pizza and beer on us!
We'll hear from three individuals from various industries:
1. Katrina Broster – Head of Consumer Marketing – Digital
After graduating from the University of Durham, Katrina has immersed herself in the world of Digital Marketing pursuing a career brand-side, securing invaluable experience within the Media, Subscriptions, Travel and FMCG industries. She has progressed her career quickly and was recently appointed as Head of Consumer Marketing for ESI Media (The Independent and Evening Standard).
Katrina is a dedicated leader, managing large teams who are committed to driving business success. Her experience covers the full spectrum of performance channels across owned, earned and paid for platforms and her approach to devising and implementing audience-first content marketing strategies has continuously achieved enviable results.
An award winner and accomplished public speaker, she is passionate about educating the future generation of Performance and Consumer Marketers and sharing recommendations on how you can accelerate your career in this space.
2. Oren Greenberg - On demand Chief Marketing Officer
Oren has made his name as an award winning growth hacking consultant, helping high growth tech scale ups & corporate innovation projects.
Describing himself as a 'Jack of all and master of some' is probably underselling his vast experience. He's made his name as an outsourced CMO/CDO/Growth Hacker, who has worked with both corporates in transition as well as high growth start-ups, helping manage seven-digit campaigns across a range of performance marketing activities.
An extremely bright and engaging speaker, Oren will offer his experience from working full time roles and also building his own consultancy business.
3. Josh Wright – Performance Marketing Manager – Investec
Having worked at both iProspect and Havas Media, Josh has built his experience in the Paid Media space. Whilst still agency side, Josh has worked on award winning campaigns across a range of industries, such as food and beverage, retail and leading insurance and FS firms.
Josh rose to Director level before turning his hand to client side work with Investec as the Performance Marketing Manager, where he has since developed the digital capability of their start-up, "Click & Invest".
Josh will be able to give a great perspective on how to climb the ranks in the agency world as well as how to transition successfully through an in-house role.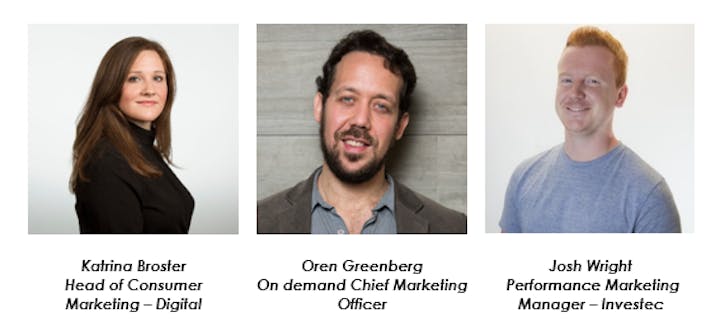 Who are 3Search?
3Search - recruiting for the digital age.
We work to connect clients with leading talent to accelerate their business, as well as helping professionals advance their careers.