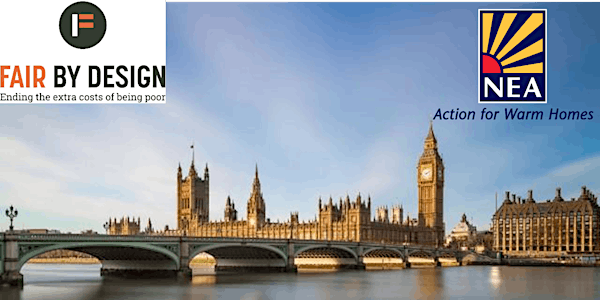 The future of price protection: Social Tariff for water and energy sectors
Location
Attlee Suite, Portcullis House
Portcullis House
UK Parliament
London
SW1A 0AA
United Kingdom
National Energy Action and Fair By Design invite you to discuss the need for a Social Tariff in utilities sponsored by Ben Lake MP
About this event
The ongoing energy crisis has seen the cost of heating the average home double over the last year. At least 6.5 million households are now facing fuel poverty and the Russian invasion of Ukraine has shone a spotlight on the interlinkages between energy security, demand and affordability. Households are also facing record inflation and pressures through rising water bills.
National Energy Action (NEA) are the UK fuel poverty charity advocating for a Social Tariff for the energy sector as a long-term price protection for vulnerable consumers. Fair By Design (FBD) is dedicated to reshaping essential services, such as energy, credit and insurance, so that they don't cost more if you're poor.
NEA and FBD, sponsored by Ben Lake MP, are organising this event to bring together stakeholders from Government, industry and civil society to discuss the merits of a Social Tariff. In particular, the event will draw on insights from the water sector following the Consumer Council for Water Affordability Review which recommended Government introduce a single social tariff for the water sector.
Agenda
15:00: Introduction and opening remarks
15:15 Panel 1: Parliamentarians high-level discussion on Social Tariff and the cost of living crisis. Panellists include Alan Whitehead MP, Shadow Energy Minister, Liz Twist MP, Peter Aldous MP and Alan Brown MP, SNP Spokesperson for Energy
15:45: Break for refreshments
16:00 Panel 2: Industry and Civil Society discussion on the design and implementation of a Social Tariff, chaired by NEA CEO Adam Scorer. Speakers include Andy White, Senior Policy Manager Consumer Council for Water, Representative from Scottish Power, Claire Sharp, Consumer Director at Northumbrian Water and Carl Packman, Head of Corporate Engagement at Fair By Design.
16:45: Networking and close