The Future of Psychedelic Spirituality by Rick Strassman on zoom
Event Information
Refund policy
Refunds up to 1 day before event
He will discuss the prophetic model, its relevance to the psychedelic state, and advantages over the mystical unitive approach.
About this event
Psychedelics magnify and clarify spiritual feelings and ideas. The psychedelic renaissance in the West—within research and non-research settings alike—emphasize the "mystical-unitive" spiritual experience—one devoid of a sense of self, content, or verbal information. Modeled on an Eastern religious platform of enlightenment, this approach shapes one's preparation for a psychedelic session, determines how one manages the acute experience, and then integrates it. On the other hand, the foundational spiritual text of the West, the Hebrew Bible, emphasizes the "interactive-relational" experience; that is, "prophecy," while not a single case of the mystical-unitive state appears. While I expected our DMT volunteers to undergo mystical-unitive sessions, to both their and my surprise, effects were nearly exclusively interactive-relational. Further inquiry revealed that the degree of phenomenological overlap with Hebrew Biblical prophetic experience is striking; however, the overlap regarding informational content was much less so. I will discuss the prophetic model, its relevance to the psychedelic state, and advantages over the mystical unitive approach.
A native of Los Angeles, Rick Strassman obtained his undergraduate degree in Biological Sciences from Stanford University, and his medical degree from Albert Einstein College of Medicine of Yeshiva University. He trained in general psychiatry at UC Davis in Sacramento and took a clinical psychopharmacology research fellowship at UC San Diego. Joining the faculty at the University of New Mexico School of Medicine in 1984, his clinical research with melatonin discovered its first known function in humans.
Between 1990-1995 he performed the first new US clinical research with psychedelic drugs in a generation. His studies involved DMT, and to a lesser extent psilocybin, and received federal and private funding. From 1995-2008 he practiced general psychiatry in community mental health and the private sector. He has authored or co-authored nearly 50 peer-reviewed papers, has served as guest editor and reviewer for numerous scientific journals, and consulted to various government, non-profit, and for-profit entities. His book DMT: The Spirit Molecule (2001) has sold 250,000 copies, been translated into 13 languages, and is the basis of a successful independent documentary that he co-produced. In 2008, he co-authored with Slawek Wojtowicz , Luis Eduardo Luna, and Ede Frecska Inner Paths to Outer Space. His first novel, Joseph Levy Escapes Death, a tale of near-fatal illness, love, loss, and poor health-care, appeared in 2019.
Speaker Bio:
Rick Strassman was raised in a Conservative Jewish family, bar mitzvah, and as an adolescent attended Camp Kinneret and Camp Ramah. He studied and practiced Zen Buddhism for over 20 years under the tutelage of a major Western Zen order, was ordained as a layman, and founded and led an affiliated meditation center in Northern California. He returned to his Jewish roots in his mid-40s. His interest in prophecy and psychedelia resulted in his 2014 book DMT and the Soul of prophecy. He is currently Clinical Associate Professor of Psychiatry at the UNM School of Medicine, and lives in Gallup New Mexico.
This Psychedelic series is Curated by Maya Bracknell Watson and Dr David Luke
Maya Bracknell Watson is an interdisciplinary artist, poet, performer, retired cult leader and psychedelic and parapsychology researcher. Having just graduated from Chelsea College of Arts, her work over the last six years has been informed by her concurrent shamanic training, work with the Wixárika (Huichol) tribe from Mexico, and role as a research assistant under Dr David Luke of Greenwich university in the study of the psychedelic compound N,N-Dimethyltryptamine (DMT) and other worlds. Walking between the worlds of the arts, science and the occult, she combines media and investigative techniques from each to inform and articulate one another in the exploration of ontology, consciousness and altered states, mytholopeia and mythology, ecology, the human condition and its relation to the environment, otherness and mortality. She describes her practise and research as contemporary Memento Mori ('remember you will die'), and explores what that means in a time of mass ecocide and species extinction.
Follow her on the crooked path on Instagram @maya_themessiah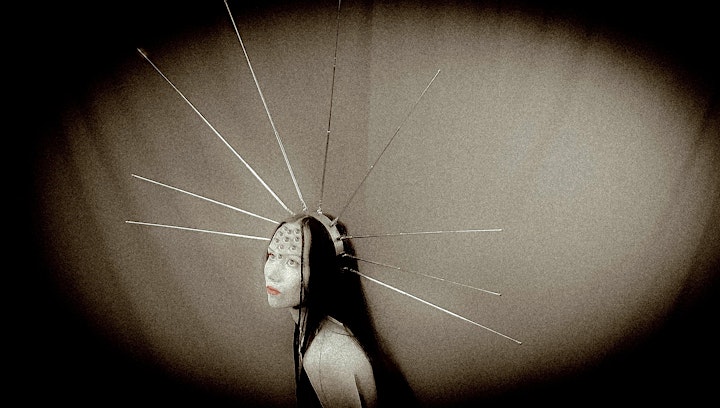 Dr David Luke is Associate Professor of Psychology at the University of Greenwich, UK, where he has been teaching an undergraduate course on the Psychology of Exceptional Human Experience since 2009, and he is also Honorary Senior Lecturer at the Centre for Psychedelic Research, Imperial College London, and Lecturer on the MSc Consciousness, Spirituality and Transpersonal Psychology for Alef Trust and Liverpool John Moores University. His research focuses on transpersonal experiences, anomalous phenomena and altered states of consciousness, especially via psychedelics, having published more than 100 academic papers in this area, including ten books, most recently Otherworlds: Psychedelics and Exceptional Human Experience (2nd ed., 2019). When he is not running clinical drug trials with LSD, conducting DMT field experiments or observing apparent weather control with Mexican shamans he directs the Ecology, Cosmos and Consciousness salon at the Institute of Ecotechnics, London, and is a cofounder and director of Breaking Convention: International Conference on Psychedelic Consciousness. He has given over 300 invited public lectures and conference presentations; won teaching, research and writing awards; organised numerous festivals, conferences, symposia, seminars, retreats, expeditions, pagan cabarets and pilgrimages; and has studied techniques of consciousness alteration from South America to India, from the perspective of scientists, shamans and Shivaites. He lives life on the edge, of Sussex.
Date and time
Location
Refund policy
Refunds up to 1 day before event
Organizer of The Future of Psychedelic Spirituality by Rick Strassman on zoom
The Last Tuesday Society is a 'pataphysical organisation founded by William James at Harvard in the 1870s, currently headquartered at The Viktor Wynd Museum of Curiosities, Fine Art & UnNatural History in London. For the last twenty years we have put on Lectures, Balls, Workshops, Masterclasses, Balls, Seances, Expeditions to Papua New Guinea & West Africa, all from our East London Museum and it's infamous cocktail bar.