Actions and Detail Panel
The Future of Science Education CPD Event
Thu 21 September 2017, 09:00 – 19:30 BST
Description
We're bridging the gap between disruptive innovation in education technology and the science classroom. Discover where science education is moving in an unprecedented professional development event designed for science educators.
#FUTURESCIED
** More information about this conference can be found here: edluminary.com/futureofscience **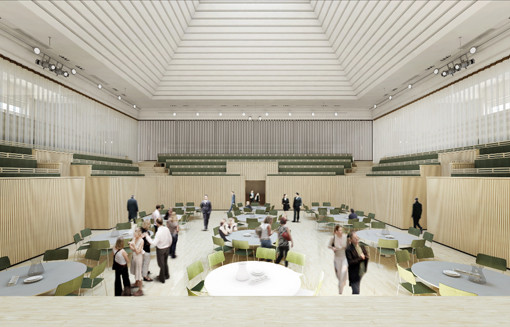 Join us for a remarkable professional development event at The Light at Euston, a breathtaking venue in Central London, for a day of idea sharing, conversation and inspiration.

This event has been specifically designed with the imaginative STEM educator on a classroom budget in mind. Immerse yourself in a day of riveting panel discussions, innovative breakout sessions and networking.
From EdTech startup founders to leading editors at prominent educational publishing imprints, we've brought together the leading lights in science education for an experience unlike any other CPD event for teachers.


The Concept
For over 15 years, our team has worked to: create and deliver brilliant science programmes to schools across the UK, EU and the USA; and act as educational consultants to charities, student travel companies, and major museums. During this time, we've had the great pleasure to work alongside hundreds of science educators.
At the same time, we've also been fortunate to regularly convene with innovators in the education technology space. We've spotted a gap, however, between the rapid innovation in this sector and its actual uptake by educators on the ground – and often, the reason cited is a limited budget or a lack of practicality.
In this event, we seek to create a creative space that facilitates a real dialogue with inventors and makers in education technology and teachers. We've carefully selected distinguished speakers, panellists and demonstrators that can reflect on how best we can all shape the future of science education; and crafted breakout sessions to help you bring science to life in new ways.
What to Expect
Keynotes + Panellists: Our comprehensive list of keynote speakers and panellists are leaders in science education. They're founders of the most visible education technology companies in the United Kingdom; editors at leading educational publishing imprints; inventors; science bloggers + vloggers; science learning specialists, consultants, advocates and more.
Tracks: Discover "tracks" – interactive break-out sessions lead by selected learning specialists – where you'll be provided the opportunity to explore track of your choice in more detail in a more intimate setting.
Pitching + Drinks: Conclude the day with a drinks at a sponsored networking reception. Before this, get the incredible opportunity to pitch your curriculum or EdTech idea to a panel of specially selected judges, publishers and investors who will select one winner before the evening kicks off.
All participants will receive a certificate after the conference for their participation in what promises to be a truly riveting day.
Keynote, Panel + Breakout Descriptions
** Text too small? Read the descriptions here: edluminary.com/futureofscience **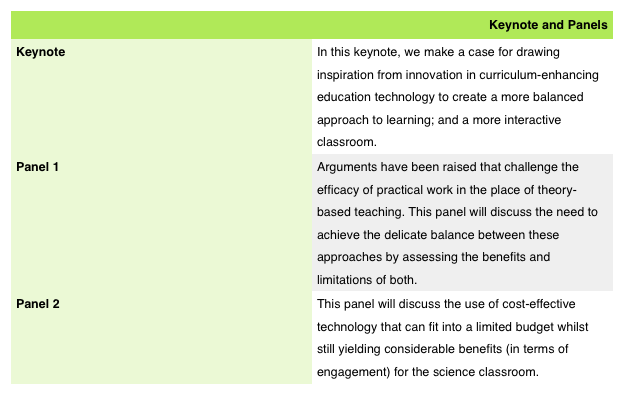 In addition to the breakout sessions listed below, we'll be adding the following shortly:
Innovation in the Chemistry Classroom

Innovation in the Physics Classroom

Gamifying the Science Classroom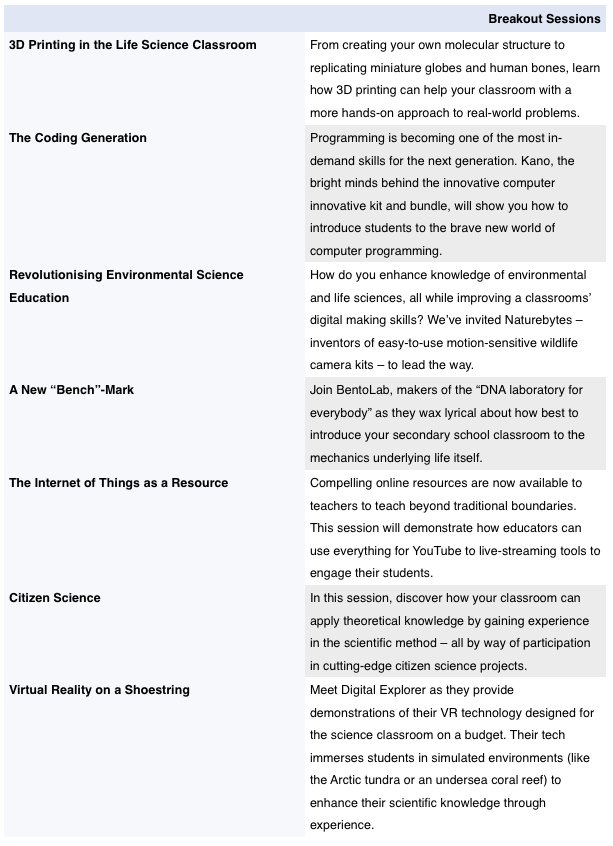 Our Remarkable Speakers
We are exceedingly proud to announce the pioneering education tech start-up founders and innovators, demonstrators and panellists who have agreed to join us. More incredible speakers and demonstrators will be announced in the coming weeks.


Alex Klein: CEO and Founder, Kano
Mike Britland: Writer and Adviser for Guardian Teach, Head of Sixth Form at Oakland High School
Colin Inglis: Partner at Antibiotic Action, Science Teacher at Boroughbridge High School
Berit Bungum: Professor, ReleQuant, Norwegian University of Science and Technology


Refunds
We understand things can change! To obtain a refund, please notify us directly in writing at: bookings@edluminary.com and indicate the date of sale. Please note that we cannot offer refunds within 30 days of the conference. No refunds will be processed after the event. We will respond to refund requests within 48 hours.
** More information about this conference can be found here: edluminary.com/futureofscience **
Date and Time
Location
The Light @ Euston
Friends House
173-177 Euston Road
London
NW1 2BJ
United Kingdom