Description
AUTUMN SEMINAR:
The Future of the Smart and Dumb Grids
Background: By 2020, by EU Law, the UK is expected to have installed;
• 27 million smart electricity meters
• 23 million smart gas meters
• 27 million real time displays
• 27 million communications hubs (HAN or Home Area Networks & WAN or Wide Area Networks)
in every one of its 27 million homes. Not everyone believes this is feasible and that it can be delivered for less than £12 billion pounds with consumer benefits in excess of the costs. At the same time, the UK is pushing on with the integration of gigawatt quantities of intermittent power such as wind and solar. This necessitates a major shift in grid capabilities in matching a much higher portion of unpredictable supply with random demand. In it's latest report, UK Future Energy Scenarios 2013, National Grid has modelled two scenarios, Gone Green and Slow Progression that effectively assesses the future of the Smart and Dumb Grids out to 2035 and 2050 in the context of government climate change targets.
Future Energy Strategies is delighted to welcome Craig Dyke, Strategy Development Manager at National Grid to share with us his insights into the Grid's future and the pace of technological change. We are also delighted to welcome Professor Steve Thomas to share with us his findings based on his paper for Energy & Environment "Not Too Smart an Innovation: Britain's Plans to Switch Consumers to Smart Electricity and Gas Meters" .
Tomorrow's Grid?
About Craig Dyke
Craig Dyke is the Strategy Development Manager at National Grid in Energy Strategy and Policy. He is accountable for developing National Grid's future strategy on energy and whole systems balancing and represents National Grid at various smart and demand side response industry forums. He is a Chartered Engineer and has been working for National Grid since March 2000. He has undertaken operational and commercial roles over the last decade including managing the team responsible for the development and procurement of balancing services contracts in electricity and gas and working in the National Grid CCS business.

National Grid owns and manages the grids to which many different energy sources are connected. It has a current market capitalisation of £42 billion. NG own the high-voltage electricity transmission system in England and Wales and operate the system across Great Britain. We also own and operate the high pressure gas transmission system in Britain. In addition, they have electricity transmission systems in the northeastern US. Their local distribution networks deliver gas to around 11 million consumers in an area covering approximately a quarter of Great Britain.
In the USA, National Grid delivers electricity to approximately 3.3 million customers in Massachusetts, New Hampshire, New York and Rhode Island. They manage the electricity network on Long Island under an agreement with the Long Island Power Authority (LIPA), and owns over 4,000 megawatts of contracted electricity generation, providing power to over one million LIPA customers. They are the largest distributor of natural gas in northeastern U.S., serving approximately 3.4 million customers in New York, Massachusetts, New Hampshire and Rhode Island.
NG also has a number of businesses operating in related areas such as metering and interconnectors.
About Professor Steve Thomas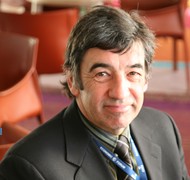 Professor Steve Thomas is Professor of Energy Policy and Director of Research at the Public Services International Research Unit (PSIRU) at the Business School of the University of Greenwich. His landmark paper - Not Too Smart an Innovation: Britain's Plans to Switch Consumers to Smart Electricity and Gas Meters - as published in the journal Energy & Environment in December 2012, stands out as the most devastating critique of the UK's Smart Meter Programme to date. The paper was also covered extensively by Wired Magazine here.
Professor Thomas has led the energy research since 2001. He has a BSc in Chemistry (Bristol). He has worked as an independent energy policy researcher for 35 years. From 1979-2000, he was a member of the Energy Policy Programme at SPRU, University of Sussex and in 2001, he spent a year as a visiting researcher in the Energy Planning Programme at the Federal University of Rio de Janeiro.
He was a member of the team appointed by the European Bank for Reconstruction and Development to carry out the official economic due diligence study for the project to replace the Chernobyl nuclear power plant (1997). He was a member of an international panel appointed by the South African Department of Minerals and Energy to carry out a study of the technical and economic viability of a new design of nuclear power plant, the Pebble Bed Modular Reactor (2001-02). He was part of an independent team appointed by Eletronuclear (Brazil) to carry out an assessment of the economics of completing the Angra dos Reis 3 nuclear power plant (2002). He has published extensively on economics and policy on nuclear power.
Background, reading material and questions to ponder:
What is a smart grid? From the US-based Smart Grid Alliance.
Future Energy Scenarios 2013 from the National Grid.
Is the smart meter rollout doomed? Analysis from Computer Weekly, August 2013.
Not Too Smart an Innovation: Britain's Plans to Switch Consumers to Smart Electricity and Gas Meters as published by Energy & Environment, December 2012. 1st page preview available here.
The case against smart meters from Wired Magazine December 2012
Questions:
What are the major steps from a dumb to a smart grid and when will they happen?
Will consumer behaviour significantly respond by reducing demand thanks to the nudge of smart meters?
How do utilities stand to benefit from smart meters reducing consumer demand?
What progress is being made in load-balancing supply and demand?
What are time of use tariffs?
What effect in the future will electric vehicles have on the grid?
In the future, how many consumers will also be suppliers of electricity?
Will a smarter grid require fewer electricity pylons?
Could major UK shale gas production lead to new demands for natural gas vehicles and even home-based gas fuelling stations and what will be their impact on the gas network?
and many more . . . !
Program (all times are close approximates):
4.30 - 5.00 p.m. - Registration, Coffee
5.00 - 5.10 p.m. - Opening Remarks
5.10 - 5.45 p.m. - Craig Dyke, National Grid - How smart will the future grid be?
5.45 - 6.10 p.m. - Professor Steve Thomas - Are smart meters smart energy policy?
6.10 - 6.30 p.m. - Q&A
6.30 - 6.35 p.m. - Closing Remarks
6.35 - 8.00 p.m. - Reception (with alcoholic and non-alcoholic drinks and canapes included)

The Event will be hosted at Allen & Overy as listed above. Please purchase tickets in advance online.