The Future of the Workplace - social enterprises and the post Covid workforce
About this event
Social enterprises are recognised worldwide for taking care of people and communities. But they are also recognised for taking better care of their workforces!
We're really pleased to welcome Guest speakers Peter Holbrook from Social Enterprise UK and Rose Marley from Coops UK. Join us for this event to talk about, celebrate and share learning about the 'new normal' and how actually, for us in the social enterprise sector, it's not so very new at all.
Research tells us that they are more likely to pay the real living wage, they are more likely to have support systems in place for mental wellness, they are more likely to have diverse supportive leadership teams. In this new world we need to reimagine the way workplaces function and social enterprises are already steps ahead in it.
It's also an important day for the network as we'll be meeting the new faces who would like to join the board and we need you as members to vote on that.
Alongside the elections, we will also have a chance for you to see how our new distributed board model is working in practice and to take part in one of our 4 action groups or start your own!
Organiser of The Future of the workplace
Plymouth Social Enterprise Network is a focal point for the social enterprise sector within Plymouth. We work to represent the interests of social enterprises, co-ops, community businesses and social impact businesses,  providing opportunities for them to influence the development of their sector.

Collaborating with strategic national and local partners it is a voice for the Social Entrepreneurs of the city and works tirelessly to ensure that the vision of business for our future is a social one.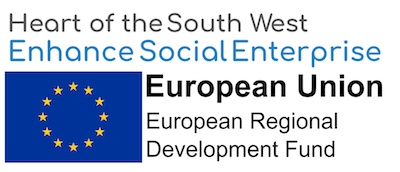 The Heart of the South West Enhance Social Enterprise Programme is receiving funding from the England European Regional Development Fund (ERDF) as part of the European Structural and Investment Funds Growth Programme 2014-2020.