Event Information
Location
Block E, Postdoc Centre @ Eddington, 105 Eddington Place, Cambridge
Description
Transport is important to us: access between our homes and the places we go is already a challenge in Cambridgeshire. The way we get around may be very different in the future. View, share and discuss ideas and opinions at an event on Thursday 30th November.
Cambridge is growing and will grow more. The city and surrounding areas has to accommodate the increasing needs of local travel. In this event we would like to explore what is technically possible – whether that is 'last mile delivery' drones, Mobility As A Service, bikes, autonomous vehicles or even tunnels!
Key speakers will be:
Plus lots of exhibitors including: Tesla, PA Consulting, Cambridge Connect, Cambridge Electric Transport, Hubl and more.
The event will focus on:
the size of our challenge
some of the evidence collected recently
potential future scenarios
ideas being developed here and elsewhere
Timings:
Registration from 2.45pm (please note: this is a slightly earlier time that initially advertised)
3 - 4.30pm: Presentations
4.30pm discussions and questions, with time for meeting the exhibitors, networking and refreshments.
We will be there until 7pm for those wishing to stay on and discuss ideas.

Exhibition space available:
If you have any technology or ideas that is designed to alleviate and improve transport difficulties, whether in Cambridge or elsewhere and would like to be considered for exhibition stand / poster space please get in touch.
Who should attend?
This session is designed to give businesses, residents and anyone interested in this area a forum to share ideas and potential developments.
This event is being run in conjunction with the Greater Cambridge Partnership, Smart Cambridge and AstraZeneca.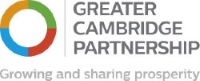 To attend
Any member or non-member of Cambridge Network may attend free of charge. Please register you place by signing up using the button on this page.
Mailing list:
If you would like to hear about other events we run for both members/non-members of Cambridge Network please sign up to our Mailing List. We try not to over-mail you, and you can unsubscribe at any time.
Date and Time
Location
Block E, Postdoc Centre @ Eddington, 105 Eddington Place, Cambridge