The Future Women Want

Saturday, 7 March 2015 from 09:30 to 16:30 (GMT)
Event Details
You are invited to African Initiatives 5th Annual Women's rights conference - a community event covering a wide range of women's issues. All welcome!
Our theme for 2015 is all about inspiring positive social change. We want this year's conference to be inspirational and action-orientated; it will be an opportunity to listen to women and men working around the world for gender equality, and to share our goals for the future.
A programme for the event and full workshop summaries are available below. When booking your place, please select which workshops you would like to attend. Please note, there are limited spaces in each workshop and workshops may fill up before the day.
PROGRAMME
| | |
| --- | --- |
|  9.30am | Coffee & Registration |
| 10.00am | Welcome and Conference Opening: José Sluijs-Doyle, African Initiatives |
| 10.15am | Key Note Speaker: Dr Hilary Homans |
| 10.50am | Travel Time |
| 11.00am | Workshop 1 |
| 12.00am | Coffee & Networking  Traditional Ethiopian Coffee Ceremony |
| 12.20am | Travel Time |
| 12.30pm | Workshop 2 |
| 1.30pm |     Lunch & Networking     2.15 The Adugna Dance Company    |
| 2.30pm | Workshop 3 |
|   3.30pm | Roundtable Discussion |
| 4.00pm | Closing remarks |
| 4.15pm | End |
WORKSHOPS
MORNING SESSIONS
Time

Title

Summary

Workshop leader

11.00am – 12.00am

Challenges and opportunities of working with men and boys on women's rights

Violence against women and girls (VAWG) is endemic in Zambia, and intimate partner violence is particularly widespread – 90% of women who have been in an intimate relationship have experienced violence by a partner. Oxfam and partners are working to end this.

The I Care About Her programme uses diverse strategies, including mass media, marches, community discussion groups and a school curriculum, to engage men and boys as allies in the fight against VAWG and transform the inequalities which perpetuate their power over women and girls.  Laurie will talk about the lessons learned from the programme in Zambia.

Laurie Adams, Oxfam

11.00am – 12.00am

Double discrimination of disabled women - how can you avoid it in your programmes?

The movements for women's rights and disabled people's rights are both still fighting for policies and practices to be effectively mainstreamed. Gender is a cross-cutting issue and so is disability. However, despite progress being made for the rights of women and disabled people, more often than not women with disabilities are excluded from programmes - even from those designed to support either target group.

This workshop will highlight just how regularly disabled women are overlooked, explore with participants issues around their inclusion, and develop some recommendations on how to promote and implement mainstreaming.

Karen Andrae, Trustee African Initiatives

Sylvie Cordier, ADD International

11.00am – 12.00am

Female Genital Mutilation - Everybody's Business 

Integrate Bristol aims to help with the integration of young people and children who have arrived from other countries and cultures, through working with and empowering young people.


Developed with young people, 'Everybody's Business' is an interactive, creative and very flexible media based resource that allows young people to place FGM in the wider context of gender based violence, of ensuring that everyone feels justified in speaking out against all forms of abuse and considering how everyone can play a part in ending FGM and other forms of abuse.

Mukhtar and Nasra, Integrate Bristol
LATE MORNING SESSIONS
Time

Title

Summary

Workshop leader

12.30pm – 1.30pm

African Women Making it Happen

When her father married her off to gain more cows, Hellen ran away. She never completed high school. Now Hellen runs a school and a nursery to provide a safe haven for girls escaping abusive cultural practices, including female genital mutilation. Hellen will tell her story and what motivated her to set up the school and dedicate her life to working with Maasai girls and women. She will talk about alternative rites of passage for Maasai girls, and the work she is doing with Maasai men and boys to bring the community together and challenge harmful practices.

Hellen will be in the UK with Adanech Admassu, Meseret Yirga and Nuria Mohammed from the Ethiopian Gemini Trust. Adanech is an award winning film maker, Meseret and Nuria are dancer and will give a short performance before Hellen's talk.

Hellen Nkuraiya, Kenya

12.30pm – 1.30pm

Gender justice: linkages with and lessons from the LGBTI movement

This workshop will draw on Laurie's experience as a board member and activist working on hate crimes with the Forum for Empowerment of Women, a feminist lesbian collective, and on her experience developing strategy as a board member and Chair of The Other Foundation, a trust funding the LGBTI movement in Southern Africa. It will briefly review some of the violations of human rights abuses despite constitutional guarantees in South Africa, and go on to share an analysis of what is necessary in Southern Africa and internationally to embed and realise gender justice.  Discussion will centre on how to counter the increasing organisation and mobilisation of fundamentalisms and how to shift deeply entrenched attitudes and beliefs.

 Laurie Adams, Oxfam

12.30pm – 1.30pm

Intersections of Faith and Feminism

Feminism and religion are often judged to be incompatible - both by religious leaders, and by secular feminists who believe that religion and patriarchy go hand in hand. But women of faith are increasingly exploring how feminism fits into their lives and also carving out space for discussion of the issues that affect them within the mainstream movement.

Drawing on the personal experiences of the workshop leaders, this session will highlight some of the ways feminist discussion and activism is taking place within Christianity and Islam, how feminists of faith are proving that gender equality and religion can be compatible, and how stereotypes of feminism are being dismantled in the process.

Hannah Mudge and Dr Sariya Cheruvallil-Contractor
AFTERNOON SESSIONS
Time

Title

Summary

Workshop leader

2.30pm - 3.30pm

Developing sustainable enterprises, and global job creation programmes for women

Michael is one of the founders of TBN (Transformational Business Network) working in social and community transformation through job creation and enterprise having created some 60,000 jobs with 67% jobs created for women. As Group chairman of Send a Cow, they have transformed the lives of 1 million rural farmers in Africa which include empowerment of women.

Michael has also advised governments and other NGO on their empowerment and enterprise strategy. These include Motivation, Hagar international, Touch Nature & others. He has recently been involved in launching a Trauma Healing programme in the Great Lakes area of Africa.

Michael Perreau,  Founder, TBN (Transformational Business Network)

2.30pm - 3.30pm

Empowering Women through Micro-enterprise

In rural West Africa, most women live in deep poverty, struggling to meet the needs of their families. Largely illiterate and with very few safe options for earning money, daily life is extremely harsh and there is little hope for the future. This workshop will share how TREE AID is working with thousands of these women to help them to develop skills so they can understand how to use trees for food, health and income.

With the right know-how women can form successful cooperatives and become great entrepreneurs. For many of these women, it is the first time they have earned an income, spoken in public or been able to afford basic essentials. When women earn income, they are more likely to spend it on their families, so by helping women, we're also helping their daughters and grand-daughters to literally grow hope.

Carrie Brassley,Tree Aid

2.30pm - 3.30pm

Being Body Confident

Recent Girlguiding research shows that 87% of girls and young women aged 11-21 think that women are judged more on their looks than their ability and three quarters say there is a lack of diversity in the women represented in the media and in public life. Pressure to conform to a narrow 'beauty ideal' starts young. Low body confidence is adversely affecting girls' and young women's physical and mental health and their participation in education, fitness and leisure activities.

This participatory workshop, led by some of Girlguiding's youth panel members, will explore why tackling this issue is crucial to achieving gender equality. It will consider the evidence on why body confidence is a touchstone issue for many girls and young women today and we'll discuss some of the ways young women are challenging the context of how they are represented.

Eli Moody and two current Girl Guides,Girl Guide Association
Refreshments and buffet lunch included.
The venue is fully accessible for wheelchair users.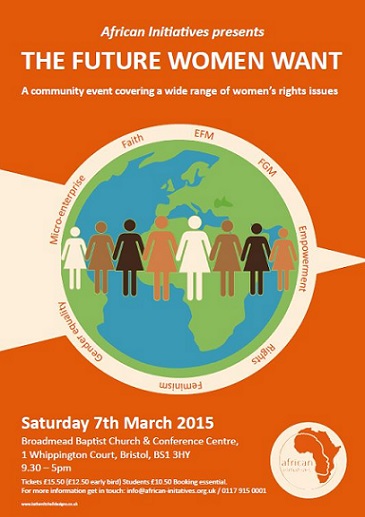 When & Where

Broadmead Baptist Church & Conference Centre
Union St
BS1 3HY Bristol
United Kingdom


Saturday, 7 March 2015 from 09:30 to 16:30 (GMT)
Add to my calendar
Organiser
African Initiatives
African Initiatives is a Bristol-based international development charity, which was founded in 1997 and which has particular expertise in working with the Maasai. Through education, we enable individuals and communities to lift themselves out of poverty and bring about change.
We don't give hand-outs. We give people a voice so they can fight for the rights they deserve but do not have. A right to an education. A right to health. A right to stay on their land. A right to financial stability and a right to have a say in decisions that shape their future.
Together with our grass-roots partners in Ghana and Tanzania, we have successfully changed the lives of thousands of women, men, and children by finding African solutions to African problems.
For more information, please visit www.african-initiatives.org.uk