How Can We Tackle the Principle of Self-Responsibility Supported by Neo-Liberalism and Devaluation of Care Activities?
About this event
The Gender Politics of Care in Japan:
How can we tackle the principle of self-responsibility supported by neo-liberalism and devaluation of care activities
Series Lecture 6/6
by Professor Rie Motohashi
Rie Motohashi is an assistant professor at Osaka University who specializes in family sociology, humanities and social sciences. She has worked at the Graduate School of Human Sciences since graduating from the doctoral course at Osaka University. She has also worked as a lecturer in more than 5 institutes of higher education.
Her research interests include care ethics, motherhood, care feminism, gender studies. She has been a fellow of Kobe City Gender Equality Grievance Committee since 2017, offering consultation and support to residents who suffer from violated human rights related to gender inequality. She has devoted herself to help improve female's empowerment, mother's political participation and female oriented policies.
Her published books include "Maternal Suppression and Resistance: Strategic Maternity Thinking Through Ethics of Care", "Neoliberal sexuality and resistance of young feminists" edited by Kazue Muta, "Bridged Feminism-History, Sex and Violence"
Please join us for this fascinating talk on the gender politics of care in Japan. We look forward to seeing you there!
Lecture Series by the Institute for Global Prosperity (IGP) at University College London
Event organizer and moderator: Dr. Yuan He, Associate Lecturer at the IGP
Event coordinators: Jiaan Yang, Yiheng Yan, Yuhang Liu, Xuan Lu
Poster maker: Duanhong Cao
When:
UK: 12:00 -1:30 PM , Friday, 17 Dec, 2021
Japan: 9:00 - 10:30 PM, Friday, 17 Dec, 2021
Or click the link below to join the webinar:
https://ucl.zoom.us/j/99316023876?pwd=KzdKSEd2cFpqV0pYK2V1TXAxZGs4Zz09
Webinar ID: 993 1602 3876
Passcode: 754183
[Update]
In response to the uncertainty arising from the Omicron variant, and following UCL's latest COVID-19 regulations, we have reluctantly cancelled all in-person tickets for this event. See you online!
All lectures in the Series:
Lecture 1/6 (past): "How Asia's growth has relied on women's paid and unpaid labour", by Professor Jayati Ghosh, 12 Nov, 2021
Eventbrite page: https://www.eventbrite.co.uk/e/203719148457
Youtube recording: https://www.youtube.com/watch?v=FabMCxM1tZ8
Lecture 2/6 (past): "At the intersection of gender, sexuality and disability: Experiences, Attitudes and Practices from Asia", by Dr Alessandra Aresu, 19 Nov, 2021
Eventbrite page: https://www.eventbrite.co.uk/e/209288235747
Lecture 3/6 (past): "'A married-out daughter is like spilt water?' Rent capitalism and the rightful resistance of rural women in China", by Dr Yajiao Li, 26 Nov, 2021
Eventbrite page: https://www.eventbrite.co.uk/e/214842308127
Lecture 4/6 (past): "Is there such a thing as Myanmar Feminism?", by Professor Tharaphi Than, 6 Dec, 2021
Eventbrite page: https://www.eventbrite.co.uk/e/215002116117
Lecture 5/6 (past): "Issues and contexts of the Korean feminism movement", by Nayoung Kim, 10 Dec, 2021
Eventbrite page: https://www.eventbrite.co.uk/e/218322146417
Lecture 6/6 (current): "The gender politics of care in Japan: How we can tackle the principle of self-responsibility supported by neo-liberalism and devaluation of care activities", by Professor Rie Motohashi, 17 Dec, 2021
Eventbrite page: https://www.eventbrite.co.uk/e/218324062147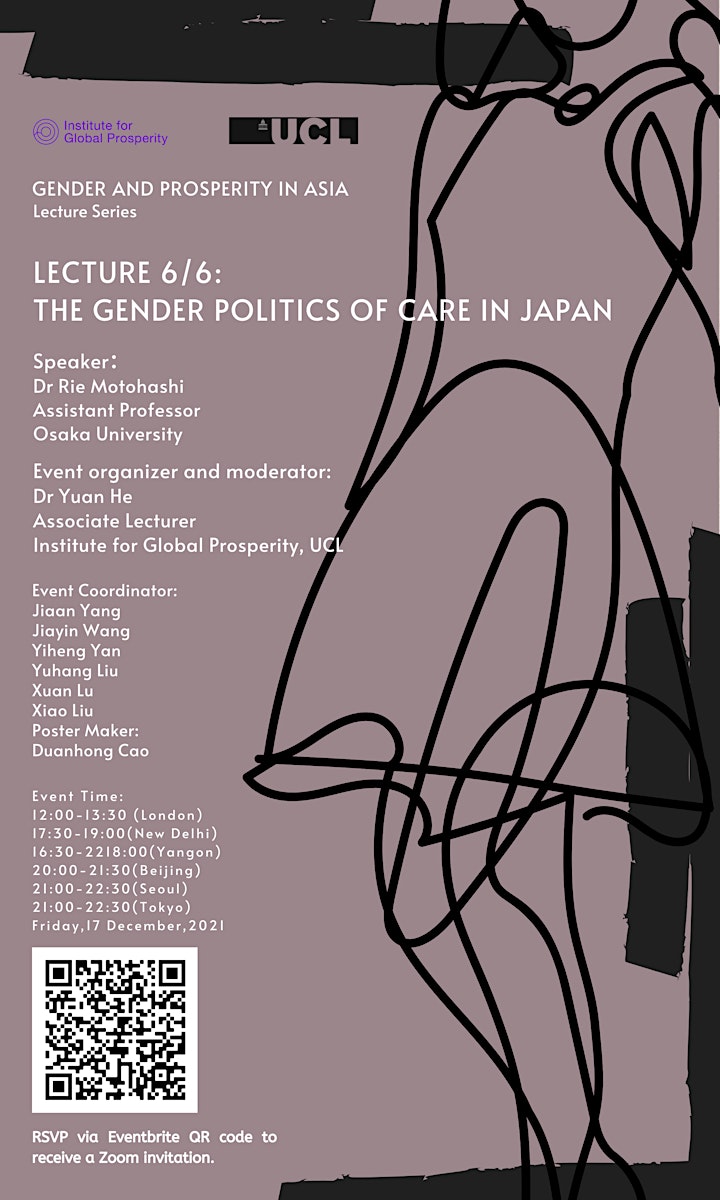 Organiser of The Gender Politics of Care in Japan