Sales Have Ended
Ticket sales have ended
Thank you for your purchase. We are getting the Gin ready, see you soon!
Sales Have Ended
Ticket sales have ended
Thank you for your purchase. We are getting the Gin ready, see you soon!
Description
EXTRA DATE ADDED - Thursday 28th September
THE GIN SOCIETY returns to Manchester Cathedral!
After the sold out event of March, we will be back this September. Join us at the stunning Grade I listed building for a GINTASTIC time. Tickets cost £7.50 + booking fee.
SESSIONS
Thursday 28th September 2017: 6.30pm - 11pm - NEW DATE
Friday 29th September 2017: 6.30pm - 11pm
Saturday 30th September 2017: Afternoon Session 12noon - 4pm
Saturday 30th September 2017: Evening Session 6.30pm - 11pm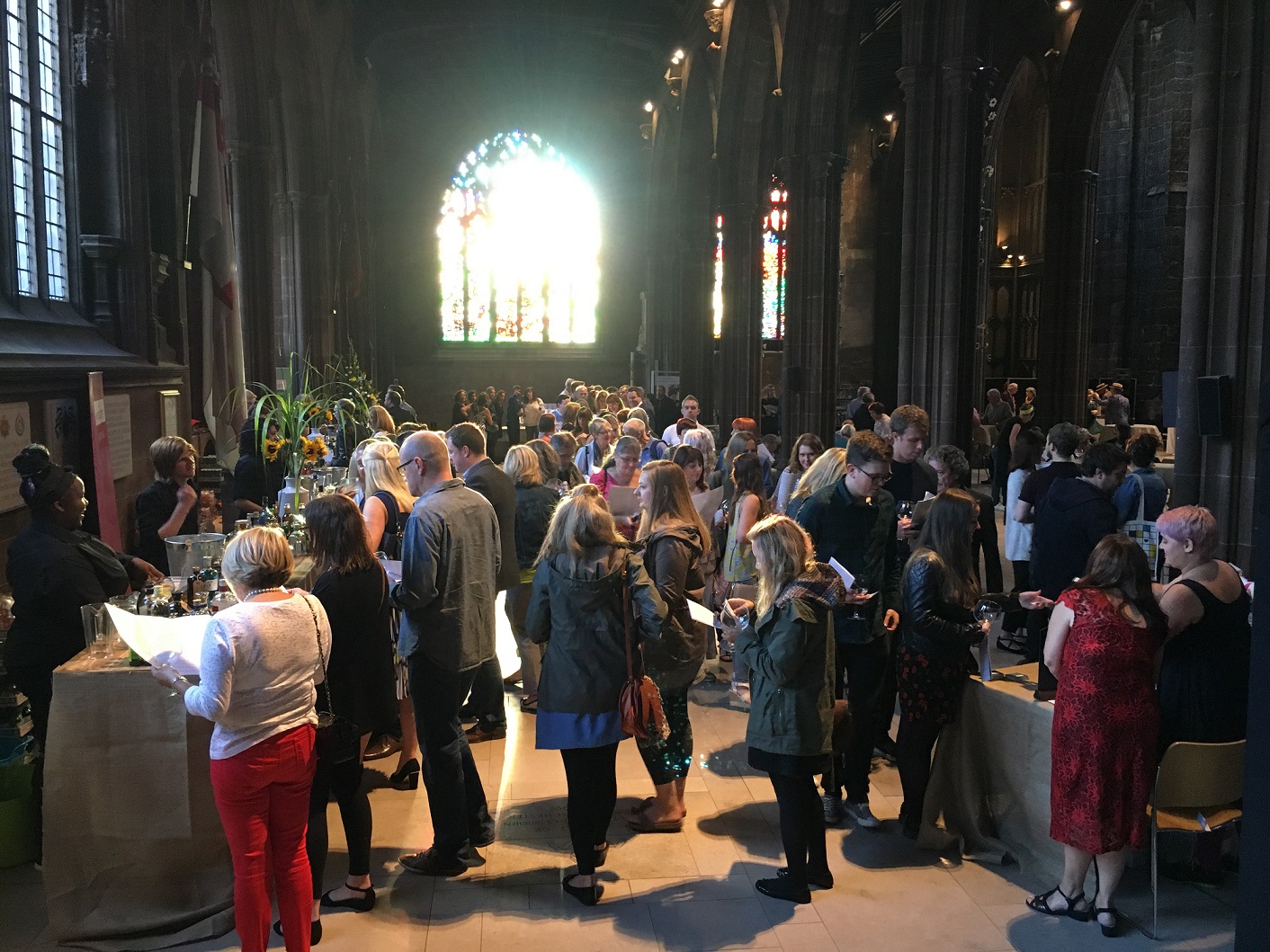 How The Gin Society Festival works
Your ticket permits entrance to the festival at the time and date stated on the ticket. You have to be aged 18 or over to be allowed entrance. If you're lucky enough to look under 25, you will be asked for ID. Sorry, but no ID, no entry!
Once in the festival, you will be given your own The Gin Society gin goblet and a Gin Guide booklet that will tell you something about all the different gins we have for you to try, as well as recommended mixes and garnishes.
You will then be able to purchase Gin Vouchers to explore our world of gin - voucher cards come in values of £5, £10 or £20. Our standard single gins (25ml) are £5 with complimentary mixer and garnish, while our prosecco cocktails (200ml) are £10.
There will be entertainment for you to enjoy; gin connoisseurs and fellow gin lovers happy to share their enthusiasm; and, if you should feel a little peckish, there's a food offer too.
We doubt you'll have any unused vouchers, but it's not a problem if you do. We will gladly cash them back in for you or, alternatively, you can donate them to the local charity we are supporting at the individual festivals.
Still need any more information on the festival? Send us an email and we'll see what we can do for you: hello@theginsociety.bar . Alternatively, any info you want may be found in our Frequently Asked Questions.
FAQs
What's included in the ticket fee?
Your ticket provides entrance to the festival and you will be given your complimentary The Gin Society glass on arrival with a booklet of tasting notes. Both are yours to take home as a souvenir.
Cost of the gins and payment?
You will be able to buy vouchers on arrival with which to purchase your selected gins. A standard single gin, mixer and garnish is £5, prosecco cocktails are £10. The vouchers are £5, £10 or £20, but please remember that any unused vouchers may be redeemed for cash when you leave, or they can be donated to the local charity we have selected for each individual festival.
Is there an age limit for this event?
Yes, the Festival is for people aged 18 and over only. Sorry, but we are not permitted to admit anyone under the age of 18.
Will I need ID?
We operate the Challenge 25 scheme, meaning if you are lucky enough to look under 25 you will be asked for ID. Sorry, but we won't be able to let you into the Festival if, on request, you can't provide proof of your age. Refunds can't be given in that circumstance, so please bring make sure to bring ID with you.
Are we allowed to go out and come back into the festival?
Yes, of course, but you will need your complimentary festival glass with you to gain re-admittance.
Will there be food and entertainment at the festival?
Yes, the festival will feature a Vintage DJ to set the tempo whilst you're sampling your gins and there will be a selection of foods available. Wherever possible, all foods are sourced locally to the individual festival.
Is seating available?
Yes, some seating is usually available. But we carefully select venues you may not have visited before, so you may find interesting to wander around whilst you enjoy your gins.
Does the ticket have to be used by the person named on it?
No, anyone 18 and over may use the ticket (with proof of ID if required).
If a festival is sold out, do you have a waiting list?
Yes, we have a waiting list in case we have any returned tickets. All our tickets are sold via Eventbrite, and it will be advertised if the waiting list is in operation.
I can no longer make it to the festival, can I get a refund?
Yes, we realise plans sometimes have to change, so we are happy to arrange a refund up to 3 days before the festival. Or it is fine to pass your ticket on to a friend, as long as they are aged 18 or over. To arrange a full refund please email us at hello@theginsociety.bar
How do we get our tickets?
All our tickets are sold through Eventbrite. Unless you have the Eventbrite account and mobile app, you will need to print the tickets sent to you by Eventbrite as part of your confirmation email on your purchase of the tickets. If you do not receive your confirmation email from Eventbrite, please email us on hello@theginsociety.bar and we will try to sort it out for you.
Do we get sent paper tickets for the festival?
No, your tickets are included in your purchase confirmation email sent to you from Eventbrite. YOu can either download and print it or use the e-ticket via the Eventbrite App.
Images
Rule of Three Events, producers of The Gin Society Festivals, reserve the right to carry out photography and/or video recording at their events for publicity purposes and to reproduce images and footage on our website, social media and print. By entering into this Agreement, you agree that Rule of Three Events and any party authorised by Rule of Three Events may use such images in perpetuity and in any format whatsoever. You further agree that any copyright in these materials is owned by Rule of Three Events.
How do I contact you?
Best via email on hello@theginsociety.bar