A Hybrid Summer Camp to empower and inspire girls aged 13- 17 years of age to rise up from feeling they're not enough & develop confidence.
About this event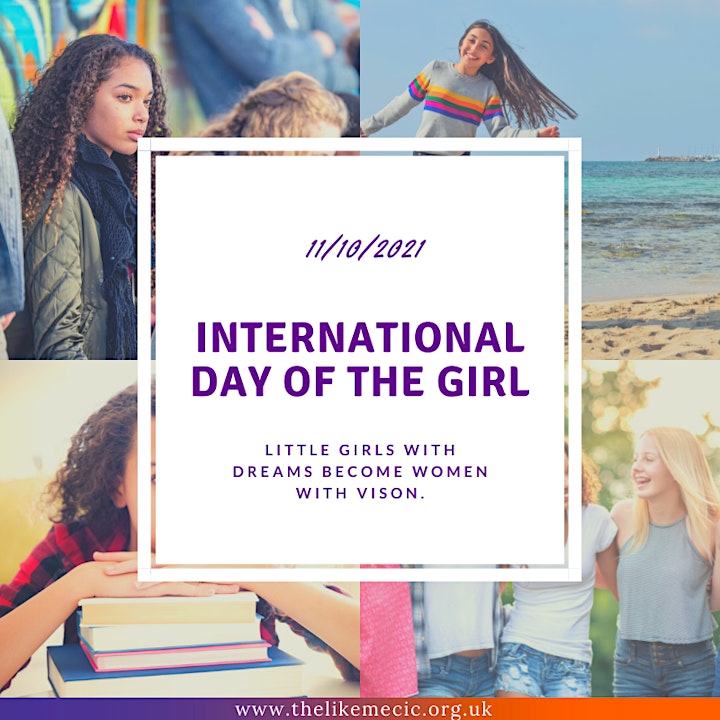 Have you, if you're a teen, or has your child has been overwhelmed with school? We get that this has probably been one of the toughest years yet with all the uncertainty. Do you, teen, or they, parent, need to recharge and refocus?
Well we have the right thing for you! We're inviting a limited number of girls aged 13 - 17 years old to have a summer to remember. A summer that saw them begin to rise up from feeling like they are not enough to develop their confidence, courage and ability to celebrate themselves as well as others. A summer to begin their journey towards being more empowered!
Teen girls register to join our Summer Camp week of girlhood to learn new tips and indulge in diverse activities that range from boxing to taking part in art and cake decorating! This is the perfect opportunity for you to connect with other like-minded girls in a safe environment and gain the confidence you need to conquer the world!
This event is being organised by The Like Me CIC and hosted by Jasmine Mbye. Jasmine has featured in The Sun's Fabulous Magazine, Luton Today as well as other press. She's been on BBC Three Counties radio, Inspire FM, spoken at conferences, retreats and other events. She has also partnered with the NHS Bedfordshire Recovery College. Jasmine has over 20 years experience of personal development and over 14 years experience of developing others. Jasmine has endured and overcome abuse in childhood and in marriage and will be using her experience and expertise to give tools and techniques to show up as the amazing teen girl you really are!
This week of girlhood is a hybrid event meaning you can join us virtually as well as in person. So wherever you're based, feel free to join for our morning sessions. If you're in Bedfordshire or the surrounding areas then come along to the afternoon workshops too. Best of all the Summer Camp is completely FREE! Nevertheless, it does cost to put on so we appreciate the support of the community and organisations. Please donate to our GoFundMe page here.
Our workshops will run from the 23rd August -26th August with virtual sessions in the morning as well as in person Workshops in the afternoon. We will start each morning with a Personal Development session on zoom from 10.30am - 12.00pm. The focus of the sessions for each day will be:
Monday = Intro & Confidence
Tuesday = Resilience
Wednesday = Motivation
Thursday = Becoming
These sessions will inspire, improve self-esteem and equip for the next academic year. The sessions are also flexible as we will be adapting them to meet the needs of you teen girls attending so book your place now!
There will also be engaging activities in the afternoon that will run from 2pm - 4pm. Each day there will be a different workshop all designed to empower. The workshops are listed below:
Monday: 'Who I Am' = Art workshop by Sophie Gresswell
Tuesday: 'The Power of No' = Self-defence 101 Workshop by Dan Butler 
Wednesday: 'Boxing Like Me' = Boxing Workshop by Boxing Saves Lives   
Thursday: 'Cakes & Roles' = Cake decorating and Role Models workshop by Jasmine Mbye
Location: Marsh Farm Future House
Get your tickets before it's too late!
We cannot change what's happened but we can change how we feel about ourselves and our lives. Don't miss this amazing opportunity to end your summer on a high with a fun week of our hybrid sessions and workshops!
Register now!
Let us know if there are any topics you would like us to include.
As mentioned earlier, we would really appreciate your support for the amazing work we are doing. Please donate you our GoFundMe campaign. Thank you in advance for helping us to do what we do. Every donation counts.
Organiser of The Girls Like Me L&B Summer Camp
The Like Me CIC is a personal development, employability and wellbeing Community Interest Company founded by Jasmine Mbye. We empower women and teen girls to rise up from feeling like they're not enough and develop the confidence, courage and celebration to show up and shine meaningfully and authentically in life and work through inspirational speaking, training, events and soon our very own magazines.