Event Information
Refund policy
Contact the organizer to request a refund.
Eventbrite's fee is nonrefundable.
Being Confident In Life and Business
About this event
Being confident in Life and in Business! This event is to educate others on how to be confident in life and business.
Hosted by Regeline Sabbat also known as Gigi, is a Motivational Keynote Speaker, 2x Best Selling Author of the " Walk With Me" and " God First" books that have been endorsed by Les Brown, and Life Coach and Confidence Coach. First generation Haitian American, Financial Expert, Florida Chapter Leader for World Women Conference & Awards, the host of Walk With Me Podcast on JRQTV, Domestic Violence Advocate, Sexual Assault Advocate, Breast Cancer Advocate, Human Trafficking Advocate, and Mental Health Advocate, etc.
Meet The Speakers:
(Master of Ceremonies) Melahni Qualls Ake- Melahni Ake, is the founder of Everyday Leaders Professional Coaching and Consulting, a Certified John Maxwell Team leadership coach, speaker and trainer, and as a Certified WHY Institute Agent she helps others Discover their own WHY, Melahni professional influence began at Walt Disney World and carried into financial services, fundraising and medical device sales and leadership. She believes in the power of our mindset to design our life with purpose. She is a popular Event Master of Ceremonies, Voice Actor, Leadership Podcast Host of Everyday Leaders 50in50, best selling author, motivational speaker and life strategy coach who challenges her clients to dream beyond their limiting beliefs and create better strategic ways to make sense out of the possibilities in front of them to change the world. What she knows is that When you know your WHY, and START with WHY, What You Do has more Impact.
Lakisha James- Corporate event planner, Set Designer, Mentor, Author, and Atlanta Chapter Leader for World Women Conference & Awards
Cassandra Seidenfeld- Professional actress, humanitarian and an athlete. She was the recipient of the 2016 Women4Empowerment Gold Medal of Honor for her work empowering young women and girls; survivors of human trafficking in the US.
Cassandra had an international modeling career and co- built a novelty company from startup to "the major leagues".
Ragne Sinikas - Founder of World Women Conference & Awards (WWCA), Women
Entrepreneurs TV, Change Makers Coach, Public Speaker
Bernadette Barone Pannier- Consultant to business owners, entrepreneurs and CEOs that don't have marketing teams.
Nita Patel- Speaker, Author, and Artis
Missy Maxwell Worton- Award-Winning Author, Speaker, Destiny Coach, Former Actress and Singer
Michelle Patterson- Chief Experience Officer at The Real Share, CEO at Women Network, and the President of the California Women's Conference at WomenNetwork
MEejie Chaparro-Traverso- Public Figure, International Speaker, Creative Consultant, TV & Podcast Host- CPC, MA, CEO
Katerina Stephanou- Established Step Up Stop Slavery, Human Trafficking Advocate, Speaker, Writer, and Mentor
Julie "Juju" Christopher- CEO of Biztuition, Spiritual Guide, Music Artist and Host of the 'Mystical Entrepreneur' Podcast.
Jo Davis- Author, Speaker, Gifted Intuitive, Adventure Addict, Reiki Master Teacher, Death Doula and the Founder of Lift A Sister Up.
Jen du Plessis- Author, Speaker, Coach. Podcast Host, and Lifestyle Business Mentor.
Dawna Campbell- Mind Whisperer, Former Financial Advisor, #1 Amazon International Best Seller for Her Book, "Financially Fit," and Professional Speaker
ILona Parunakova- International Best Selling Author and TEDx Speaker, B.S. B.A, Masters in Ministry, Candidate for Doctoral in Christian Counseling and PhD in Christian Philosophy, Certified Neuro-Linguistic Programming Master Practitioner, Professional Master Life Coach and Professional Facilitator
Bella Cruz- International Best Selling Author, Award Winning Motivational Speaker, and CEO of Bella Cruz Enterprises
Aurea McGarry- EMMY Winning TV Show Host/Producer Founder: LIVE YOUR LEGACY SUMMIT & A.M.P -Aurea McGarry Productions
Alexa Oliva- President of BOWAstudios - Conference Reel, Demo, Sizzle, Legacy and Digital Reels
Veronica Sopher- Award-Winning Visibility Strategist With Over 20 Years of Public Releations Experience
Rosie Paulsen-One of the Fifty Most Influential Hispanic Business Leaders, Owner of Rosie Paulsen Enterprises and S&R Services, Public Speaker, Commissioner of The Floirda Commission on the Status of Women and City of Tampa Equal Business Opportunity Council
Michele Joy- Internationally Recognized Law of Attraction Coach, Podcaster, Author, Speaker, Blogger, and Registered Nurse
Pamela Aubrey-EFT Practitioner, Intuitive Energy Consultant, Reiki Master and Heart Math Facilitator
Stacy Padula- Private Educational Consultant, Director of Private Education Company, Founder of South Shore College Consulting & Tutoring, and Founder of Briley & Baxter Publications
Emma-Jane Taylor- Author, Keynote Speaker, Child Sex Abuse Activist & CEO of The Works Company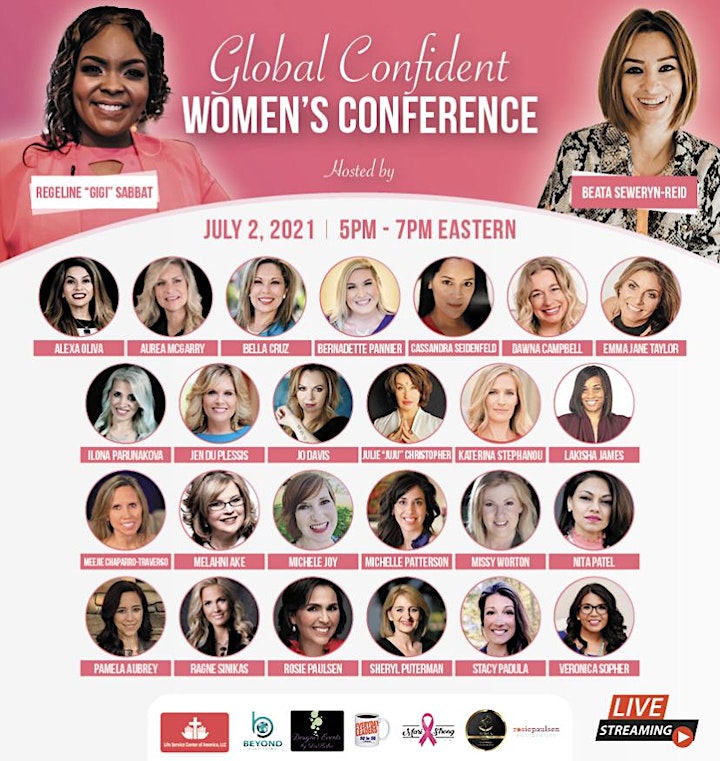 Date and time
Location
Refund policy
Contact the organizer to request a refund.
Eventbrite's fee is nonrefundable.