"The Globalization of Sports: Taking the Tour de France to China" with Chri...
Description
UCLA Anderson Presents: Worldwide Welcome Week - Paris
"The Globalization of Sports: Taking the Tour de France to China"
A Conversation with Chris Renner ('91), CEO, Helios Partners
in conversation with Senior Associate Dean Al Osborne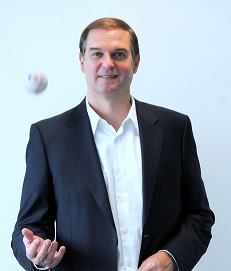 UCLA Anderson is pleased to invite all UCLA alumni, students, parents and friends to this fascinating "behind the scenes" look at the world of sports from the Tour de France to the Rio Olympics and beyond. Chris Renner, our fellow UCLA Anderson graduate, is one of the industry's most experienced executives, having played key roles in a number of FIFA World Cup, UEFA Euro, ATP Tennis and Olympic Games events.
Chris will share experiences as CEO of Helios Partners in China, Southeast Asia and now Paris, as part of the family owned sports giant, the Amaury Group. Learn firsthand about the challenges faced when bidding for and delivering on the Olympic games or expanding the social and cultural phenomenon of the Tour de France into China. Hear how an entrepreneur not only survives but thrives working for a family owned company - and get an insider's scoop on the Rio games!
Guests will be welcomed with a cocktail at 7.00pm, with the program starting at 7.30pm. A networking reception with hors d'oeuvres & drinks will follow the program.
---
About Chris Renner:
Based in Paris, Chris is the CEO of Helios and is one of the industry's most experienced executives. He has a strong international background and a successful track record in marketing some of the world's biggest sporting events. As director of the marketing programs for sports as diverse as the Olympics, Asian Games, and the ATP Tennis Masters Series, Chris has worked and delivered on projects in Europe, Asia and the United States.
Chris began his sports marketing career in Switzerland, playing a key role in the development of the IOC's global sponsorship program (TOP). Over the past twenty years, he has also worked on the FIFA World Cup, the UEFA EURO football competition and the first fully integrated commercial program for the Asian Games. In the period surrounding the Beijing 2008 Olympic Games, he created and built Helios Partners' China office, servicing corporate sponsors such as Lenovo, Samsung and Volkswagen, as well as major rights holders such as Major League Baseball, Women's Tennis Association and Arsenal Football. Since moving to Paris in 2010, Chris has taken over day-to-day responsibility for Helios' relationship with parent company Groupe Amaury, whose companies include Amaury Sport Organisation, operator of the famed Tour de France and the Dakar Rally, among other major sports events.
About Al Osborne

Alfred E. Osborne, Jr. is Senior Associate Dean of UCLA Anderson. In this role, he oversees a variety of key areas and initiatives within the school, including resource development, alumni relations, corporate initiatives, marketing and communications and executive education.
Dr. Osborne is also Professor of Global Economics, Management and Entrepreneurship and founder and faculty director of the Harold and Pauline Price Center for Entrepreneurial Studies at UCLA Anderson School of Management. The Price Center serves to organize faculty research, curricula and student activities related to the study of entrepreneurship and new business development at UCLA Anderson.
A corporate governance expert, Dr. Osborne formed a Director Education and Certification Program designed to help officers and directors of public, private and not-for-profit organizations prepare for the fiduciary duties and legal responsibilities of governance. This program also addresses best practices and topical issues confronting directors. Continue reading >>
---
For questions, please contact Jodi Anderson, Senior Director - janderson@support.ucla.edu.