Sales Have Ended
Ticket sales have ended
Thank you for wanting to join this event, as our ticket sales has come to an end. You can email admin@tokunboosunbayo.com for a space at our next God Factor event. Thank you.
Sales Have Ended
Ticket sales have ended
Thank you for wanting to join this event, as our ticket sales has come to an end. You can email admin@tokunboosunbayo.com for a space at our next God Factor event. Thank you.
An online conference where 12 Christian women globally share how the Holy Spirit showed up in their lives and guided them through challenges
About this Event
We have women from all walks of life in business, careers and ministry sharing how the Holy Spirit showed up mightily in their lives. Each story shows you that He is still working in our lives today even in uncertain and challenging times.
Never encountered the work of the Holy Spirit?
Come join us as these amazing women share:
Their 'God Factor' Story - How the Holy Spirit guided them through challenges and hard places.
How they learned to hear the voice of the Holy Spirit in their lives.
How the guiding of the Holy Spirit brought about personal transformation.
As the organiser, I believe every Christian who has had a God encounter knows that God is never late, He arrives on time to help us through life situations as He promised in Isa 43:2
Why did I put this event together?
God is still doing great things in our lives and He is reliable and trustworthy. Stories like the ones we share help to strengthen our faith in trying times and to knowing how He shows up can be a source of encouragement to the discouraged.
Jesus promised that He would not leave us without a helper and the Holy Spirit has been our source of help since Jesus left the earth.
My desire is for this event to inspire, encourage and motivate women to seek God always in all areas of life because God Never Fails.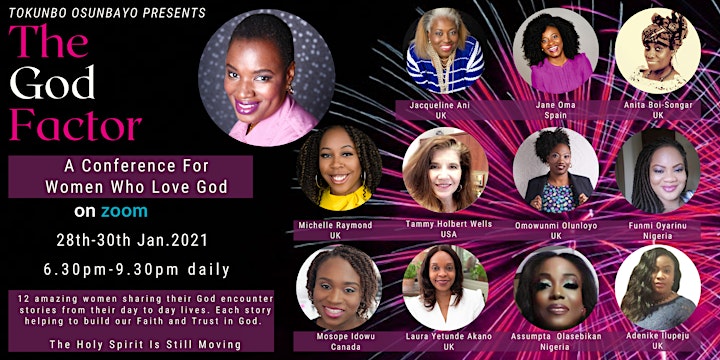 Our Speakers
Tokunbo Osunbayo - Convener/Event Organiser & Empowerment Life Guide (UK)
Speaking Days - Daily at 8.45pm (28th Jan. - 30th Jan. 2021)
Tokunbo is the founder of, 'Women Elevating Women' and TokunboOsunbayo.com. She has been hosting events for over 20 years. Her most popular is 'Women Elevating Women' a London-based bi-annual conference bringing together women from the business world. She is a Guide, Mentor, Coach, Trainer and Adviser using her vast years of cexperience to support women so they can find peace of mind, a sense of direction and money in the bank. She has had numerous encounters with the Holy Spirit since she became a believer and His recent nudge was to create 'The God Factor' Conference, so more women can see that He is still moving in our times.
She is a widow and lives in the UK with her 3 children.
Thursday Speakers:
Mosope Idowu - Health/Fitness Coach (Canada)
Speaking Day - Thursday, 28th Jan. 2021 - 6.45pm
Mosope is a health/fitness coach with a passion to educate and empower moms in the areas of physical fitness and mental health.
She is also a professional engineer with over 10 years of experience in the oil and gas industry. She was born in Nigeria, but has called Canada home for almost 20 years.Mosope was raised in a Christian home and dedicated her life to God as a teenager.
She is married to Seyi Idowu and they are blessed with 3 beautiful children.
Laura Yetunde Akano - Principal Coach & Trainer (UK)
Speaking Day - Thursday, 28th Jan. 2021 - 7.10pm
Laura is the Principal Coach and Trainer at Polished Manners, an etiquette and social skills training company. She has successfully taught children, teenagers and adults through her etiquette classes and afternoon tea events. She has been featured in television and radio programmes as well as features in newspaper and magazine articles.
Laura gained her etiquette certifications having completed training with three schools based in England and the USA. She is a married mother of two, in addition to her qualifications, she brings a wealth of life experiences that compliment her etiquette classes for children and adults.
Jane Oma - Executive Coach (Spain)
Speaking Day - Thursday, 28th Jan. 2021 - 7.50pm
Jane Oma Okoro is a seasoned professional in Executive Coaching, Leadership Development and Strategy, Diversity and Inclusion management as well as Change Management. 
With over 15 years of experience in training and consultancy projects in the private sector covering People and Organization, her work also cuts across the non-profit and social impact sector.
Born in Nigeria and currently living in Spain, Jane has consulted, trained and coached business executives in many countries in Europe and Africa. Jane is the founder and President of Upside Africa, an organization which focuses on inspiring, supporting and promoting entrepreneurs and professionals of African descent, women empowerment as well as diaspora engagement. 
She is also the founder of The Mother Eagle Mentoring Academy, a platform that provides mentoring for African women and youths from all walks of life. Jane is a Senior Fellow and member of the Advisory Council of The Migrant Changemakers Programme by Ashoka Foundation in Spain. She is also a member of SIETAR Europa (Society of Intercultural Education, Training and Research), SIETAR Spain and the Special Interest Group –Africa team of SIETAR Global.
Jane holds a BA in Business Administration and Management from EU Business School (Barcelona), a certificate in Intercultural Management from ESCP Europe and a certificate in Global Diplomacy from SOAS London.
She is fluent in English, Igbo and Spanish.
Assumpta Olasebikan, (Nigeria)
Speaking Day - Thursday, 28th Jan. 2021 - 8.15pm
She is an entrepreneur and partner in Ambience A'la Eden, a company that provides a number of services to the different sectors in Nigeria. A former banker in the UK and Nigeria.
Assumpta is passionate about educational standards in schools and has participated fully a various parents' teachers associations of different schools as well as contributing to the operational aspects of these schools both in Nigeria and the UK.
She is a member of the board of welcoming ministers in the Catholic Church of Divine Mercy and Catholic church of the Holy Trinity. A member of several prayer groups. She says her existence is a testimony of a God who is alive and in love with me.
She is a wife and mother to a daughter.
Friday Speakers:
Omowunmi Olunloyo - Empowerment Coach & Author (UK)
Speaking Day - Friday, 29th Jan. 2021 - 6.45pm
Omowunmi aka Toks, founder of Create Your Reality and Find Your Place, Position & Purpose, is a top UK Women Empowerment Coach, International Bestselling Author, Inspirational Speaker and Mentor.
A plain-spoken ever-bubbly coach, she supports clients to find clarity and direction in their lives. She is committed to empowering and showing women especially busy working mothers who feel stressed, overwhelmed and out of control in their life how to develop a road-map that supports them so that they can regain control of all aspects of their life and are fulfilled, happy and get better results in their life.
Funmi Oyarinu - Entrepreneur (Nigeria)
Speaking Day - Friday, 29th Jan. 2021 - 7.10pm
Funmilayo (Funmi) is a serial entrepreneur who is presently managing a bakery. She started out as a Beauty Consultant which she is still passionate about. She has over 13 years experience in the Beauty and Wellness industry.  
She has a degree in International Relations/History, a Diploma in Beauty Therapy and Cosmetology. She is passionate about business startups.   Her Christian journey started back in 1998, when she gave my life to Christ and it has been a time of self-discovery, self-discipline with many challenges, corrections, and numerous breakthroughs. She says she is so glad to be chosen by God and is looking forward to sharing her encounters with the attendees.
Michelle Raymond - HR Consultant, Visibility Strategist, Peak Performance Coach (UK)
Speaking Day - Friday, 29th Jan. 2021 - 7.50pm
Michelle is also a Certified Master NLP Practitioner and award-winning International TEDx Speaker on a mission to make the inVisible Visible! For more than a decade, Michelle has leveraged her research on the work and leadership paradigms of women in business – highlighting the psychological barriers that seem to hold them back and shines a light on strategies and insight that deal with the imposter syndrome to achieve high performance.
Michelle has also become a respected and in-demand business coach, keynote speaker and authority on how to use strategic networking in an impactful way. Her most talked about speech 'How to Elevate your Circle of influence with Key People of Influence' is both controversial and persuasive leaving listeners with easy to implement actionable takeaways to create power relationships that last!
Michelle, who is also an international trainer on emotionally intelligent leadership, high converting communication and public speaking skills has been featured in People management, HR Grapevine, The Guardian and Sky TV and is best known for her people empowerment slogan #AskForMore
Adenike Ilupeju, Mindset & Passion Transformation Coach (UK)
Speaking Day - Friday, 29th Jan. 2021 - 8.15pm
Adenike is an exceptional Dream Activator renowed for helping women build their passion, from purpose into significance.
She is the founder of Distinct Women Academy, an organisation that helps women become Intentional Action Takers in achieving significance in their distinct purpose by shifting their mindset to purpose, translate their passion to profit and deliver their goals with distinction.
She is blessed to be multidimensional as a Women Leader, Event Facilitator, Motivational Speaker and Writer. 
She is also an award-winning charity and Event Project Manager with a high record of delivering outstanding projects, hosting Fundraising events, and managing Food Distribution Centres to meet the needs of deprived families and children in Manchester UK and  Nigeria.
She is a married with two children and lives with her family in Manchester UK.
Saturday Speakers:
Anita Boi-Sogar - Entrepreneur/Musician (UK)
Speaking Day - Saturday, 30th Jan. 2021 - 6.45pm
Anita is the eldest of four girls and has lived in the UK, Ghana, and Nigeria. She is a mother to two grown up children and has been a primary school teacher for the past fifteen years. Prior to that, she was a stay-at-home mum; an administrator, and a carer. She is very passionate about music and sings and plays the guitar. She believes her whole life is a testament to the goodness of God and He continues to be her Guide on the journey of life.
Tammy Holbert Wells - Director & Certified Coach (USA)
Speaking Day - Saturday, 30th Jan. 2021 - 7.10pm
Tammy is a director and a certified coach practitioner, specializing in leadership and strategic planning, with successful experience in coaching others to self-actualization and greater achievement. She has dedicated her career to making individuals, business, schools, and civic groups highly effective in capacity building, charting growth, and transformation. She is currently Director of Secondary and Career Technical Education, Student Assessment, and Strategic Planning for Wetzel County Schools, West Virginia, US. Tammy has been a teacher, elementary/middle school assistant principal, and high school principal and is a 2006 West Virginia winner of the prestigious Milken National Educator Award
Jacqueline Ani - Transformational Leadership Consultant (UK)
Speaking Day - Saturday , 30th Jan. 2021 - 7.50pm
Jacqueline is a Transformational Leadership Consultant, Career Coach, College and University Lecturer, Inspirational Speaker and Author/Writer of the best-selling book The Widow's Jar of Oil. Your Talent is Your Wealth and Being Single to Be Married: A guide to preparing yourself for marriage. She is also a fellow member of the School of Social Entrepreneurs.
Her mission is to empower women to empower their nation and she does this through mentoring, coaching, lecturing and speaking.
Jacqueline is the Founder of Jacqueline Ani International a mission responsible for building women in 5 areas, Mission (business) Ministry (servanthood), Mothers (parenthood), Marriage (relationships) and Money (creating ideas to prosper). She is also the pioneer of The Mentoring Group for International Women (TMGIW) a global active social media group. She is the Programme Director of The Mentoring Academy, Chief Editor of WEW Magazine and Radio Presenter of Women Empowering Women Lifestyle Talk Show.
Come join us from 28th - 30th Jan. 2021 and see what God has done.
We look forward to hosting you. Spread the love and invite your female family and friends to this life-transforming conference.
Tokunbo Osunbayo - Convener.