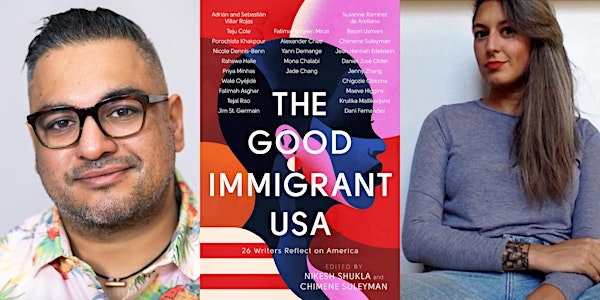 The Good Immigrant USA with Nikesh Shukla and Chimene Suleyman
Event Information
Location
Foyles
107 Charing Cross Road
London
WC2H 0DT
United Kingdom
Description
To celebrate the launch of The Good Immigrant USA, the much-anticipated follow-up to 2016's The Good Immigrant, co-editors Nikesh Shukla and Chimene Suleyman introduce some of the voices they've brought together for this new collection.
In this urgent collection of essays from first- and second-generation immigrants, Shukla and Suleyman hand the platform over to a panel of writers to explore what it feels like to be othered in an increasingly hostile and divided country. Sharing the stories of lives lived between cultures and journeys in search of personal identity, The Good Immigrant USA is a provocative, multi-vocal portrait of the United States today across race, gender, sexuality, privilege and experience.
Shukla and Suleyman will be joined by poets and performers Salena Godden (Fishing in the Aftermath) and Sabrina Mahfouz (The Things I Would Hate to Tell You) to discuss the growing tensions over immigration, the rapid rise of white supremacism and the proposed building of border walls. The event will be followed by a Q&A and a book signing with all authors present.
Tickets: £20 including a copy of The Good Immigrant USA (RRP £16.99) / £8 standard / £5 Student or Foyalty member*. When purchasing a Student or Foyalty ticket, you'll need to bring a valid in-date Student card or Foyalty card with you.
Venue: Level 6, Foyles 107 Charing Cross Road
*Not a Foyalty member but would like to gain access to discounted tickets, exclusive offers and giveaways? Click here to register free today!
Date and time
Location
Foyles
107 Charing Cross Road
London
WC2H 0DT
United Kingdom