Description
Bridges have formed a profound but uncelebrated part of this island's history. Essential for the operation of an urban economy, sometimes the work of charity or religious devotion, critical to defence, and often bearing the mark of past warfare, they continue to serve us today, with some structures 800 years old still carrying modern traffic.
Join three of the UK's leading experts as they share their insight and enthusiasm for these remarkable works.
The Bridges of England
Dr David Harrison author of Bridges of Medieval England – Transport and Society 400-1800 AD, will provide a lighting tour of England, from the simplest and earliest of bridges, to the multiple arch bridges that cross many of the rivers are still in use, and the long spans achieved in 1500s.
The Buildings of London Bridge
Historian Dorian Gerhold has used new research based on leases containing measurements of the premises on the medieval London Bridge to create a plan of the bridge and to trace the individual properties back to the 14th century. A new book, to be published at the beginning of July, contains dimensionally accurate reconstructions of what was not only a bridge, but one of London's major shopping streets and home to over 500 people.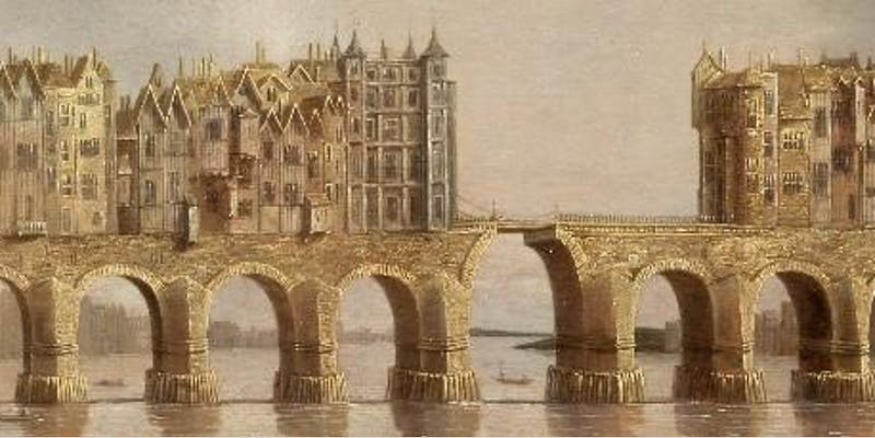 The Rennies' London Bridge
Peter Cross-Rudkin, Civil Engineer and Historian, discusses the Georgian London Bridge, opened 1831, dismantled in the 1960s and reconstructed and reopened in Arizona in 1971. He will cover also cover the work of Sir John Rennie and his son George that culminated in the design of the bridge.