Actions and Detail Panel
The Great British Private Investor Summit 2017
Thu, May 25, 2017, 8:30 AM – 5:00 PM BST
Description
It has never been more important to meet investors and fund managers face to face.
The 5th Great British Private Investor Summit 2017

Intelligent, insightful and very investor friendly.
Uncover: The best alternative & innovative investment models of 2017
Meet: All the investment providers that matter in the worlds of angel investing, early stage venture capital, crowdfunding and peer-to-peer lending
Get the inside edge: By questioning the key influencers in the early-stage investment industry
Network: With other like-minded investors
NB. This event is exclusively for private investors - any entrepreneurs or fundraising companies that book onto the event will be refunded prior to the event.
---
Agenda:
8.30 - REGISTRATION, NETWORKING & BREAKFAST
9.30 - Introductions from our Chair of the Day: MODWENNA REES-MOGG, AngelNews
9.40 - Keynote Speaker: Peter Mountford - super angel and Chairman of Heropreneurs
10.00- Special Debate 1: The superior route to a stronger portfolio
The tactics and techniques which build a robust alternative investments portfolio including smart use of SEIS, EIS and SIPPs.
10.40 - LIVE INTERVIEW: Catherine Gannon, Gannons Commercial Law LLP

11.00 - COFFEE BREAK
11.15 - Audience debate: What a new government should do for private investors

11.35 - Keynote speaker - Peter Mountford, super angel and Chairman of Heropreneurs
11.50: Special Debate 2: Crowds of Choirs
Why co-investing with other angels and VCs makes for a better result.
12.30: Keynote speaker - Peter Cowley, World Business Angel of the Year 2017
12.40: LUNCH & NETWORKING
1.45: Special Debate 3: Securing a healthy income in a risk adjusted environment
The opportunites to create a healthy income from a well managed portfolio are manifold. We will help you unpack the ones that are suitable for you
14.25: Special Debate 4: Equity platforms - Increasingly professional in a rapidly maturing market.
With equity crowdfunding 2.0 now upon us, this debate will focus on what a mature market will look like and what still needs to be done to ensure its long term sustainability.
15.05: COFFEE BREAK AND NETWORKING
15.25: A closer look at what we do

15.45: Special Debate 5: The rise and rise of the secondary market
The big market news is the rise in secondary market activity. The major players offering solutions for investors keen to sell before the final liquidity event will disucss the issues, as well as the opportunities now available.
16.25 - Keynote Speaker:
16.45 - End of Summit entertainment
17.00 - END OF SUMMIT

---
SPONSORS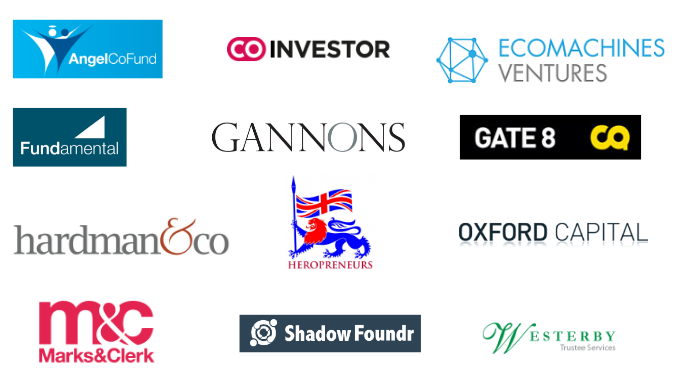 Platinum Sponsors
Gold Sponsors
Other sponsors
---
EXHIBITING SPONSORS:
INTERESTED IN EXHIBITING?
If you are interested in Exhibiting at this event, please do get in touch with Modwenna Rees-Mogg at modwenna@angelnews.co.uk for more information.
---
PANEL SPONSORS:
---
SUPPORTED BY: