Description
It has never been more important to meet investors and fund managers face to face.
The 6th Great British Private Investor Summit 2018

Intelligent, insightful and very investor friendly.
Uncover: The best alternative & innovative investment models of 2018
Meet: All the investment providers that matter in the worlds of angel investing, early stage venture capital, crowdfunding and peer-to-peer lending
Get the inside edge: By questioning the key influencers in the early-stage investment industry
Network: With other like-minded investors
NB. This event is exclusively for private investors - any entrepreneurs or fundraising companies that book onto the event will be refunded prior to the event.
---
AGENDA
8.30 - REGISTRATION, NETWORKING & BREAKFAST
9.15 - Introductions from our Chair of the Day: MODWENNA REES-MOGG, AngelNews
9.25 - Keynote Speaker: Simon Murdoch, angel investor and Managing Partner, Episode1
9.45 - Special Debate 1: From SEIS to Scale-ups - understanding the new equity investment landscape
The world is changing. Superior returns can be had from many different equity asset classes. Our panellists will map the landscape so you can make better investment decisions.
10.20 - A closer look at what we do: A series of pitches from firms with opportunities you may find attractive
10.40 - COFFEE BREAK AND NETWORKING
10.55 - Special Debate 2: Who can I trust?
Understanding how to identify trusted providers and co-investors with whom you are aligned to your investing preferences.
11.35 - Keynote Speaker: Andy Kaye, President & CIO, OurCrowd
12.05 - Special Debate 3: Management teams unchained

They say it is all about management, but is it? How you can spot the entrepreneurs and founders who will deliver for you not just themselves?
12.45 - Keynote speaker: Dominic Frisby Financial writer, comedian, actor of unrecognized genius and voice of many things.
13.00 - LUNCH & NETWORKING
14.15 - Special Debate 4: No longer alternative: venture capital and property investing goes mainstream
A discussion about how, with changes to the pension environment now cemented, investors can find opportunities with mainstream investment characteristics from segments previously considered alternative.
14.55 - Special Debate 5: Cashing Out
The clamours for investors to have rights to exit as well as enter deals is growing. We will debate the issues from all perspectives.
15.40 - Keynote Speaker: Iain Martin, founder and editor of political and news commentary website, Reaction, and author of 'Crash Bang Wallop', the inside story of London's Big Bang
16.00 - Tea & Cakes

17.00 END OF SUMMIT
SPONSORS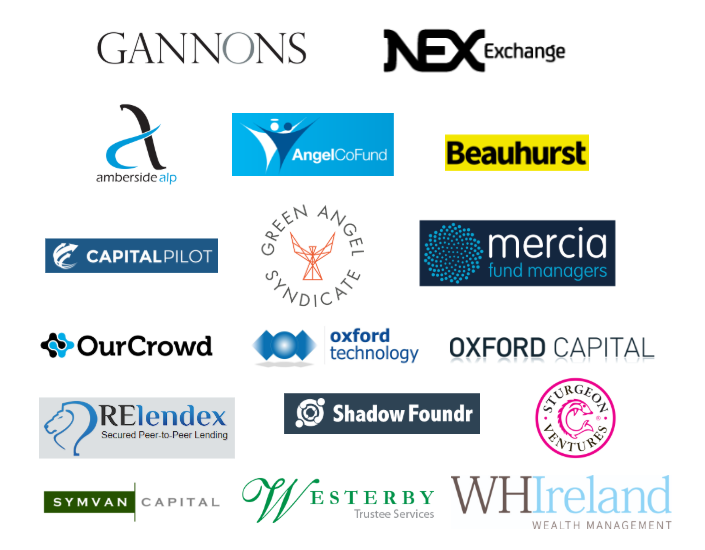 INTERESTED IN EXHIBITING?
If you are interested in Exhibiting at this event, please do get in touch with Modwenna Rees-Mogg at modwenna@angelnews.co.uk for more information.
SUPPORTED BY: