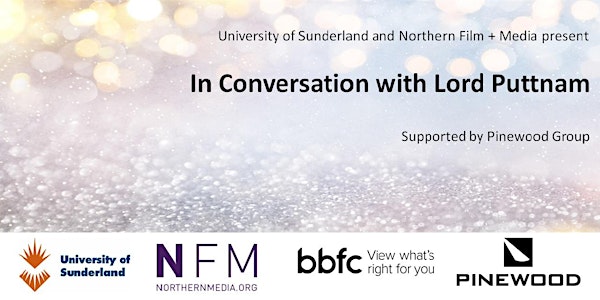 The Great British Skills Shortage – Where the jobs are with Iain Smith
From March to May 2021, Lord Puttnam will lead six seminars on all aspects of the screen industries.
About this event
University of Sunderland and Northern Film + Media present a series of seminars "In Conversation with Lord Puttnam" supported by Pinewood Group.
Creatives often have their own ideas on how to get started, but this session will be of particular interest to those interested in working behind the scenes – reinforcing the opportunities for production co-ordinators, production finance managers, designers, special effects etc. The current reality is that most work is based in and around London, but that's beginning to change, and new studio production hubs are being developed in places like Reading, Liverpool and Leeds. So why not the North East? One of the biggest hurdles is a lack of confidence in would-be creatives. The difficulty yet the importance of building contacts and networks. And how do we prepare this generation for the jobs that in some cases have yet to be invented? What are the skills and practises being learned right now that will equip individuals for satisfying future careers in content creation?
About the speakers:
Iain Smith, raised in Glasgow, is one of the UK's busiest film producers. He has worked on many successful and award winning films around the world, including "The Killing Fields", "The Mission", "The Fifth Element", "Children of Men", "Spy Game" "Cold Mountain" and the six times Oscar winner "Mad Max: Fury Road". He has served on the UK Film Council, Scottish Screen, the Joint board of Creative Scotland, and the Children's Film and Television Foundation. He has been a Governor of the National Film and Television School, Chair of the Edinburgh International Film Festival, the Film Industry Training Board and the Film Skills Council. Currently Chair of the British Film Commission, he is a patron of the London Film School; sits on the Advisory Board of the Scottish Screen Media Academy; the Media Academy Wales, and is a board member of Film London. He has recently become a patron and president of the Scottish Youth Film Foundation. He was awarded an Honorary Doctorate of Arts at Edinburgh Napier University, and an Honorary Doctorate of Letters at Queen Margaret University, Edinburgh. In 2005 he was awarded a BAFTA for Outstanding Achievement in Film, and was made an OBE for services to the industry.
Lord David Puttnam is Chair of Atticus Education, an online education company founded in 2012 that delivers audio-visual seminars to students around the world. In addition, he is a member of the House of Lords where he pursues an active role in a variety of areas, from educational and environmental issues to digital skills. In 2019, he was appointed Chair of the Democracy & Digital Technologies committee to investigate the impact of digital technologies on democracy. He spent thirty years as an independent producer of award-winning films including The Mission, The Killing Fields, Chariots of Fire, Midnight Express, Bugsy Malone and Local Hero. Together these films have won ten Oscars, 13 Golden Globes, nine Emmys, 31 BAFTAs and the Palme D'Or at Cannes. Lord Puttnam is President of the Film Distributors' Association.
Places are free but limited. Priority will be given to those with a North East base and or be a student or alumni from University of Sunderland. You must be over 18 years old.
More information about the series
Delivered over Cisco's WebEx system, the ninety-minute seminars will follow an 'in conversation' format and will be fully interactive, using film clips, archival footage and images to illustrate the exchange. Questions will be taken from the audience throughout. WebEx links will be sent out prior to the event.
We are committed to working to support and develop an inclusive workforce in film and television and strongly encourage participation from under-represented groups and diverse backgrounds.
The University of Sunderland welcomes all with talent into higher education and supports them in reaching their potential.
The University has 20,000 students based at campuses in Sunderland, London and Hong Kong, as well as with global learning partnerships in 15 countries.
Working to shape the city and region, the University is proud of its positive contribution to economic and social change. Its graduates leave equipped with the knowledge, skills, confidence and connections to make a positive difference in the wider world.
Find out how the University of Sunderland can change lives at www.sunderland.ac.uk
This event is supported by the BBFC. The BBFC is independent and not-for-profit, and here to help everyone in the UK – especially children and families - choose age-appropriate films, videos and websites, wherever and however they watch or use them. Now, as well as classifying films released in UK cinemas and on DVD and Blu-ray, it's providing age-ratings for Video On Demand and music videos online, and helping mobile phone operators set parental controls at the right level. The BBFC takes corporate responsibility seriously and is a proud supporter of the charity and voluntary sector.
Northern Film + Media is the creative industries development agency for the North East of England.
Find out more about NFM at www.northernmedia.org