Description
What you need to know
If you'd still like to come, but you haven't bought a ticket yet, they can be bought on the door - £15 for a day pass and £10 for the afternoon only.

Two rounds of simultaneous debates - choose the one that interests you the most

Audience members get involved by cross-examing the speakers and voting to decide who wins

Everyone invited to watch the Grand Final and join us for a free wine reception at the end
About the competition
Where do you go if you want to have an open and honest conversation about abortion, privacy, racial inequality, or any number of sensitive taboo subjects that are normally too difficult to talk about at work or even at home because of how other people might react?
Who do you trust to tell you what you need to know when the people trying to win your support care more about advancing their agenda than helping you to make a decision?
How do you know you are making a decision based on evidence and not on unconscious biases you never knew you had, but that skilled speakers are trained to exploit?
The Great Debaters Club is the only year-round debating society and training programme for adults in the country and exists to provide an answer to each of these three questions.
This November, we are partnering with a group of charities who strive to change the way we talk about some of the most topical social taboos in Britain today, so we can provide a safe space for debate and make once difficult conversations easy, enjoyable, and effective.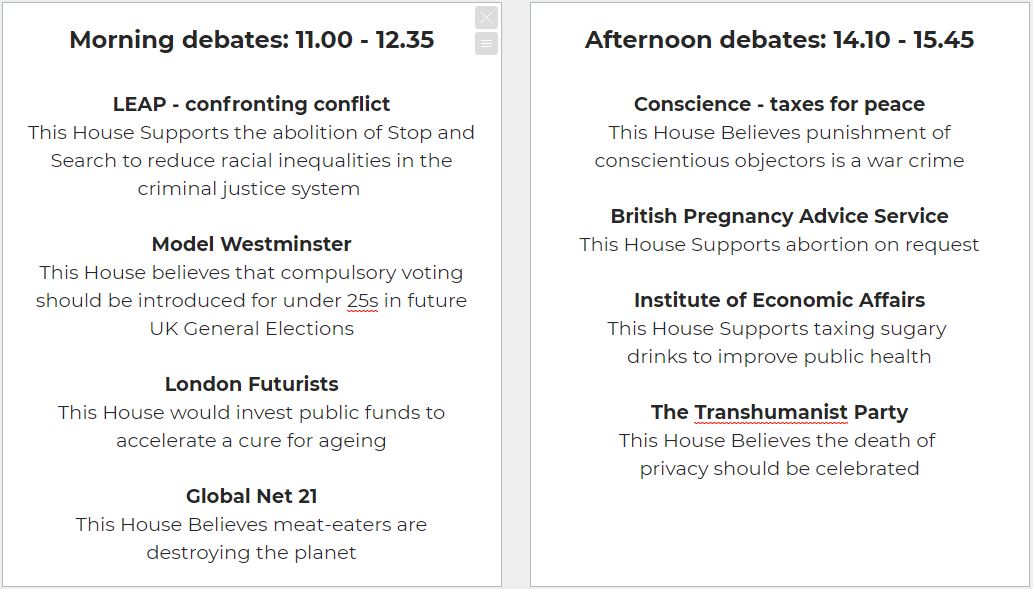 Trained speakers with no agendas
The speakers in each debate will be members of the Great Debaters Club, who have already been through our training programme. More importantly, each team has been assigned the motion they will be debating and the position they will be taking on it, which means their job will to be make the best possible case they can for the position they've been given, rather than just imposing their own personal opinions on you.
How debate motions are set
Each debate motion has been set by a charity that campaigns to change social attitudes towards the taboo being debated - e.g. the motion of the abortion debate has been set by the British Pregnancy Advice Service. Each motion represents a proposal for a new policy or idea that the charity wants people to talk about. Our speakers must then make the case in favour and against the motion to the audience to help you work out where you stand.
Opportunities for audience participation
Each debate will be open to the public and decided by an audience vote, with a poll taken both before and after the debate to see how many minds the speakers were able to change with their arguments. The bulk of each debate will also be given over to audience members for them to cross-examine the speakers with questions and comments of their own.
Simultaneous debates and a Grand Final
The only way to fit nine debates into a single day is to run some of the simultaneously in different rooms. The first four motions will be debated in the morning, the second four in the afternoon, and the Grand Final, which will remain a secret until the day itself, will be the last debate of the day. Check the schedule at the top of this site to see which motions are being debated when and then decide which ones you most want to attend.