Location
Age UK Leeds Arch Cafe
Mark Lane
Leeds
LS2
United Kingdom
Description
Celebrate Leeds Loves Food (and cake!)
We've been inspired by the Leeds Loves Food festival to celebrate our love of cake, and have launched a baking competition to raise funds for Age UK Leeds. All money raised will help support some of the most vulnerable older people in the city.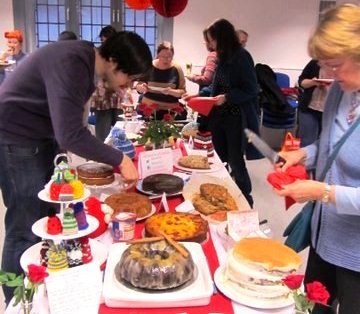 To celebrate the Leeds Loves Food festival we're looking for bakers to take part in our Great Leeds Bake Off. And lots of people to help us eat the cakes! Cakes will be judged by: Clandestine Cake Club founder, and cake recipe book author, Lynn Hill. And we are delighted to annouce a second judge, MasterChef Vivek Singh Kashiwale, born and trained in India, is a multi-award winning chef who worked for 5 years for the world's first Indian Michelin Star Chef Vineet Bhatia. http://the1875.co.uk/
Bake a cake inspired by one of these categories :
Leeds Love Food

Vintage/retro

International
(Remember, you can enter more than one category but only need to buy one baking ticket! )
Cakes will be judged on taste and how they interpret the category. The competition is open to all, from 5 year old children to seasoned bakers. But remember, we definitely believe that appearances can be deceiving- it's all about the taste!
Cakes must be at Age UK Leeds by 2pm on Saturday 8th June
Doors open to ticket holders at 3:30pm
It's all fundraising fun, and without the cakes, we can't eat! Have a go and enter a cake- we'll all enjoy it even if it turns out lopsided!
Owing to cake eating popularity, we request that only people who are accompanying a baker purchase an 'eater' ticket. Join us at The Arch Café for an afternoon of cake delights, to enjoy eating competition cakes and drinking lots of Yorkshire Tea. 2 slices or 7 slices, eat as much as you like!
Admission costs £5 (under 10s go free) , and unlimited cups of Yorkshire tea will be available. All money raised will support Age UK to help older people across Leeds. Cakes can be delivered to Age UK Leeds 9am-4pm on Friday 7th and 9am-2pm on Saturday 8th.
The Great Leeds Bake Off will take place at Age UK Leeds, which incorporates The Arch Café.
[Cakes will be handmade by people baking in their home kitchens. They are eaten and enjoyed at your own risk]