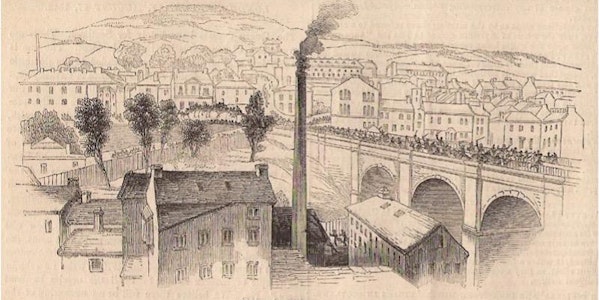 The Great Strike of 1842: Halifax's Peterloo?
Location
Calderdale Industrial Museum
Square Road
Halifax
HX1 1QG
United Kingdom
Public meeting for the 180th anniversary of the Great Strike of 1842. Learn about the history and how it affected the people of Halifax.
About this event
This event is being held in person and there are limited tickets - please only book a ticket if you are certain you can attend.
180 years ago, the Great Strike of 1842 saw workers and communities across Britain protest for better pay, improved working conditions and democratic rights. The strike was the first general strike ever to take place in a capitalist country, and the people of Halifax were at the centre of it.
Though the strike was supported by Chartists, it originated with the trade unions and it spread across entire communities. At one point, there were estimated to be over 20,000 strikers on the streets of Halifax.
These strikers - and even bystanders who were not themselves striking but became caught up in the events - met a violent response from the state. Several were killed and many injured as cavalry charged into crowds and rifle volleys were fired into crowds, in events reminiscent of the Peterloo massacre in Manchester from 1819.
Learn about the history of the Great Strike from talks by leading historians and researchers, and discuss the meaning of the strikes for us today. Speakers at the event will include:
• Catherine Howe, author of the book Halifax, 1842
• James Dean, author of a recent study of the Great Strike of 1842 in the West Riding
• Matthew Roberts, historian of 19th Century Britain and author, most recently, of the book Chartism, Commemoration and the Cult of the National Hero
• Katrina Navickas, author of the book Protest and the Politics of Space and Place, 1789-1848
• Neil Pye, author of the book The Home Office and the Chartists, 1838-1848: Protest and Repression in the West Riding of Yorkshire
This event is being held as a partnership between Calderdale Trades Council and Calderdale Industrial Museum, with thanks to the Society for the Study of Labour History for their support.
Prior to the event, consider reading leading historian Dorothy Thompson's account of Halifax as a Chartist centre: https://www.versobooks.com/blogs/5237-halifax-as-a-chartist-centre
And listen to this podcast with Catherine Howe, author of the book Halifax 1842: https://anchor.fm/uniteoralhistory/episodes/1842-Halifax---Killing-democracy-euur80