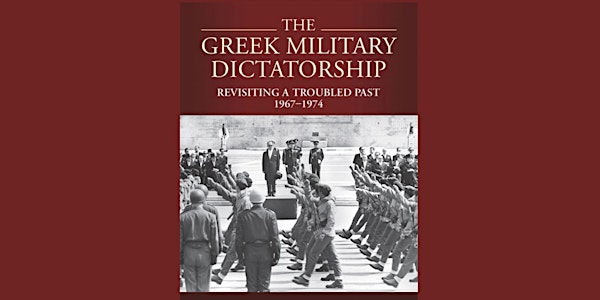 The Greek Military Dictatorship: Revisiting a Troubled Past, 1967-1974
The Greek Military Dictatorship: Revisiting a Troubled Past, 1967-1974
About this event
BOOK DISCUSSIONThe Greek Military Dictatorship: Revisiting a Troubled Past, 1967-1974
Speakers: Othon Anastasakis (St Antony's College, Oxford); Foteini DImirouli (Keble College, Oxford); Kostis Kornetis (Universidad Autonoma de Madrid) Chair: Katerina Lagos (California State University, Sacramento)
From 1967 to 1974, the military junta ruling Greece attempted a dramatic reshaping of the nation, implementing ideas and policies that left a lasting mark on both domestic affairs and international relations. Bringing together leading scholars from a range of disciplines, The Greek Military Dictatorship explores the junta's attempts to impose authoritarian rule upon a rapidly modernizing country while navigating a complex international landscape. Focusing both on foreign relations as well as domestic matters such as economics, ideology, religion, culture and education, this book offers a fresh and well-researched study of a key period in modern Greek history.
Attendees are asked to:
Take a lateral flow test on the morning of the event. If positive, stay at home
Stay home if you feel unwell
Wear a face covering one while moving around indoor spaces where possible, while seated, particularly during larger events
Be considerate of other people's space
Wash your hands regularly with soap or sanitiser
Use the official NHS QR code posters displayed throughout the College site.
Attendees need to have one of:
Proof of COVID-19 vaccination status
Registration (via NHS app) of a negative Lateral Flow Device test (LFD test) taken in the last 48 hours
or
Proof of natural immunity via a positive PCR test taken within 180 days of the event, but following the 10-day isolation period
Organizer of The Greek Military Dictatorship: Revisiting a Troubled Past, 1967-1974
SEESOX is part of the European Studies Centre at St Antony's College, University of Oxford. It focuses on the interdisciplinary study of the relationship between European integration and the politics, economics and societies of the Balkans, Greece, Turkey and Cyprus. Drawing on the academic excellence of the University and an international network of associates, it conducts policy relevant research on the multifaceted transformations of the region in the 21st century. It follows closely conflict and post-conflict situations and analyses the historical and intellectual influences which have shaped perceptions and actions in the region. In Oxford's best tradition, the SEESOX team is committed to understanding the present through the longue duree and reflecting on the future through high quality scholarship.