The growing imperative: climate action, well-being and equity
Event Information
Refund policy
Contact the organiser to request a refund.
Eventbrite's fee is nonrefundable.
Join this flagship event exploring how global development and humanitarian actors can walk the talk on climate, equity and wellbeing.
About this event
This year's flagship event by Scotland's International Development Alliance takes place online over 1 and 2 December just after COP26 and while the world grapples with increased inequalities wrought by the COVID-19 pandemic.
This event will be hosted on easy-to-use, interactive platform Swapcard.
Open networking will commence at 9am with live sessions starting at 10am over two consecutive mornings on 1 & 2 December. The event platform will remain open for full days allowing attendees to interact with fellow participants at their own pace through chat functions, discussion boards, side events and virtual networking.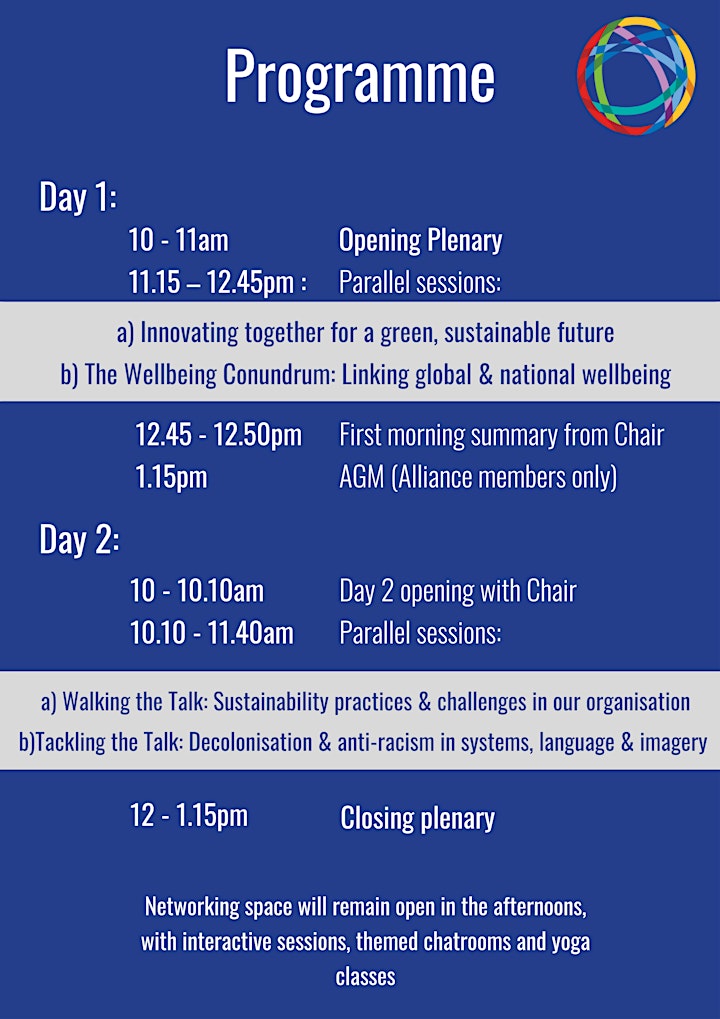 Conference Chair
Talat Yaqoob - Talat is a Scottish campaigner, writer and commentator focused on women's equality, race equality and intersectional analysis of policy. She is the Co-Founder and Chair of Women 5050, the national campaign for fair representation of women in politics and on public boards.
Session Chairs
Stephanie Terreni Brown -Sustainability consultant and former MD, Clean Water Wave. Stephanie holds a PhD from the University of Edinburgh, an MSc from the University of Oxford, and her research explored small-scale water and sanitation infrastructures & the relationship with the communities the technology is meant to serve.
Lena Bheeroo - Lena is the Engagement and Equity Manager at Bond. Lena leads the anti-racism, Equity, Diversity & Inclusion work we do for the sector, as well as overseeing the delivery and content of our programme of major events, including the annual conference and exhibition and the international development awards. She is also a Committee Member of #CharitySoWhite, and on the working group of The Racial Equity Index.
Yankho Mataya - Yankho is WaterAid's Regional Funding Manager for Southern Africa and an international development expert with diverse experience in monitoring and evaluation, project management, partnerships as well as programme and business development.
Jimmy Paul - Jimmy Paul is the Director of the WEAll Scotland (Wellbeing Economy Alliance) which is working to deliver social justice on a healthy planet.  Jimmy has been recognised for his leadership skills internationally, and has worked in health and social care leadership roles for nearly 10 years, including at Scotland's Independent Care Review.
Session Speakers
Jenny Gilruth MSP - Jenny is the Minister for Culture, Europe and International Development within the Scottish Parliament.
Dr Saleemul Huq - Saleemul is a Bangladeshi Scientist and has been the Director of the International Centre for Climate Change & Development (ICCCAD) based in Bangladesh, also Professor at Independent University, Bangladesh (IUB). He is an expert in the field of climate change, environment and development.
Steve Letsike - Steve is a well-known South African activist, not only within the LGBTI sector but also on issues of feminism, human rights and social justice. She has recently been elected Chair of the Commonwealth Equality Network.
Moustapha Kamal Gueye - Moustapha is Coordinator of the Green Jobs Programme at the International Labour Organisation in Geneva. Prior to joining the ILO, he spent 12 years at the Institute for Global Environment Strategies (IGES) in Japan before joining, in 2006, the International Centre for Trade and Sustainable Development (ICTSD) in Geneva where he was responsible for setting up the environment program.
Hasin Jahan - Hasin is Country Director at WaterAid Bangladesh. She is a pioneer in the development sector with decades of experience in water, sanitation, and hygiene. She is recognized as an influential WASH leader who promotes gender equality and youth empowerment.
Lola Ayanda - Lola is the Communications Coordinator for ActionAid Nigeria. She is a Development Communications Specialist, a Good Governance Activist, and an advocate for the Free Press.
Caspar Kaiser - Casper is a research officer at the Institute for New Economic Thinking and a research fellow at the Wellbeing Research Centre, both of which are part of the University of Oxford. He is also a trustee of the Happier Lives Institute, which aims to find the most cost-effective ways to improve global wellbeing.
Sophie Howe - Sophie is the Future Generations Commissioner for Wales, appointed in 2016. She had previously been a local councillor and worked as a special political advisor and deputy police and crime commissioner.
Taahra Ghazi - Taahra is Deputy Director of Communications at ActionAid UK. She is a senior leader in communications, specialising in anti-racist storytelling, brand-building and crisis communications.
Ainslie Chinembiri - Ainslie is the CEO of Chitendai, a Scottish renewable energy company that combines advanced solar and microelectronic technologies to develop SMART solar installations. This increases power system efficiency, reliability, sustainability and stability.
Maggie Ngwira - Maggie is the Programme Coordinator at Climate Challenge Programme Malawi. Her experience span across different sectors of development including education, humanitarian and livelihoods and climate change in grassroots, national and international development space.
Mike Robinson - Mike is the Chief Executive of the Royal Scottish Geographical Society based in Perth, a role he has held since 2008. He has worked in the Scottish charity and environment sector for the last 25 years, initially with RSPB as Head of Marketing, and later with the Royal Botanic Gardens in Edinburgh as Director of Development.
Dorcas Amoh-Mensah - Dorcas is the Advisory Lead at Challenges Ghana. She has an MSc. in Africa and International Development from the University of Edinburgh and a background in innovative activities aimed at improving rural education (Starfish Aid) and eradicating child poverty and streetism in Ghana (Future of Africa).
Danny Chivers - Danny is a climate change researcher, activist and performance poet. He is the author of the New Internationalist's The No-Nonsense Guide to Climate Change: The science, the solutions, the way forward.
Stephen Gethins - Stephen is Professor of Practice in International Relations and a Strategic Adviser on External Relations at the University of St Andrews. Before his appointment at the University, Stephen was the Member of Parliament for North East Fife and served on the Foreign Affairs Committee over two parliamentary terms.
Andres Gomez de la Torre Barrera - Andres is Director, Confederation Development, at CARE International. He is a member of the Board of Women for Women International, and has extensive experience in international development and humanitarian programmes, policy and operations across Africa, Asia, the Americas and the Middle East.
Jean de Dieu - Jean de Dieu is the Director of Programmes at Children of Rwanda. He delivers Children of Rwanda's programmes; monitoring schools, making sure students are able to attend school, working with children who dropout of school and delivering farming training to local communities.
Colin Reilly - Colin works on the British Academy-Global Challenges Research Fund project "Bringing the outside in: Merging local language and literacy practices to enhance classroom learning and achievement" at the University of Essex. His research focuses on multilingualism and language policy within Sub Saharan Africa.
Ndivile Mokoena - Ndivile is Project Coordinator at Gender CC Southern Africa. The focus of her work is on gender and climate change, including policy interventions, capacity-building, advocacy, lobbying and training.
Matt Kennedy - Matt is the Associate Director for Arup Ireland's Carbon and Climate Change Team. He is an Advisory Board Member of the UN Environment Programme Climate Technology Centre & Network.
Robbie MacMillan - Robbie founded Children of Rwanda while visiting the country as part of dissertation research for his MA in Politics and International relations. He has since dedicated his education and career to charity, obtaining an MSC in NGO Management and PGDip in Charity Marketing and Fundraising while working in the sector as a researcher and fundraiser. 
We will continue to announce confirmed speakers, so keep your eyes peeled for news!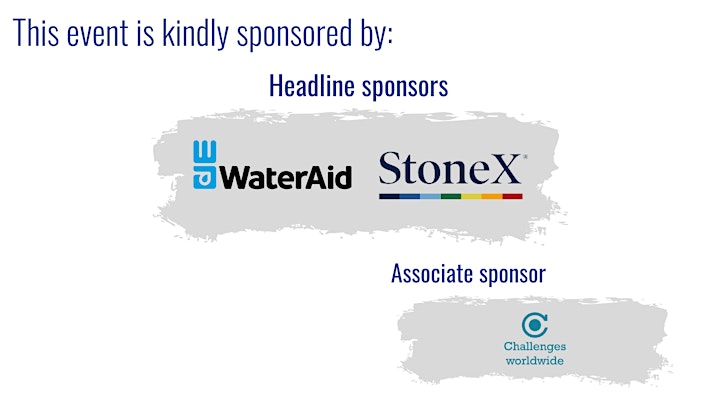 With special thanks to our headline sponsors:
StoneX
The StoneX Global Payments team specialises in helping global development organisations, corporations and banks transfer funds across borders quickly, efficiently and transparently.
WaterAid
WaterAid bring clean water, decent toilets and good hygiene to communities all over the world. They support grassroots policy makers and work with global governments to change laws and create lasting change.
and to our associate sponsors:
Challenges Group
The Challenges Group is an international business development consultancy that specializes in working with small and medium-sized enterprises, offering effective and impactful business solutions to global challenges.
Keen to raise your profile and promote your activities?
Keen to raise your own organisation's profile and showcase your activities at our event?
Featuring a range of online sponsorship opportunities and a virtual exhibition hall, our event can help you promote your services and activities and build meaningful connections with a wide and far-reaching audience.
Email francis@intdevalliance.scot to find out more!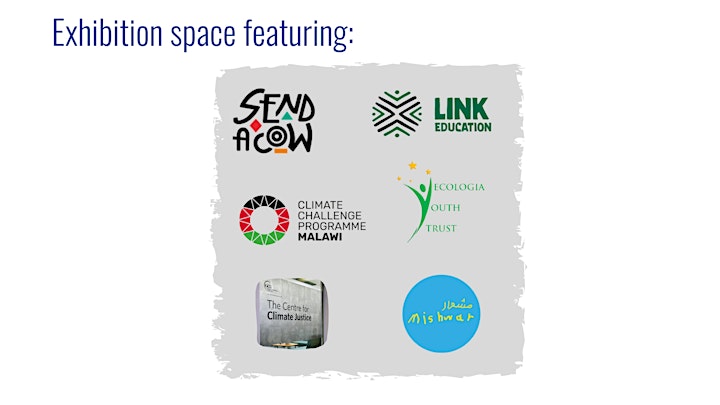 Featuring exhibition stalls from:
Send a Cow - Send a Cow is a force for change in rural Africa. They help people grow their own futures – on their own land, on their own terms.
Link Education - Link is Scotland's leading international education charity, working to improve the futures of people living in some of the most marginalised communities in the world
Climate Challenge Programme Malawi - The CCPM is a Scottish Government initiative helping rural communities in Malawi find innovative solutions to problems caused by climate change.
Ecologia Youth Trust - Ecologia Youth Trust aims to make positive changes to the lives of children and young people around the world who start off life at a disadvantage.
Mishwar - Mishwar is a small children's charity living and working in north Lebanon who work with refugee youth and locals, providing support through community-driven initiatives that are creative, empowering and playful.
Glasgow Caledonia University - Climate Justice Programme - The Centre for Climate Justice is a Glasgow Caledonian University research centre dedicated to achieving meaningful social change.
Date and time
Location
Refund policy
Contact the organiser to request a refund.
Eventbrite's fee is nonrefundable.
Organiser of The growing imperative: climate action, well-being and equity