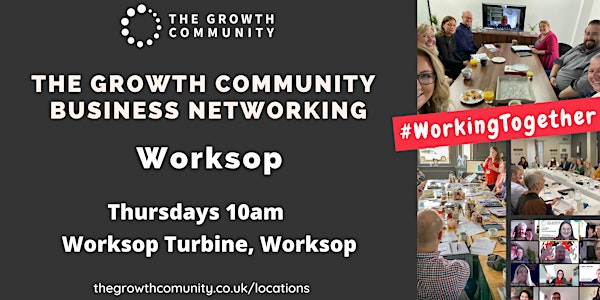 The Growth Community Business Networking - WORKSOP
Location
Worksop Turbine
Triangle Business Park
Shireoaks
S81 8AP
United Kingdom
Relaxed, but really purposeful, business networking with growth minded human beings....
About this event
Is this you?
1. You want more clients in your target market.
2. Your ideal customer is in the surrounding area of Worksop, Retford and North Nottinghamshire.
3. You like to make introductions to help others in business (not because you have to, but because you want to).
4. When you make a commitment, you follow it through.
If it's a 'yes!', then you'll fit right in at The Growth Community , and we'd like to invite you for a visit.
The Growth Community is a national network of like-minded business owners and leaders who meet online and in person. There is a strong core of founder members and a great set of visitors who visit us up to 6 times per calendar year.
We love #WorkingTogether and collaborating, but we also know that time is precious, so we run efficient and fun one hour meetings aimed at connecting and developing opportunities for onward conversations. No faffing!
Why not give it a try to see what you think? There's no onward commitment ever (unless of course, you choose to join us in the future) it's worth an hour, isn't it?
What to expect:
• A very warm welcome and some pre-meeting networking chat.
• A speedy round of 1 minute pitches – we love hearing how you help your customers (and how we can help you!)
• A short presentation from one of our members about their area of expertise.
• An opportunity to share who you'd like to catch up with 121 to learn more about them - we'll send you their details so you can follow up.
• Laughter! (our meetings are focused but very relaxed).
• A quick business tip, hint or hack to end an enjoyable and productive hour.
• No membership sales pitches whatsoever! (We leave it to you to come chat to us if you want to know more about being part of our wider, proactive community.)
Please note: there is a venue fee of £5.50 for this event and we will contact you to confirm your place before asking for payment.
See you there!