The politics surrounding Black African immigration in Britain in the immediate years after WW2
About this event
UPDATE: our speaker tomorrow will be delivering the talk virtually, however, we will still be meeting in LG02 to watch the talk together. For all in person attendees: you're more than welcome to join us or watch along online!
*THIS WILL BE A HYBRID EVENT, WITH ATTENDANCE IN-PERSON AND ONLINE. WE WILL MAKE THE ROOM NUMBER OF THE TALK AND DETAILS OF THE STREAMING SERVICES AVAILABLE ASAP*
The presentation examines one of the neglected themes in post-war Black British immigration historiography, that of examining why has it been dominated by immigrants from the West Indies with Africans at the periphery. In recognition of this disproportionate African and West Indian migration into Britain in the immediate years following the end of World War Two, the paper will be presenting arguments that challenges post-war Black British history that has been too simplistic and often conflated with Afro-Caribbean immigrants. This skewed narrative trivialises and obscures the complex role of difference between Africans and West Indians that shaped post-war Black immigration trends in Britain. In developing the argument, it will be making connections between post-war Black immigration politics and the racial prejudices and stereotypes entrenched in sixteenth century Transatlantic Slave Trade, and the nineteenth century colonisation of Africa.
Biography: Dr. Christopher Roy Zembe is a Lecturer in History at De Montfort University. His research interests are Colonial and Post-colonial Legacies histories and the African diaspora. His published work consists of: a book entitled Zimbabwean Communities in Britain Imperial and Post-Colonial Identities and Legacies (2018); a Chapter entitled "Quest for a Cohesive Diaspora African Community: Reliving Historic Experiences by Black Zimbabweans in Britain" in an edited book on New Perspectives on Black British History (2019); and an article entitled Migrating with Colonial and Post-Colonial Memories: Dynamics of Racial Interactions within Zimbabwe's Minority Communities in Britain (Journal of Migration History, 2016). He has also presented papers at the European Social Science History Conference, 2016 and2021 on the African diaspora in Britain.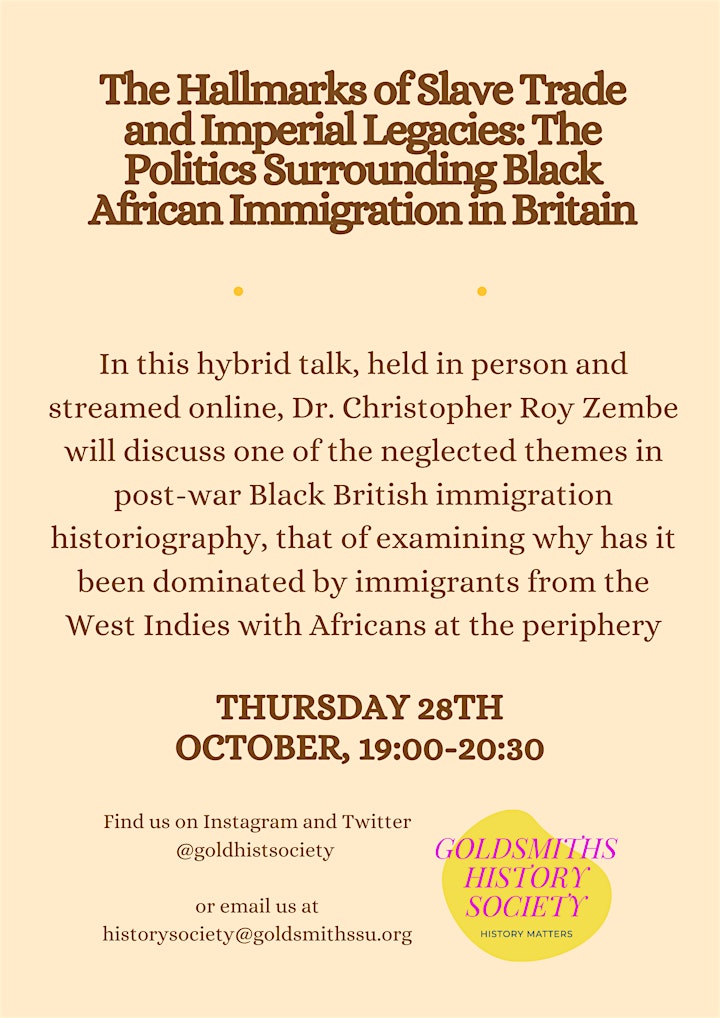 Organiser of The Hallmarks of Slave Trade and Imperial Legacies