THE HANGOUT- Let's Talk About... "Taking What You Need" & Vision Boards.
About this event
WOPAD Presents
The Hangout - Let's Talk About ... "Taking What You Need" & Vision Boards.
Come and hangout with us as we discuss Taking What You Need and Vision Boards ahead of the new year.
How often do we struggle with the concept of taking what we need and the practicality of it? And how does one develop the practical tools necessary to take exactly what they need in life?
This month we welcome Abiola as our special guest who will be sharing her knowledge and experiences from her book "Take What You Need".
Abiola is an Author, Business & Marketing Strategist and Wellbeing enthusiast.
Join in on the discussion.. Let's also take a look at how to successfully curate a vision board. And how a vision board can contribute to your personal success, development and wellbeing.
The Hangout is a bimonthly event where a community of women come together to share and discuss experiences on a wide range of topics.
***Take What You Need is available for purchase on Amazon***
https://www.amazon.co.uk/dp/1728668832/ref=cm_sw_em_r_mt_dp_NNY8THEVHAC7K1EXTN28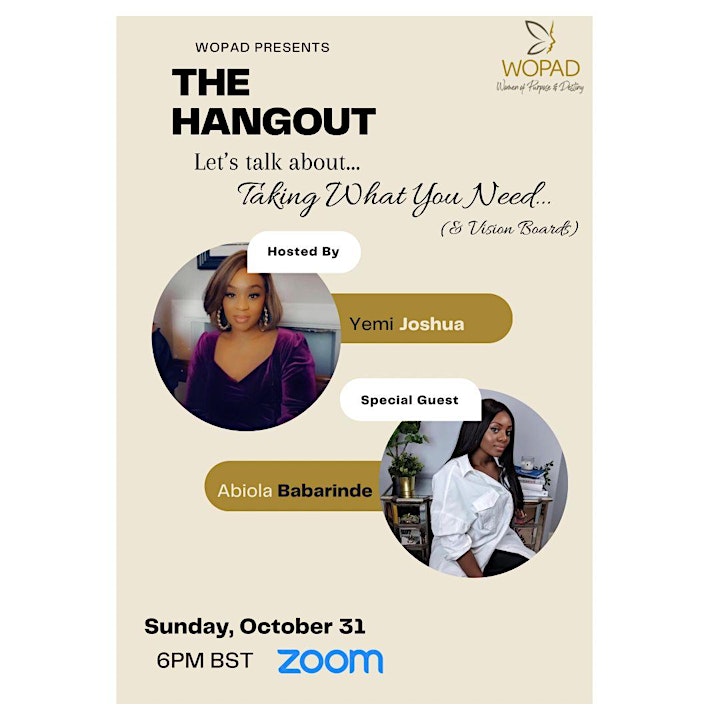 WOPAD is a ministry dedicated to empowering women on their journey to fulfilling purpose and destiny. We believe that purpose and destiny go hand in hand and walking without purpose will inevitably cause your destiny to be delayed. We believe that discovering our God given purpose is the greatest success we can have in life. And being committed and disciplined to our purpose is where we all have at some point fallen short.
The Woman you desire to be does not have to remain a thought or dream, it can become your reality. Many women are afraid to become the woman God has called them to be because fear, disappointment, insecurity and lack of self worth have made them feel it is impossible. We advocate for self care and positive mental health.
WOPAD is a ministry with real women, real stories, truth and testimony.
We are a sisterhood who are Women of Purpose and Destiny, blessed by the hands of God, set to bless nations!